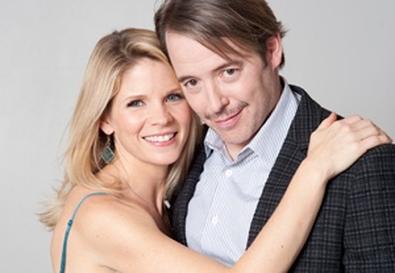 Matthew Broderick makes Kelli O'Hara laugh so hard she falls down. Literally.

"If I get tickled in a certain way, I actually lose the ability to stand," O'Hara says. "I don't mean to, but something happens to my knees and I fall on the ground. And it hasn't happened as much in my life until I started rehearsing with him."

The delightful pair is all laughs, despite facing a demanding rehearsal schedule and intense development process as they prepare for the world premiere of "Nice Work If You Can Get It," which opens on Broadway at the Imperial Theatre April 24.

Inspired by the 1926 "Oh, Kay!," with music and lyrics by George and Ira Gershwin and book by Guy Bolton and P.G. Wodehouse, the musical chronicles the exploits of skirt chaser Jimmy Winter (Broderick) and bootlegger Billie Bendix (O'Hara) as Winter barrels toward his fourth marriage in Prohibition-era New York.

With a new book by "Memphis" scribe Joe DiPietro and direction and choreography by Kathleen Marshall ("Anything Goes"), the show repurposes the Gershwin songbook into a jukebox musical, one O'Hara calls a "new classic."

Chatting during a meal break at the theater, before rehearsing until midnight, the headlining stars share a genuine affection for each other. "I really like him," O'Hara says. "I like her, too," Broderick adds. "I think she's great. She eats pretty much everything, which is always good."

You both have done many musicals in your careers. What made you want to pursue musical theater?

Kelli O'Hara: All I've done is musical comedy, really. But I never considered myself the comedian in the show.

Matthew Broderick: You get big, huge laughs in this one.

Are you a little jealous?

Broderick: Yeah.

O'Hara: Oh please.

Broderick: No, it's true.

O'Hara: It's a laughfest for you.

Broderick: It's not enough.

O'Hara: When I was growing up, I didn't have live theater. I didn't come [to New York] until I was 21. So where I saw musicals was in the movies. I saw all the Rodgers & Hammerstein musicals. Julie Andrews and Shirley Jones and even Doris Day. That's where I get all of my influence for doing musical theater, because I didn't study musical theater. It all comes from my childhood.

Broderick: I did grow up in New York, but I didn't get taken to musicals for some reason. We did not spend money on going to shows. I saw shows my father [actor James Broderick] was in or my friend was in, but I don't think I saw a musical until I was well into my teens. When I was a kid, I got taken to Gilbert & Sullivan a lot. That's when I first started to think it's fun to sing and run around.

Any acting tips for tackling musical comedy?

O'Hara: My husband told me to watch Matthew. He came to see the show, and he said, "I think I would stand on the side and watch Matthew's timing and learn from it."

Broderick: That's craziness.

O'Hara: In musical comedy, there are great parts that are singled out for what they are in the show, the secondary [characters]. When you have the love story ... I don't know how to do it any other way than to try to have some sincerity. It's hard not to chew on scenery and try to be funny. Everything has to come from a place of "We think we're being honest; we think we're sincere." And hopefully the audience thinks it's funny.

Broderick: Musical comedy is not an excuse to not take anything seriously or tell any story. You still have to care about what happens, and everybody has to be doing something all the time. Not just standing there with a clown nose. Although sometimes you can do that. [This] has silliness, which is good.

There are so few new musical comedies, in the sense that the Gershwins wrote musical comedy, on Broadway today. As an actor, how do you prepare for that?

O'Hara: What's interesting about this is, if you've seen revivals and you love them, like really good musical comedies, and you say, "Ah nobody's writing those anymore." This is really exciting, because it's almost like this was one that people loved at one time. The music is very familiar, so preparing for it is almost like doing something you already feel like you know.

Broderick: It's kind of like we're alive in 1927, and Joe DiPietro wrote a show, and we joined in.

Did you look to any classic performances from the time as inspiration?

O'Hara: There are a lot of what you'd call pants roles. Katharine Hepburn. Even Ginger Rogers or Judy Garland, kind of "spunky gal." I haven't pored over them, but I like to imagine it's a version of that.

Broderick: It's partly about old movies, in a weird way. I like movies from that era a lot. That's perfectly fun for me to have an excuse to look at them. But I try not to imitate anybody. With this music, you can't not think of Fred Astaire or Ginger Rogers. I like Warren William, but nobody knows who that is. But I keep thinking of him. He's extremely sinister and had a little pointy mustache. And I like Edward Everett Horton. I'm trying to mix those three, and a little bit of Rob Lowe, just to keep things interesting.

O'Hara: Love it!

You two seem to have a good rapport. How has it been developing the stage chemistry?

O'Hara: You know what? We're actors and that's what we get paid to do. So just keep the money coming and everything will be fine.

Broderick: Everybody always said [in a snotty voice], "She's so nice. You're really going to like Kelli."

O'Hara: That's because you were probably like, "Well. I don't want to do it with Kelli." I'm just making it up. [She gives him an affectionate tap on the cheek.]

Broderick: That's insanely untrue. And she did turn out to be nice, almost to an annoying degree. Almost. Not quite. You're not perfectly nice, it's true.

In jukebox musicals, sometimes it can be difficult to add characterizations to a song. As an actor, how do you go about interpreting your songs?

Broderick: In a lot of shows, that's a challenge. You know, "Why am I singing?" You have to try not to ask that. You know, when little kids say, "Why is he on a bus singing his heart out -- I don't understand." I don't really know why. But somebody said that if you're very happy, you sing. But it's not always that. It never feels strange.

O'Hara: Also making them just different enough to be surprising. You might think that "Fascinating Rhythm" is about dance or rhythm, but in our version it's about going a little bit crazy. Or "I've heard this song, but I didn't know it was a dance number!" Some songs are sped up. Instead of using new transitional music for scene transitions, they use Gershwin. Everything is done in just a little bit of a surprising way.

Broderick: They all love Gershwin. Nobody's making fun of it. [Director-choreographer Kathleen Marshall walks by.] Except Kathleen a little bit.

O'Hara: You know, Kathleen Marshall, who has been a big problem.

What has it been like working with Kathleen on the dancing for this show?

Broderick: She way over-believes in your ability.

O'Hara: She is trusting way too much.

Broderick: And she doesn't go crazy when I forget steps. Literally, after thousands of times doing it, she never gets, like, "Let's change it. You clearly can't do that." She's calm. We have a long dance break -- at least now we do -- and she knew that we'd be able to do it.
O'Hara: We didn't even know.

Broderick: Neither of us is really -- well, you have some training. You're good.

O'Hara: No, I don't. Someone said to me recently, just because you can change things to make them what's comfortable for you in the rehearsal room, you shouldn't do that because the adrenaline that comes when you're performing makes you do things. If you feel that adrenaline, but you're doing things under par, it feels wrong. So she basically gave us this dance, and the whole time we're falling and stepping on each other's feet. And then little by little we got it. And it's a thrilling thing to do it and actually get it right.

Broderick: It's just got a good story to it. It's playful and it all makes sense. It's really fun to do. She's put a huge amount of work into all these dances. It's like a whole 'nother play that she had to write.

How does it feel to be launching a world-premiere musical in New York with no regional or out-of-town try-out?

Broderick: It's terrifying to suddenly be in front of a New York audience.
O'Hara: You know, on their Twitter.

Broderick: We were all shaking. This is particularly scary, with no Chicago or whatever it is. But that's scary too.

O'Hara: Any place would have been nice to just hear an outside person respond to what we're doing. It was blind. It was sight unseen.

Broderick: The audiences so far are, I don't want to jinx it or anything, but they really sound happy, which is very, very nice.

O'Hara: That's because I paid them.

Broderick: You did?

O'Hara: I papered the house with family and friends.

Broderick: That might be true.

O'Hara: I don't have that many family and friends. I mean, we have a lot of work to do. That's the thing about Kathleen -- nothing is going to be good enough until we're open.


---

Network If You Can Do It

They say show business is all about who you know. Matthew Broderick and Kelli O'Hara may not have co-starred in a show before, but they have a wealth of connections that led them to "Nice Work."

Matthew Broderick
- Worked with Kathleen Marshall on the made-for-television version of "The Music Man" in 2003

Kathleen Marshall
- Directed and choreographed "The Pajama Game" on Broadway with O'Hara in 2006 and met her husband, Scott Landis, on the project

Scott Landis
- Broderick's former agent and a producer of "Nice Work"

Kelli O'Hara
- Appeared in "Sex and the City 2" with Sarah Jessica Parker, Broderick's wife