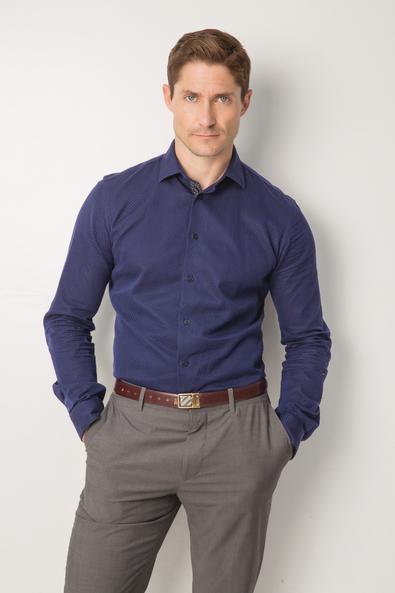 Matthew MacCaull ("Corvus," "iZombie") can't reveal too much about his character in the mysterious Disney adventure film "Tomorrowland," which opens May 22, but he tells us what he can. The Vancouver-based actor chats with Backstage about his thorough audition preparation, his favorite actor, and making creative choices with little to no information about a role.
On his "Tomorrowland" audition.
"When you've got less information, it frees you up to make greater choices than a specific breakdown.... All I got for this audition was a character name, Clark, and the writer and director of the project. I'm a big fan of [writer] Damon Lindelof—'Lost,' and his films 'Star Trek' [and] 'Prometheus'—and I started thinking about what writers do, how studios hire writers and actors, what they bank on. I sort of thought, I bet they wanted Damon for the recurring themes he writes about, the concepts he's known for employing in his stories. Based on that and the work of [writer-director] Brad Bird, I started thinking about what would make this character interesting."
On his typical audition prep.
"I sit at my desk and start breaking down all the questions about my character. I write down answers, allow myself to be creative, and then you start to see this profile of a character emerging off the page. Once I've satisfied my curiosity enough and I have a better sense of his background, that's when I'll start looking at the lines and what's happening in the scene."
On flexibility in the audition room.
"There's a delicate balance between trying to give a good performance and offer something interesting, but also show them you can be worked with. You don't necessarily want to give them a finished product. What I try to do is offer them an almost finished product or something that's basically good to go but also has room for improvement or redirection. A lot of it comes down to behavior and the subtle aspects of how my character holds himself, his posture, the way he reacts, his thought process.... [In the audition] I'm ready to throw out all my decisions and start going off the vibe of the day, the sense of play, and try to have fun doing this work. The more fun you have—especially in comedy—the more willing you are to make a mistake, you can really come up with some great in-the-moment things."
On discovering theater after pursuing visual art as a child.
"Just in my first theater classes I started to see that here is something creative that is also immediate; you can have an idea and start working on it right now, not sit and start drawing and after a while you present it. What drew me to theater especially was you could slave over a character and memorizing lines, and then oftentimes you'd put on a show for one night only and all that work was up for an hour. It's like Tibetan sand sculpture: they'll spend weeks and months crafting in sand and once they're finished, they sweep it all away. That transitory nature really spoke to my soul."
On advice for other actors.
"Do as much work as you can conceivably think of doing, if only to give you confidence. A lot of people hear the word confidence and start fronting this bravado, but confidence comes from knowledge, knowing your craft honestly and sometimes—much to the chagrin of actors—a heck of a lot of work. Moviemaking is not just about acting but [also] the technical sides of the film, what each person's job on set is. The more I know about a cinematographer's job, the better performance I can give."
On his favorite actor.
"Cate Blanchett is phenomenal. She's well-spoken, well-educated, polished in terms of who she is, so down-to-earth. And then you take those personal aspects of her life and add those to who you see her portray on film or onstage. I was a big fan of hers until 'I'm Not There.' When I saw that, it took my admiration of her work to a higher level; she was so believable as a young man, an iconic young man. You're able to say, 'There's Bob Dylan!' I just couldn't believe it. I couldn't even find the words to speak about it for a while. It's somewhat disheartening [when] you see something so outside the realm of possibility! That's one of the great aspects of the work we do: You're always learning, always open to not knowing everything—because we don't."
Like this story? Read more of our Spotlight On interviews!