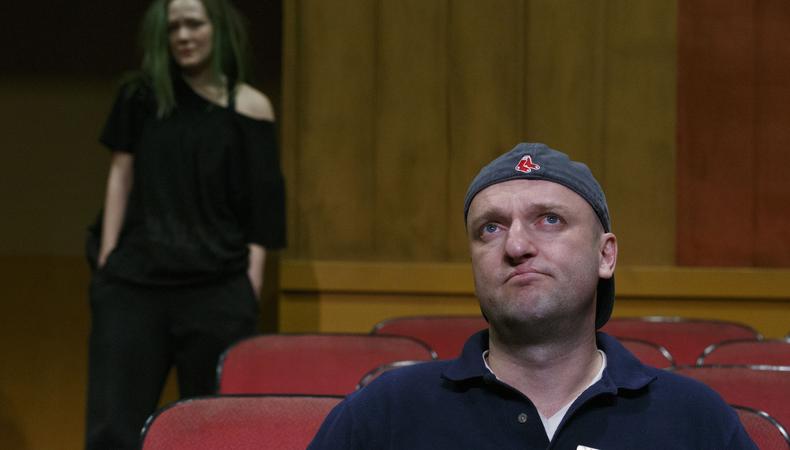 In the past year alone, Matthew Maher has appeared in "Golden Child," "Red-Handed Otter," and "Uncle Vanya." He is currently starring in the world premiere of Annie Baker's "The Flick" at Playwrights Horizons, which opens March 12, in a part she wrote for him—Sam, an employee at a movie theater in Worcester County, Massachusetts.
Maher has had parts written for him before, such as in Gregory Steven Moss's "Orange, Hat & Grace." "What happens when someone writes you something, particularly when it's really great, and I've been really fortunate in what people have written for me, that desire to prove yourself gets shut down," he says. At the same time, he says there is more pressure to realize the vision of the playwright, but he also doesn't have to worry that his instincts are wrong because the part was written with his instincts in mind.
Maher previously worked with Baker and director Sam Gold on "Uncle Vanya" at Soho Rep in 2012. He describes their working relationship as easygoing with mutual trust. There are a lot of scripted long pauses in "The Flick" during which the employees are cleaning the theater. He wasn't sure if those scenes would work, but he trusted Baker and Gold completely. "I thought it would be really hard, but actually the cleaning makes it so much easier to perform and to focus on the character and the world on the play," he says. "In fact, I think when the play really works, when people really connect with it, it's through those long moments where they're just with us living our lives."
What do you think it takes to be a successful working actor in New York?
Matthew Maher: You have to be ambitious and you have to be lucky and you have to work hard at your craft. But I also think you have to find a community of actors who you like and respect and invest in that community. The key to my success is the fact that I make friends with directors and writers. Not to help my career, but I developed relationships with directors and writers who I really respected, who I really liked, and I made those relationships before any of us had any money or had any recognition at all. I just thought what they were doing was really cool, and I wanted to be a part of it and as they have risen in prominence, I have risen with them.
At this point in your career, do you not audition much because you're working with a lot of people who know you?
Maher: It has cut down on the auditions. I auditioned for "Golden Child." I like auditioning. I don't mind auditioning. I feel like auditioning is good all around. If you don't know somebody, auditioning can be good because you also have a chance to meet them and get a vibe from them about whether or not you feel like working with them.
How did you get into acting?
Maher: I became interested in acting in high school because weirdly in my high school, acting was kind of a cool thing to do. Cool people did theater and I wanted to go to their parties, basically. They threw fun parties, they were having a good time, they seemed to always be giving each other back rubs, so I thought, "I want to be a part of that." I started by doing crew in high school, and the next year I decided to act. I kept doing it in college. I had a teacher that taught the Sanford Meisner technique and that's when I really responded to acting and how to do it well. And then I spent a year in Chicago and then moved to New York. It took me a while to warm up to the idea that I could make a living or be successful doing it. To make that decision to pursue it with your whole heart is scary because it's really hard. For a while I worked a day job and did Off-Off-Broadway plays, but it wasn't until my mid-to-late 20s when I thought, "I have to do this. I really want to have a rich career acting," so I quit my day job and threw myself at the mercy of the whole endeavor. And it's been fun.
You've had surgery to fix your cleft palate. Has acting helped you at all with that?
Maher: It's an interesting question. I always think of it as a challenge—an impediment/challenge to my acting career…If you have anything that sort of makes you aggressively different than everybody else, you have to sort of wrestle with it. I had speech therapy. Part of committing to being an actor was finding a good speech therapist to make me just a little bit more comprehensible. But even still, she didn't eliminate the lisp and there's still the scars. It's been one of the biggest things that's slowed me down, but it's also been paradoxically the thing that distinguished me the most. If someone said now we have a special operation that would eliminate the scars and the way you talk, I don't know if I would take it because the fact is I've gotten where I am because of who I am. I think every actor needs to think that they are the only actor like them. People have to see how you're unique and love it, and for me there was no getting around that…But you asked if being in plays helped me with the cleft palate, and I'm going to have to say yeah. It did. Nobody's ever asked me that before, but I'm going to have to say yes. When your face is weird and different from other people's faces and your voice is different from other people's voices—I had major confidence issues, certainly in my adolescence, and being onstage really helped with that, especially in high school and college. It still does. I do think there is a connection in that I look weird and talk weird and nevertheless decided to embrace a profession that is 90 percent the way you look and the way you talk.