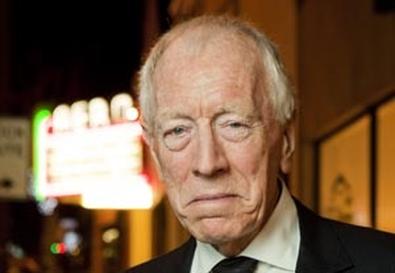 Max von Sydow is a little intimidating. Not only does he tower over everyone in the room and have a deep, distinctive voice, but he's also one of cinema's most acclaimed actors, having spent 63 of his 82 years making films. The intimidation factor may also have something to do with the characters he's played over his long career. There are the religious figures: Jesus in "The Greatest Story Ever Told," Father Merrin in "The Exorcist" and "The Exorcist II," and Reverend Abner Hale in "Hawaii." Then there are the villains: Ming the Merciless in "Flash Gordon," G. Joubert in "Three Days of the Condor," and Lamar Burgess in "Minority Report." His baritone was even used in "Ghostbusters II" as the voice of evil Vigo the Carpathian.
However, upon meeting the Oscar nominee for "Extremely Loud & Incredibly Close," one immediately senses his warmth, class, and love for the craft of acting. He says he loves diving into the psyche of the surreal characters in his repertoire. "To me, part of the fascinating profession of acting is to participate in all these strange situations," he says, "to try to understand all these interesting characters, fictitious or real, their human nature.… It's extraordinarily fascinating."
Born in 1929, the Swedish actor was raised with parents uninterested in theater. They were from strict Lutheran families and believed that actors were untrustworthy and shouldn't be dealt with. In the city of Lund, Skåne, Sweden, where he grew up, there were no theaters. "There were a couple of cinemas," he remembers. "But I was not taken by movie acting or movie actors to begin with, really."
A city close to his hometown, Malmö, opened a municipal theater, and his school sent the students to watch a performance of "A Midsummer Night's Dream." Seeing the play changed his life. "It was magnificent," von Sydow remembers. "It made a profound impression on me." After that, von Sydow made every attempt to see all the shows at the Malmö Municipal Theatre.
Soon after, he and a group of his classmates started a theater society at their school. "We were inspired," he says. "We started doing plays without any professional assistance at all. Not even teachers. It was just us. We were 16, maybe 17 years old, and we were doing the plays of [August] Strindberg, Pär Lagerkvist, Hjalmar Bergman—it was a very exciting place. I decided I wanted to be a theater actor, and that was it."
In 1948, Von Sydow auditioned at the Royal Dramatic Theatre in Stockholm. "Three different characters from three different plays," he says. He was accepted and spent three years studying there before going on to work for years at a string of municipal theaters. Von Sydow believes that working at these theaters was the best possible acting training he could get. "You were not hired to play a part unless you were a star," he says of the Swedish theater system. "As a young actor, you were hired to work at a theater and play whatever part they would give you. They kept you working. You rehearsed for a month and a half, and then it played for a month and a half." Von Sydow got to perform a wide range of parts—from comedy to tragedy, from lead to extra. He worked constantly, and not just in the theater. "If you ever had some free time, there was the radio station, which also did theater productions. So maybe you woke up early in the morning, rehearsed at the radio for two hours, then to the theater to rehearse another play during the day, performed in a school production around five o'clock for an hour or two, and then performed in the regular show at night."
Von Sydow believes the best way to learn acting is to act. "You cannot study acting in books," he insists. "Do it, do it, do it. And watch good actors. See what they are doing and how they are doing it. You have to practically participate, I think, in order to develop yourself."
When it comes to his method of acting, von Sydow says that it's all about finding his character's intentions. "First of all, I think it's a matter of finding out what does he intellectually want to do," he says. "Why does he enter this story? Does he want to or does he not? Maybe he's forced into it, but why? Then it is a matter of finding out, for every scene where he appears, why he appears in this scene. Why does he participate? When I know what the character I'm supposed to play wants in general terms, and when I know what did the other characters want to do, that's when all these wills collide and the emotions show up."
---
The Bergman Connection
In 1955, von Sydow was asked to work at the Malmö. He jumped at the chance. There he began working with director Ingmar Bergman. "I did two productions for him that first year, and then we filmed 'The Seventh Seal' in the summer," he says. "Then we just went on and on."
In "The Seventh Seal," von Sydow portrays a medieval knight who asks questions of the Grim Reaper as he plays chess with him during the Black Plague. The film was an international hit, introducing Bergman and von Sydow to the world. The two continued to collaborate on films such as "Wild Strawberries" and "The Virgin Spring."
For von Sydow, working with Bergman was his favorite experience from his lengthy career. "It was my most important experience, no doubt," he says. "It was very special, I was very privileged, and I'm very grateful for all the wonderful opportunities that he gave me. It was also a period of learning, experimenting, and developing. He gave young people wonderful opportunities, and he was a great inspiration for everybody. Sometimes he was difficult, of course, and there were some people who had great difficulties working with him, but most of us were very spoiled by him."
---
Incredibly Moved
After von Sydow read Eric Roth's script for "Extremely Loud & Incredibly Close," he didn't hesitate to accept the part. He loved the character of The Renter and was profoundly moved by the story. Even though The Renter had no spoken lines, von Sydow prepared as he would with any other role. "He's a totally normal person," he says of the character. "The only difference is that he doesn't speak audibly. He still says things; he just [writes them on paper]. Because of that there was no reason to change my acting style."
Most of von Sydow's scenes were with 12-year-old newcomer Thomas Horn, who was asked to audition after being seen by producers on "Jeopardy!" Kids Week in 2010. According to von Sydow, director Stephen Daldry's experience working with children on the stage and screen versions of "Billy Elliot" was immensely helpful in preparing Horn. "Thomas became a professional really quickly," he says. "He's brilliant, this boy. Very intelligent, very quick to pick up what has to be done, and a great memory also. It often happened that we had new lines in the morning, and he knew them in no time. He had a long monologue in our first scene together in the grandmother's kitchen. He tells his story, a monologue of eight minutes, which he delivered with an intensity and precision that was extraordinary. And he did it many times. Very good. I admire him, and he has a good sense of humor." That's high praise coming from an actor as imposing—and incredible—as Max von Sydow.
---
Max von Sydow on Stage Versus Screen
"Film work can be very interesting, but it also can be awfully boring because who creates the film? The actors? No. It is the director. It's his piece of work. If he's a great director, he can form his actors to do interesting things, but you are there, you come for three days, or three weeks, or a month, and then all the rest of the time you have no idea what's going on with the production. You don't participate. You're not invited to. It is the director's vision. His creation. In the theater, it's so different because you are invited. You read the play together, you do the blocking together, you are there, and you participate every day. You solve problems together, and you interact. The director is there to help you and to sort the good things out of the bad things. It's teamwork in a totally different way than film work is. After you shoot a film, you go away and maybe you're cut out of scenes you've done which you think were good. That can be very disappointing. But theater, you are there and you deliver directly to your audience. You work together with the audience. That's acting."
---
The Quotable von Sydow
Max von Sydow appeared at a Q&A between two of his films as part of a Feb. 6 special event presented by American Cinematheque at the Aero Theatre in Santa Monica. Back Stage film and television editor Jenelle Riley hosted the sold-out discussion following a screening of "The Seventh Seal" and preceding a showing of "Extremely Loud & Incredibly Close." Also in attendance were many fans of von Sydow's 1980 film "Flash Gordon," in which the actor played villain Ming the Merciless. One audience member prefaced his query by saying, "I've been waiting 30 years to say this to you: 'Hail Ming!' " Von Sydow was a good sport, as he was when another audience member asked him about a quote from "Hannah and Her Sisters" in which his character rages against fundamentalist preachers. The actor rattled off the line perfectly, beginning with "Third-rate con men telling the poor suckers that watch them that they speak with Jesus, and to please send in money!" When von Sydow finished, Riley was prompted to beg, "Now do 'The Exorcist'! Come on, just one 'The power of Christ compels you!' " Von Sydow laughed but declined to repeat the line.
---
Outtakes
Was nominated for an Oscar in 1988 for his lead role in "Pelle the Conqueror"
Lives in Paris and has four sons
Has appeared in the films "Robin Hood," "Shutter Island," "Rush Hour 3," "Judge Dredd," and "Hannah and Her Sisters" and on TV on "The Tudors" as Cardinal Von Waldburg