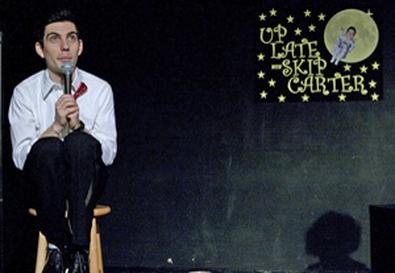 Attending Off-Off-Broadway shows is a lot like playing slot machines. You put in your coins, pull the lever—and usually end up with a lemon. Still, every now and then you manage to hit the jackpot, and Dan Moyer's new comedy "You May Be Splendid Now" is the perfect example of winning big.
Smoothly directed by Will Brill and Emma Galvin, Moyer's play—about twins Skip (Nick Lehane) and Lacy (Lauren Glover); Branson (Dan Wohl), their guest on the very last episode of their live late-night public-access talk show; and the show's one-man band, Carl (a deadpan Gabriel Millman)—has an appealingly desperate feel to it. It's clear no one watches the duo's oddball comedy routines: Despite Skip's repeated pleas for audience members to call in, no one ever does. But what also becomes clear is that Lacy and Skip have a deeper reason for telling their cornball jokes, a reason that eventually derails their show.
Moyer's jokes can seem as groan-inducing as an old episode of "The Lawrence Welk Show" (which Moyer namechecks), but there's a sharper intelligence at work than first appears. In the midst of Skip and Lacy's childish storytelling and funny voices, Moyer works in some genuine dark comedy, along with the pathos of anyone who's ever battled insomnia while feeling utterly alone in the middle of the night.
He couldn't have asked for two better leads. Lehane and Glover, who has a Miranda July whimsy about her, nail the goofy humor and the rage at life that the goofiness is supposed to disguise. Lehane gives a particularly memorable performance as the clown who begins to doubt that joviality has the ability to make anything better. But what's clear is that Moyer and company have the ability to rejuvenate Off-Off-Broadway as a place where splendid things are possible.
Presented by the Onion and A.V. Club New York and Shelby Company as part of Great SCoT: New Plays! at Access Theater, 380 Broadway, NYC. Jan. 22–31. Schedule varies. (800) 838-3006 or www.brownpapertickets.com.