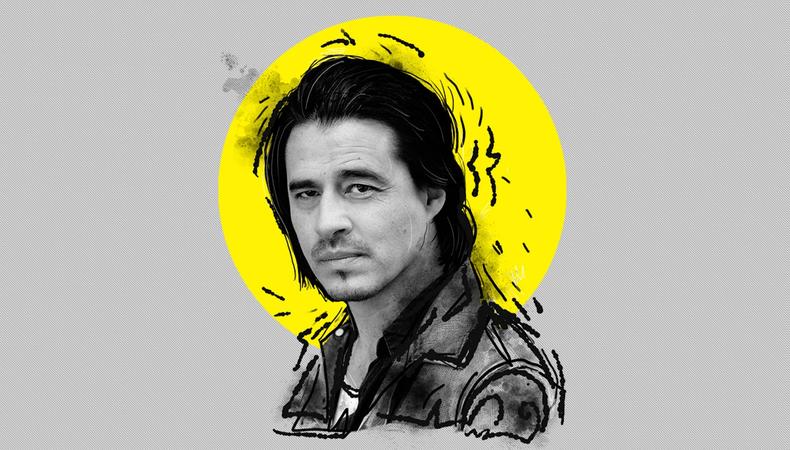 Antonio Jaramillo fell in love with acting on the stage. After moving to San Diego as a teenager, the actor, who'll be seen next as Michael "Riz" Ariza on FX's "Sons of Anarchy" spinoff "Mayans M.C.," devoured the literature and culture of the theater. This turned into onscreen roles, too: Jaramillo starred alongside Jennifer Lopez on NBC's "Shades of Blue" and on TNT's "Dallas." Coming off a run in "Three Days in the Country" at Antaeus Theatre Company, Jaramillo shares how theater training impacted his latest role.
Have you ever used Backstage in the past?
Oh, of course! It's been a while since I got it, but when I first moved, it was the magazine that you read for auditions, for theater, for films. Just to get information about the industry, what people are doing. I used to look at it all the time and read the articles.
You're balancing shooting "Mayans MC" and the play "Three Days in the Country." How do you manage that?
It's a little crazy. Sometimes I barely get to the theater. They're working with me on set. It's just a couple of scenes where I'm working later in the day and I've asked them and they've switched it. If I'm not able to make the performance, I just call the other [double cast] actor, but I'd rather not do that. We had a hiatus from "Mayans" for about four weeks, so that helped me throughout rehearsals. We're back to shooting, and it's becoming a little bit of an issue.
Is this balancing act new for you?
We've already had six episodes under our belt for "Mayans." We have a certain rhythm going. I've worked with this [theater] company before. I know the actors and they know me. We have faith in each other. I'm not the only one—there was one actor that was doing "Henry IV" that just closed a couple weeks ago. He was doing that show and he was also in rehearsal with us for "Three Days in the Country." The company is full of people with a lot of experience who do a lot of things. It's not easy, but you do it.
What initially drew you to the stage?
That's how I started. I didn't know I was going to be an actor as an adult. I just stumbled upon the stage and the theater. They accepted me and embraced me. I just kept working at it for four or five years, and one thing led to another and I moved to L.A. in 2004. More opportunities came my way. Eventually, I decided to make it my profession. I didn't start out wanting to be a film actor. I was enjoying the stage, reading literature. It makes you a better person if you work in the community of actors when you work in the theater.
What was your most memorable survival job?
Once I decided to do this full-time, which was in 2004, I let go of all my jobs. [When] I was working in Orange County, I had two jobs. I was working at a Morton's steak house and also a restaurant in Laguna Beach called Piccolo, which I don't think is there anymore. I've always been very disciplined with money, so when I decided to quit, I quit both jobs on the same day. That was the day I was hired by the Geffen Playhouse. They hired me to understudy a few roles in "Take Me Out" by Richard Greenberg. It was a Friday, and Monday morning I told Morton's and Piccolo that was my last day. I moved into town, [and] I started rehearsals.
How do you typically prepare for an audition?
I allow myself to be informed by what's happening on the paper. Whether it's a play or a script for a movie or a TV show, I let myself be informed by what's happening right there and just do that. What are the circumstances? Just play with it. It's make-believe. I'm not really killing anyone; I'm not really falling in love with the girl in front of me. It suspends your sense of reality for one moment. Just take the leap and play. If you look the part and you do what they expect, you're in.
What's your worst audition story?
A long time ago, when I first started in the theater, I was chewing more than I could swallow. There was this production of Shakespeare in San Diego, and I have very little experience with Shakespeare. I went in there and I just butchered that whole speech. I was so embarrassed at the end. I realized you can't wing anything. I was aware of my shortcomings, and I needed more training with language and literature because obviously I wasn't ready for Shakespeare back then.
What has your recent role on "Mayans M.C." added to your acting skills?
I'm part of the Mayans M.C. group, and I am the secretary within the group. It's more of an ensemble piece because we're a motorcycle club. It's allowed me to use my ensemble experience that I have within the theater, to know how to throw the ball to my colleagues. Keep bouncing the ball and throw it around the room. We're all trying to drive the story forward.

Is it hard to bounce back from that sort of experience?
It's hard to remove the emotional part. I know it's a make-believe situation, but it's you, it's your own body, it's your own voice, it's your own humanity that you're using. When you get rejected, you feel rejected as a human being. I'm not good-looking enough. I'm not tall enough. It's hard not to take it personal. You have to learn to separate it. Yeah, there's a personal element, but it can't be 90 percent of it. Maybe 25 percent. But the other 75 percent has to be the work.
How do you block out that negative talk?
I don't think you can. You have to override it. You have to understand that you won't get every job, even the ones you think you're most perfect for. You could get called in to play your own mother's son and you could not get the role and be like, "Wait, I'm playing my own mother's son and you're telling me it's not right?" Sometimes I go in and I'm told I'm not Mexican enough. My nationality is Mexican. I've lost a lot of roles because they didn't see me as Latino enough or Mexican enough. They just had a different perception of what that role was. And I'm like, "Wait, I am Mexican." "But not the right Mexican, thanks." It can be hard on the actor, but you have to be very disciplined, put in the time and understand that in this business, it's about longevity. You have to keep going into the ring and throwing punches. People quit too soon. They think it should happen in three years. I've been in this business for 16 years. Ten years ago, nobody gave a shit who I was.
Do you feel like diversity and realistic depictions of race have shifted during your career?
I think it's been a roller coaster. I think right now, there's an interest for diversity because of all the backlash, maybe. Right now, there are a lot of Hispanic, Latino people getting some important roles. There are other people who are being given opportunity. "Mayans MC" is 95 percent Latino, [actors of] Mexican descent or Hispanic descent. That's an amazing opportunity and quite a risk that FX is taking. I'm glad they're investing the money and taking the risk. I think there could be more opportunities, but we do have opportunities. We don't have as much as we would like because there's more and more of us in this country, but there are opportunities. It's going to change, it just takes a long, long time.
Check out Backstage's TV audition listings!