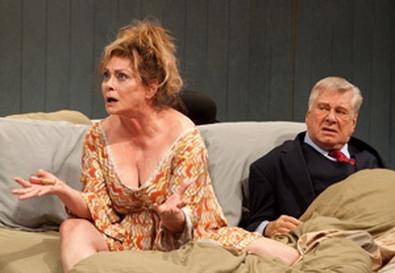 Edward Albee has said that a playwright should write every play as if it's his or her first. He's certainly managed that feat with "Me, Myself & I," a ferociously comic foray into the realm of the absurd. This is Albee playing in "The Sandbox," and while it also recalls "The Play About the Baby" and displays his signature precision with language (and its deconstruction), it feels like nothing else in his canon. There's an explosive giddiness and a gleeful disregard for form that, combined with a rigorous internal logic, make "Me, Myself & I" seem, in one of those clichés so beloved by the play's characters, as fresh as a daisy. Featuring Elizabeth Ashley in what could be the performance of her career, the show is a not-to-be-missed serving of delicious existential vaudeville.
Mother spends most of her time in bed with the formally dressed Dr. (all he takes off is his hat), her psychiatrist lover of 28 years. She's in a state of perpetual apprehension because she can't tell her 28-year-old twins, OTTO and otto, apart, except by knowing that one loves her and one doesn't. Events are set in motion when OTTO decides to become Chinese and that his twin no longer exists. As OTTO systematically wreaks havoc on the already dysfunctional family dynamics, otto's girlfriend Maureen seeks help from Dr. and Mother. There's also a father who walked out the day the twins were born but whose presence nevertheless hovers.
Despite all the linguistic games, the tweaking of hoary theatrical conventions, the incorporation of the audience into the play almost as a character, and complex themes that include the integration of the self and the difficulty grown children have in seeing their parents as people, "Me, Myself & I" is easy to follow. What every character wants is perfectly clear, and all behave in ways consistent with that. Though Dr. memorably says of Mother, "You strew confusion in your path," in the words of a friend who attended the same performance, all you have to do is "go along for the ride."
And what a ride it is. Ashley is a grotesque riot as the befuddled yet imperious Mother, hair flying every which way as she tries with demented abandon to control her wayward sons or peppers her prospective daughter-in-law with tired racial insults. Brian Murray's supercilious, self-serving Dr. is delivered with bone-dry understatement, except for the moments when those round eyes pop at Mother's ridiculousness or there's a nasty judgmental zinger to be slung. They work together with the effortless grace of Burns and Allen.
Zachary Booth leavens OTTO's aggressiveness ("I'm not nice," he keeps telling everyone) with preppy blond charm and is never more entertaining than when OTTO is leaning against the proscenium happily observing the chaos he's created. Preston Sadleir makes otto a reflexive mama's boy desperately descending into self-doubt and aggrieved hurt. His impatience with being comforted is a hoot. Natalia Payne gives Maureen, the quintessential girl next door, an intriguingly shrill edge, suggesting that if everything works out in the end, Mother may have met her match.
Lighting designer Kenneth Posner washes Thomas Lynch's appropriately blank set to create what Dr., in a nod to T.S. Eliot, refers to as "this wasteland," allowing Jennifer von Mayrhauser's colorful costumes for the women and subdued ones for the men to pop equally.
Emily Mann directs with a musicality in tune with Albee's writing and smartly lets Ashley's work set the tone. Interestingly, in the show's 2008 premiere at Princeton, N.J.'s McCarter Theatre, she did the same for the equally superb Tyne Daly. Daly's Mother was darker than Ashley's, though just as funny, lending that production less outrageousness but more menace. Still, when Ashley's Mother muses midway through Act 2 that it's possible to love someone who doesn't exist, then makes the pronouncement "I don't think existence determines much of anything," the world turned momentarily black as, much to my surprise, I found myself nodding in agreement.
Presented by and at Playwrights Horizons, 416 W. 42nd St., NYC. Sept. 12–Oct. 10. Tue.–Fri., 8 p.m.; Sat., 2:30 and 8 p.m.; Sun., 2:30 and 7:30 p.m. (212) 279-4200 or www.ticketcentral.com. Casting by Alaine Alldaffer and Laura Stanczyk.