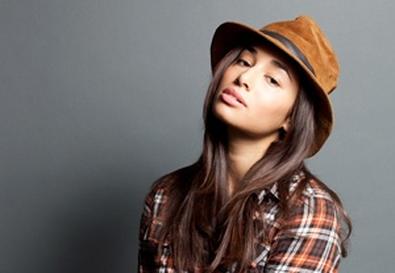 "We're playing normal people that have these afflictions that happen to be supernatural," says
Meaghan Rath
, who plays Sally on Syfy's re-imagining of the BBC series "
Being Human
." "That's what so special about the show."
The Montreal-native portrays a ghost who lives with a vampire (Sam Witwer) and a werewolf (Sam Huntington). Even though Rath has been acting regularly in Canada over the last decade, she is still considered a new face in America.
"It definitely helps to have some material to show before coming here," Rath says of her earlier work. "When the show was coming out last year, I read articles saying, 'Newcomer Meaghan Rath,' and I've been doing this for years. But I love that. You can do a lot in Canada, and it gives you enough time to practice and improve."
Back Stage: How did you get into acting?Meaghan Rath:
When I was younger, I wasn't really sure what I wanted to do, but I told a lot of lies in school. I told my friends once that I was playing John Travolta's daughter in a movie. I also told people that I had this romantic affair with Jonathan Taylor Thomas over a summer.
Then I started these workshops on the weekends at the Montréal School of Performing Arts. Once when I was about 12, a casting director came in that was casting a schoolgirl for "
Lost and Delirious
." My school picture, in which I was wearing a uniform, was on the wall. She asked me to audition and I got role. I played Allison's Friend Number Three, my best work to date. (Laughs)
Back Stage: Did your ethnicity help your career initially or present more challenges?Rath:
My dad's family is part British and Austrian, and my mother's family is from Goa, which is in the south of India. I looked different from everyone one else, which now is such a blessing. It was harder at the beginning of my career. There aren't as many roles for people who look like me, and it was always complicated when it came to casting my parents. But now I couldn't be more grateful that I have a different look.
Back Stage: How did you get introduced to "Being Human"?Rath:
I hadn't heard of the British series. I received the breakdown from my agent and I connected immediately with Sally. I got the first two scripts and I thought, "I need to do this."
Back Stage: What was the audition process like?Rath:
I auditioned a bunch of times in Montréal. Then they flew me to Los Angeles to screen test with potential guys. The process was about a month.

Back Stage: Did they make you wear a sheet?Rath:
No. (Laughs.) I wore a white dress and tried to look as haunting as I could. I didn't do like arm waving or weird vocal stuff. I didn't wear makeup either because we're playing against type. But I am very superstitious and if I get it a call back, I'll wear the same thing I wore the first time.

Back Stage: How did you research the role? Rath:
I've always been into the horror genre, so I've seen a lot of movies with ghosts and supernatural stuff. I looked more into the ghost lore, but I feel like Sally is such a new ghost in the beginning, I was kind of learning with her.
Back Stage: What is challenging about playing a character that is mostly non-corporeal?Rath:
In the beginning, I never got any props, and when you talk to someone, sometimes you touch them without thinking about it. Those were habits that I had to break, which I think helped me as an actor. Also, when I sit on the couch, the pillows are made out of concrete, so I don't make an imprint. That's uncomfortable.

Back Stage: What advice would you give to actors who have to re-imagine a character?Rath:
Don't watch it. We were trying to create our own thing and that was done by avoiding the other show. If you spend a lot of time thinking, "I hope ours is as good or better," then you're not focusing on the work. You just do your best and tap into what you can offer for the role.
"Being Human" airs Mondays at 9 p.m. EST on Syfy.