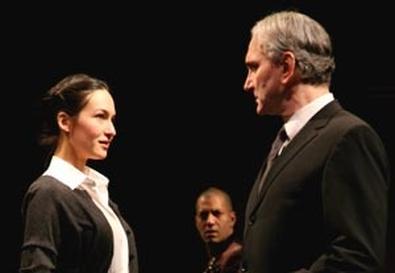 "Measure for Measure" is a play that's alive with contradictions, a dark comedy that abounds in moral ambiguities. The characters are trapped by these very ambiguities, but then so is the play's director, who has to cut his or her way through them to bring the proceedings to life. The latest to take up that challenge is Arin Arbus. Hers is a straightforward, intelligent, well-spoken interpretation that puts Shakespeare's words center stage. On a bare thrust stage, the play is also almost puritanically spare, with the characters in the colorless uniformity of modern dress. But the ensemble, led by a truly impressive Jefferson Mays, works hard to present a complex tale that, while low on atmosphere and murky passion, is notable for its clarity and accessibility.

The play's setting is a Vienna supposedly teeming with vice, represented here limply by the occasional flashing of red lights. Duke Vincentio (Jefferson Mays) announces that he is leaving Vienna and turns over his authority to his law-and-order deputy Angelo (Rocco Sisto). Angelo, reviving a long-disused law that punishes fornication with death, makes an example of Claudio (LeRoy McClain), who has impregnated his fiancee, Juliet (Rose Seccareccia). When Claudio's sister Isabella (Elisabeth Waterston), who is about to take holy orders, comes pleading to Angelo, he is enraptured by her beauty and agrees to spare Claudio's life in exchange for her body. Meanwhile, it turns out the duke has not left Vienna at all. Disguised as a monk, he is making an appraisal of his deputy and his corrupt city. While the characters struggle with the contradiction of justice versus mercy, Shakespeare adds another contradiction, contrasting a comic subplot against these dark deeds.

Arbus is a born storyteller. Divesting herself of theatrical devices, she makes easy sense of this tangled tale. In the process, however, she has also divested the play of lots of its inherent color and ambiguous atmosphere. The vocal coaching of Cicely Berry and Robert Neff Williams is apparent throughout, and Shakespeare's words often come to us as if newly minted.

Mays' performance grows in liveliness and depth as the play progresses, glowing with humanity plus a winking suggestion of the role's comedic possibilities. It's apparent that Mays is now ready for the Shakespeare big time, and it's fun to conjure what roles could await him. Sisto is a soundly spoken but stiff Angelo, and Waterston's Isabella, while sincere, lacks passion and vocal range. Neither is helped by David Zinn's puritanical costumes: At one grappling moment an image of a suppressed secretary and a dirty old banker sprang to mind. There's good work amid the large cast, especially Alfredo Narciso's slippery Lucio, looking like a refugee from "The Threepenny Opera" and John Keating's Irish Pompey, lucidly comic while sporting mad hair.


Presented by Theatre for a New Audience at the Duke on 42nd Street, 229 W. 42nd St., NYC. Feb.14-March 14. Schedule varies. (646) 223-3010 or www.new42.org. Casting by Deborah Brown.