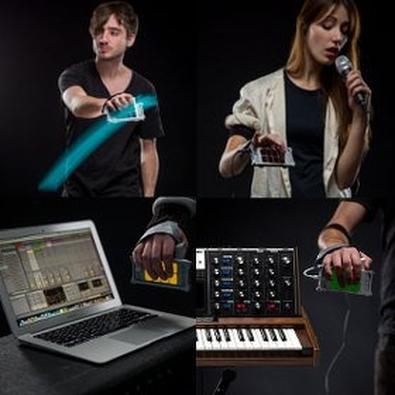 What It Is:
The AUUG Motion Synth
What It Does:
Manipulates sound through your iPhone's movements.
Where to Buy It:
www.auug.com
What It Costs:
$99.00
These days smartphones fulfill needs that extend way beyond communication services. They're our personal assistants, our source of entertainment, and our directions when we get lost. But newer accessories are making mobile devices even more useful for creating content rather than just consuming it, and the Kickstarter-funded AUUG Motion Synth is one such invention.
The Motion Synth is designed for creating synthesized sounds in a moment's notice based on your movements. The aluminum-crafted case houses your iOS device and features cutouts that allow you to press on-screen buttons. But what makes the AUUG Motion Synth stand out from other music accessories is the way in which it manipulates your hand movements—hence the device's name. The Motion Synth utilizes the motion sensors in your iPhone or fifth-generation iPod Touch to alter and create music.
By downloading the accompanying app, you can decide exactly how the Motion Synth reacts to your gestures. For example, does the octave change when you flip your phone upside down or move it from side to side? This means that there are two primary ways in which you control sound through the Motion Synth—by pressing the on-screen buttons on your iPhone and moving it along with the rhythm.
The app itself doesn't generate any music, but it works with other existing iOS music applications and external devices, such as your laptop, to produce sound. The case also comes with a grip that fits around your wrist, making it easy to freely move your iPhone while pressing buttons. You can connect with laptops and MIDI-compatible iOS apps wirelessly, but other MIDI devices such as a microphone require a cable. If you're in the mood to flesh out your ideas and share them with others, AUUG's cloud service contains a forum for sharing user presets, techniques, and ideas.
Whether you're seeking new ideas for your short film's score or looking for ways to spice up live performances, the AUUG Motion Synth can come in handy. It's durable yet compact aluminum design make it ideal for travelers as well. There are plenty of devices out there that can transform your phone into a creative musical outlet, but AUUG is among the few that integrate motion and gestures into its product. This makes the Motion Synth more than just a MIDI synthesizer—it plays a role in the visual aspect of your performance too.