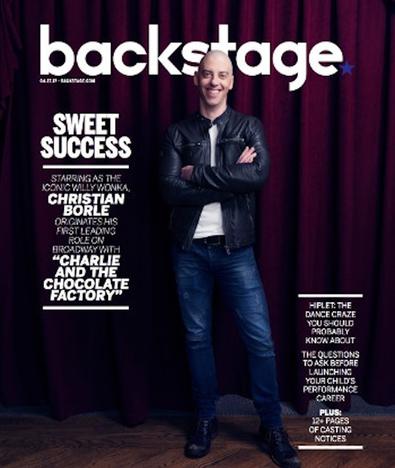 When you enter Christian Borle's dressing room at the Lunt-Fontanne Theatre, there are two prominent objects on display. One is an Italian poster for "Star Wars: The Empire Strikes Back" (Borle does not speak Italian; it was a gift); across from it is a retro game console, about the size of a coffee table, which contains 410 arcade games.
Borle bought the console as a gift to himself and the crew of "Charlie and the Chocolate Factory," which opened April 23. "I haven't even delved in," Borle says during his lunch break between rehearsals. "I played one game of Ms. Pac-Man and then I had to go onstage." Borle plans to have an open-door policy to his dressing room, where cast and crew can congregate to play games and decompress. "I have a feeling we'll maybe do a game a week and we'll see how far we get."
For an actor as prolific as Borle, work and play must go hand in hand. It's been a particularly busy season for him. In the fall, Borle starred opposite Andrew Rannells in the Lincoln Center revival of James Lapine and William Finn's "Falsettos." The run ended in January, after which Borle took a three-week vacation to Hawaii before beginning rehearsals for "Charlie and the Chocolate Factory." On paper, the two shows are as different as can be—one is a realistic depiction of the AIDS crisis while the other is a fantastical coming-of-age tale.
What connects them is their lead, who can shift from quiet pathos to physical comedy at the drop of a hat. "To be able to do two drastically different shows, tonally speaking, is a gift, without a doubt," he says. In person, the two-time Tony winner is soft-spoken, the polar opposite of the raging personalities he plays onstage. Despite doing two shows back to back, he is relaxed. "The glory of working in the theater is that, as someone who likes a schedule, I like a regimented day and week, so this doesn't feel like work." He adds with a slight flourish, "I'm on vacation, as evidenced by the arcade game in my dressing room."
It's a mood that pairs well with "Charlie and the Chocolate Factory," which Borle aims to make "uplifting and delightful." The musical is based on the Roald Dahl book of the same name, about a young impoverished boy named Charlie Bucket who lives in a small town loomed over by a chocolate factory. With four other children, he is invited into the mysterious factory to a land of Oompa-Loompas, chocolate rivers, and the Everlasting Gobstopper. Overseeing that otherworldly domain is Willy Wonka, who has occupied the American imagination ever since Gene Wilder donned a top hat and purple jacket to play the character in the 1971 film "Willy Wonka & the Chocolate Factory."
WATCH: Get a Taste of Broadway's New 'Chocolate Factory'
Borle did not read Dahl's book growing up ("I was more of a 'James and the Giant Peach' kid when it came to Roald Dahl"). But he did see the film as a young boy. He remembers being terrified ("When they take that boat ride and there's actual footage of a chicken getting its head cut off, that's something that you don't quickly forget"). Wilder's performance also stuck with him. Borle describes the actor, who passed away last year, in superlative terms as "a great genius and a great actor and a great comedian and a gentle soul."
Wilder is not the only actor to play Willy Wonka onscreen. Johnny Depp also wore the top hat (and a Liza Minnelli–esque wig) in the 2005 Tim Burton adaptation of Dahl's book.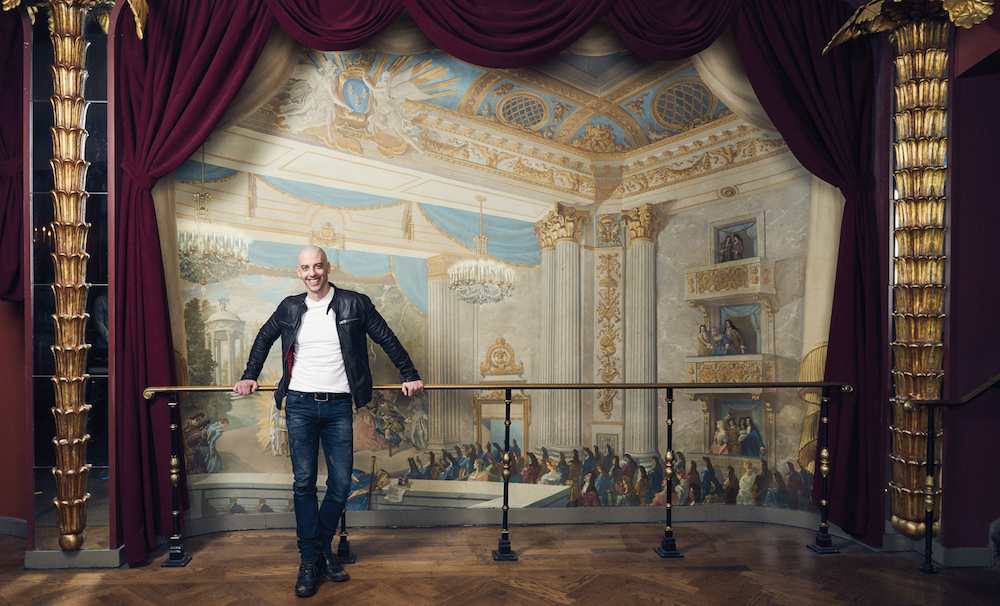 Broadway's "Charlie and the Chocolate Factory" incorporates the Oscar-nominated songs from the 1971 film by Leslie Bricusse and Anthony Newley, including "Pure Imagination." It also contains new songs by Scott Wittman and Marc Shaiman, and a book by David Greig.
Borle describes his take on Wonka as "on the Gene Wilder side of the spectrum," adding delicately, "I will leave Johnny Depp with Johnny Depp." Though, like Depp, Borle does wear a wig (or two) during the show, he declines to say how many. "Let's just say this made the prep of it easier," he says, gesturing to his newly bald head.
But he is not doing a Wilder impression. As part of his preparation for the role, Borle went back to the drawing board, reading Dahl's book for the first time. He was director Jack O'Brien's first choice to play the role, and together the two settled on a Wonka who is more grounded. "We're not trying to accomplish anything crazy or weird with it," Borle explains. "My first goal was to make him a recognizable human being, with some obvious eccentricities."
READ: 9 Questions With…Christian Borle
In Dahl's book, and even in the Wilder film, Charlie's perception dictates how the audience sees Willy Wonka. There are no answers to how he amassed his wealth, or even how old he is. So it's left to the actors who play him to find a motivation for the character.
"The big question, too, is why he feels compelled at this point to hand over his chocolate factory," explains Borle. "And it goes into all these questions about mortality." That's where the human part comes in. "He's not a magical being," maintains Borle, adding with an enigmatic smile, "He's a human being with great genes. So, he's old but he's not magically old. I think he can see the end of the road ahead and I think his last great act is to find a protégé."
Borle has built a career on playing eccentric personalities. He graduated from Carnegie Mellon in 1995 and made his Broadway debut in 1998 as an understudy in "Footloose." He eventually established himself as a gifted comedic actor, originating roles in "Spamalot" (where he played five characters) and "Legally Blonde."
"['Spamalot'] kind of shoved me into adulthood and made me appreciate the real, calculated work that is required to make comedy work," he explains. "It's not just instinct, it's not just personality; there's a science to it." That knowledge paid off; he won Tony Awards for playing the hammy pirate Black Stache in "Peter and the Starcatcher" and a narcissistic William Shakespeare in "Something Rotten!"
In recent years, Borle has taken on more dramatic roles, such as the HIV-positive Prior Walter in "Angels in America" at Signature Theater Company, and a composer on the short-lived television show "Smash." For him, there's more intersection between comedy and drama than one might think. "The old cliché, which is very true, is that you have to play comedy as seriously as possible, and drama, you have to add a little light touch to it," he says.
And while it may seem like Wonka is just another larger-than-life personality, according to Borle, he is the most relatable character the actor has played. "It is closer to me than a lot of—" he pauses, before clarifying. "Both Shakespeare and Black Stache were raging narcissists. And I don't think Willy Wonka is a narcissist. I think that he recognizes his own genius, but is more excited to share what he's able to create with people than lord it over people. I think he's kinder than a lot of people that I've played." And, like Wonka, Borle also has the need to share his art with the world.
Now 43 years old, he recalls an important piece of advice given to him when he was in school. "It takes 20 years to become a good actor," he says. "You can have skills, you can be on the way, but unless you've lived your life and had experience, you can act all you want, but…you can't be [a good actor]. That sounds pretentious, but it's true."
It's been 22 years for Borle. Is he a good actor now? He thinks a bit before responding, "I'm better than I was." That's a very non-narcissistic thing to say. "I try!" he exclaims with a chuckle. Of course, as an actor, "to survive, you have to have an ego," he admits. But at the same time, "you can't fake confidence. That's the other thing that comes with time—experience breeds confidence. But if it's all confidence and no backup, then you're a raging egomaniac."
He pauses, before conclusively adding, "And that's the button of the piece."
---
Get Off of Twitter!
Borle prides himself on his tireless work ethic. It stems from another piece of advice he got early in his career. "You should just simply be the most prepared person in the room," he explains. "In this business, where we have so little control, that is one of the things that you can control, to go home and work very hard. I pace in my kitchen obsessively thinking about this show and drilling it."
How is he so productive? Easy: He's not on social media at all (which means he wasn't aware of the shock that reverberated on Twitter when images of his hairless head started making the rounds).
"I think this generation is getting poisoned by social media, period," he says emphatically. "I think it's corrosive to the culture and I think it's corrosive to our sense of awareness." Borle believes that social media and being obsessed with the virtual world inhibits actors from living in the real world, and life is what informs craft. "If you're already living a false life and presenting a false image of yourself… if you can just pick only the good things and show none of the warts, then what fun is acting?" he posits. Time spent swiping on a phone can be "time that you should take to create your own separate life," which can then be used to bring depth to characters.
Borle admits he does text, but "I don't use emojis, and I don't send people pictures of my brunch."
Where's the button for your piece? Check out our Broadway audition listings and find out!
Groomed by Sadah Saltzman