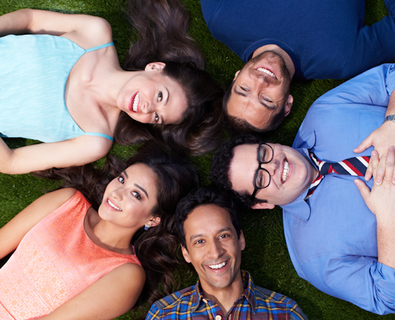 Here's how TV used to work:

Pilot season began in late winter–early spring, the shows premiered in the fall, and a few broadcast networks divvied up the giant pile of money happily forked over by advertisers.
Here's how TV works now: Pilot season is dead, new shows premiere whenever, and hundreds of cable channels engage the networks in a fight for table scraps from advertisers who would rather you like their Facebook pages than watch their 30-second spots. Left is right, down is up, and at any moment the entire industry could go plunging down the same abyss that the music business fell into a decade ago.
On the other hand, TV is in a creative golden age. For proof, just tune in this month and next. Cinemax has rolled out "Banshee," a blood-soaked, sex-filled crime series executive produced by Alan Ball and starring New Zealand actor Antony Starr. On ABC Family, two-time Tony winner Sutton Foster will return for a second season of "Gilmore Girls" creator Amy Sherman Palladino's "Bunheads" and Shay Mitchell has reprised her much-tweeted-about role on one of the tube's most controversial teen dramas, "Pretty Little Liars." And NBC, poster child for everything wrong and everything right with network television, made a bold comedic move with the recent premiere of "1600 Penn," co-created by and starring "Book of Mormon" actor Josh Gad. The net will make another with the long-delayed return of "Community," co-starring Danny Pudi, a show that wouldn't have gotten anywhere near the airwaves back when television was a more conservative, more lucrative business.
The end is nigh—and the future looks bright.
How much has television changed in the last 20 years?
Antony Starr: How old do you think I am? I'm vaguely offended.
Sutton Foster: Don't you guys agree that television is completely different? Twenty years ago there were three or four networks. There are no rules now.
Josh Gad: I think it was David Kelley that was saying that one of his shows was always on the bubble back then, and ironically now that show would be a top 10 show every week. Back then if a show was doing 20 million viewers, it was considered low. Times have changed exponentially.
Shay Mitchell: There's tweeting. My show is one of the top five most talked about on Twitter. Who would have thought that we'd be on set, doing a scene, and then turning around and tweeting a photo from behind the scenes? Every single director who comes into our show has to do that too. When you're off set, you're still working all the time now.
Starr: The world has changed. The biggest battle on the planet, it seems, is the battle for your attention. However they can get that attention, through marketing, advertising—which is kind of insidious. It can be, in its raw form, pretty grotesque. But it's kind of the nature of the beast. None of that was there 20 years ago.
Danny Pudi: The good thing though is that the content is great. Creatively there's so much good stuff on the air right now. My challenge is watching it all.
Danny, with "Community," you and the cast made your own video to market the show after the season-premiere date changed.
Pudi: "Feb. 7 is the new Oct. 19."
Gad: Was that you guys or the network?
Pudi: That was us. We're always looking at different ways to market our show. The fans are so savvy now that they see stuff before we see it. We find out about our show being renewed or canceled from Twitter. I'm sure you used to be able to find out from your lawyer or agent. Now I literally get text messages from my mom saying, "I'm reading Twitter right now, and your show is on the bubble." It's more than just a show. Now it's an interactive experience.
Starr: It's keeping the conversation alive. The show finishes; the conversation continues. Most of the people I know talk about the shows that they like, not the movies that they've seen. It's all about keeping people's attention—while the show's on air and post that.
What's the most difficult part about auditioning for TV?
Starr: It's a different skill set. To me it's still a racquet sport, but it's the difference between badminton and tennis.
Foster: It's less stressful to be able to put yourself on tape, because you have more control.
Mitchell: But you still have to go through the whole testing process, and then you're at a whole other level.
Gad: It's a painful process, but it's a process that I get has to happen. And being on the other side of it for the first time has been very interesting. It was very difficult for me to be on that side of it, because I hate it. To me the process is barbaric in a way. I felt like a traitor.
Pudi: Was it more painful being there and having to watch people go through that, or was it easier?
Gad: It was painful to watch, but it was easier in that I didn't have to do it. It was a really interesting experience to calm those people down and say, "It's OK. Take your time." That's all I wish, is that in a room people had the ability to say, "It's OK. If you want to start over, start over." It's just so fast and furious. It's not conducive to what we do.
Is putting yourself on tape more conducive to what you do?
Mitchell: I think so. At the end of the day, if you get close enough to that position, you are going to have to audition in front of them anyway. It depends on what the project is or what the script is. In certain cases I do feel more comfortable on tape, because I can do it 500 times and pick the one that I like the best. But then in other cases I like to get in the room and for them to feel my energy.
Gad: I like to be in there with the director. I hate to be in there with people who are making presumptions either way for the director.
Sutton and Josh, how much different is TV from stage?
Foster: Josh and I were talking earlier—both of us have done long-running shows in New York. You do the exact same thing every day. There's a comfort to that. But there's also a massive grind to it, because you're doing eight shows a week. With TV, it's like a moving train that you are chasing to keep up with. Once you do a scene, you never do that scene again. It's gone.
Gad: For me it comes down to this: I do 10 hours plus in a day on my TV show. I do two and a half hours on a stage show—and yet I'm exponentially more tired doing the two and a half hours.
Why are so many actors now, including actors we know from years of film work, gravitating toward TV?
Pudi: I said it before—content. There's a lot of great stuff on television. There are so many good, interesting stories being told. As an actor, who doesn't want to be a part of that?
Gad: The flip side is there's not a lot of film being made anymore.
Starr: The guts of the independent film market are gone. Between the top- and bottom-dollar films that are being made, that whole middle bracket—forget it. It's gone. There's this plethora of talent with nowhere to go. So you get great film writers coming into TV, and the whole quality of everything has risen. And with times changing and technology changing, people aren't going to the cinema. The future is not in the cinema.
Gad: It's a little disheartening. You have all of these movie stars who are moving into TV and theater. I would be very afraid if I was just moving out here or moving to New York. I would be a lot more scared than I was when I did, because it just seems like there's a lot more competition for a lot fewer roles now.
Foster: All the rules have changed. Movie stars are doing TV. TV people are going to Broadway.
Pudi: I just did a Web series with a couple of buddies, because YouTube is starting to create their own content. It's the next great frontier.
Gad: It's the wild, wild West.
Pudi: There's room there for stories that you weren't sure where they were going to be told. Is this a film? Is it a TV show? Maybe this is just an idea that I want to explore. I think that's good for everybody.