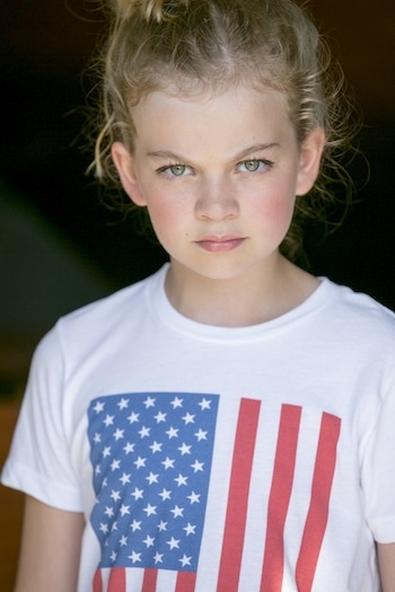 Megan Charpentier has been acting for most of her life—all 11 years of it. She has twice played younger versions of Amanda Seyfried, in "Jennifer's Body" and "Red Riding Hood," and appeared in the TV movies "The Christmas Clause" and "He Loves Me." But in her new film "Mama," she takes on her most challenging role yet. In the film, she plays Victoria, who is found in the woods five years after disappearing, along with her sister Lily (Isabelle Nélisse.) The pair are taken in by their uncle, played by Nikolaj Coster-Waldau, and his girlfriend, played by Oscar-nominee Jessica Chastian. But it turns out they weren't alone in the woods, and an evil force comes along with them. It's a emotional, physical role in a creepy new thriller produced by Guillermo Del Toro and written and directed by Andrés Muschietti, based on his short film of the same name.
How did you first decide to be an actor?
Megan Charpentier: I never really decided to. When I was two and a half or three my mom got a call from someone asking if wanted to go on an audition. I ended up getting the job; it was a commercial for Hasbro. It was my first audition and first commercial. I just had to smile and laugh and dance around.
Do you think of it as a career now, or are you just having fun?
Charpentier: When I was younger it was more of a fun thing, but now I'm thinking this is what I really want to do when I get older. If I can't act, I would go to college and maybe be a veterinarian.
How did you land the role in "Mama"?
Charpentier: It started out like a normal audition and then the director and producers called me back for a couple others. I read the script and it was really good, it wasn't just a normal read. I really liked it. Then I met with Isabelle and we worked together. And I got the part. When I got the part I was jumping on the bed with joy.
Do you remember any of the scenes you auditioned with?
Charpentier: I remember one of them, it's a truly touching scene where Victoria is meeting her uncle and she's given glasses and she attacks him. In that scene, I had to attack Nikolaj, and he told me to go for it and I just went at it. I got to jump off things and act wild, which I never get to do at home.
Did they give you much training for the physical scenes?
Charpentier: They gave me a little bit of training but most of the physical training was given to Isabelle because she had the more grotesque stuff. But I got to jump off a fridge a couple times, that was fun.
Do you like horror movies? Have you seen many?
Charpentier: I've only seen a couple horror movies in my lifetime. I don't like the ones that make you scream out in terror. This isn't like that. I really, really like "Mama." When I saw it, I was scared at some moments but because I knew what was going to happen, it wasn't as scary for me as it probably was for other people.
Did you watch the short film on which it was based?
Charpentier: I watched it a few times. It's really scary! But it gives you a good feel for what our movie is going to be like.
Will your friends be able to see the movie?
Charpentier: My mom said I could invite some friends to see it, but they have to get permission from their parents. Because it's PG-13.
What was it like working with Jessica Chastain?
Charpentier: Jessica Chastain is a great role model. She's really sweet and even though she was busy, she always found time for me. I saw "The Help" after we filmed and saw "Tree of Life" while we were shooting. I thought she was amazing.
What's up next for you?
Charpentier: I'm waiting to hear on a couple projects. I've got my fingers crossed. I think I'd like to play more happy roles because I haven't done too many of those. I think I'd like to do an action film; something with a harness would be fun.