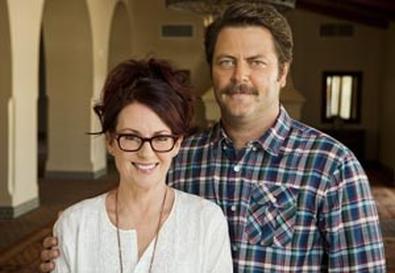 How fitting that Megan Mullally and Nick Offerman spoke to Back Stage for our 50th anniversary—they were celebrating their eighth wedding anniversary on the day we interviewed them. Also, they met through a love that we at Back Stage share—the theater. The two met in 2000 when cast in a production of "The Berlin Circle," by Charles Mee, at the Evidence Room theater in Los Angeles. At the time, Mullally was enjoying her breakthrough role on "Will & Grace" as spoiled socialite Karen Walker and was mere months away from winning the first of two Emmy Awards for her performance. Offerman was a transplant from the Chicago theater scene, where he had worked with the Defiant Theatre Company and won a 1997 Joseph Jefferson Citation for "The Kentucky Cycle." Though he had never seen an episode of her show, Offerman was smitten from the first rehearsal. "She was so funny in just the read-through," he recalls, "I was like, 'Holy God, I've got to meet this lady.' "
Now, 11 years later, Offerman has created a character that rivals Karen Walker in originality and fan popularity. His gruff department director Ron Swanson on the NBC comedy "Parks and Recreation" is the kind of man who refuses to get invested in his employees' personal problems yet will weep openly on discovering his favorite steak house is closed. Many of his best moments involve his love-hate relationship with his ex-wife, "Tammy Two," who lives to torture Ron and is played by none other than Mullally.
Back Stage: You obviously respect each other as actors and enjoy collaborating; what do you like best about working together?Megan Mullally:
Everything. I always hear some couples can't work together, and I don't get that. We have the most fun when we're working together.
Nick Offerman:
I think one of the things we find most attractive about each other is the lengths to which we'll make an ass of ourselves in the name of comedy. We've been in a lot of things together, but "Parks and Recreation" is really the first time since "The Berlin Circle" we've gotten a lot of real interaction.
Mullally:
We did another play at Evidence Room called "Mayhem" I had to give you a hand job—that's pretty direct interaction.
Offerman:
Sure. But this is the first time we've gotten to be sort of a comedy team. It's so wonderful because our relationship is such a great net under the tightrope. So we go to much more dangerous places than you would normally go out of politeness with another professional.
Mullally:
Since we both do comedy and we're both primarily character actors, we don't have a lot of vanity. Whatever the funniest thing is, we'll do it. I'm not making a judgment on any other actors, but I think a lot of actors don't want to make fools of themselves.
Offerman:
That's our bread and butter. I learned right away in acting school there are the people who read a script and say, "I don't want to look stupid; I don't want to look effeminate; I don't want to look ugly." Then there are those of us who say, "I would like to be an ugly, effeminate, stupid guy, because that is going to wring a lot more laughs out of this material."
Back Stage: Are there advantages and disadvantages to being in a relationship with a fellow actor?Mullally:
It's been great for us actually because we help get each other jobs! During "Will & Grace," Nick was on—he did a guest spot. He was actually up for a much bigger part, the part that Woody Harrelson ended up playing. He was as good as cast, and at the last second the network said they wanted to try and stunt cast it, so [executive producer] Jimmy Burrows called Woody.
Back Stage: Was that a big disappointment at the time?
Offerman:
No, it's just part of the game. Frankly, it was really exciting to me to almost get that job. It was progress.
Mullally:
His episode of "Will & Grace" was his first big, multi-camera comedy show. And I've gotten jobs off Nick since he's been on "Parks."

Offerman:
Our particular dichotomy is really great because Megan is 10, 11 years older, and she has hit all these high water marks that I've watched as she handles these things and gracefully surmounts all these hurdles. Now, unbelievably, I've come to some of the same places. There's a real open student-teacher relationship where Megan is years ahead of me as far as the work she's done and was on top of the game long before I was. It's like having a master teacher at home.
Mullally:
I started "Will & Grace" when I was 39, and Nick started "Parks and Rec" when he was 39. And he's really on the same trajectory; it's all happening with the same timing. It's so funny to see it all happening again. And he went through it with me. We met when I was 41, right before I got nominated for my first Emmy. Sometimes there are things, I tease him now, because at that time he would tell me I was being wimpy about stuff, and now he's like, "Oh, my God, I totally get it!" Like we would have a hiatus week, and I would just want to lay on a bed and stare out the window for a week. He'd be, "Come on!" Now he's like, "Can we go somewhere and lay on a bed and stare out the window for a week?"
Back Stage: Can you recall the best advice you ever got about being an actor?Offerman:
My parents taught me to say "please" and "thank you" and to treat everybody as you would like to be treated. And that's been one of the greatest boons in my career. Also, I had this amazing theater director–teacher named Shozo Sato who had a string of Kabuki shows in Chicago that I got to be a part of. He taught me some of the greatest lessons in my life, but the one I'll share today is, he said to always maintain the attitude of a student in whatever you do. Because if you always have something to strive for, to learn and better yourself, you'll be happy for the rest of your life, because you're constantly achieving and improving yourself.
Mullally:
Persevere. And don't listen to the negative belief systems that some people have. You have to develop your skills and do your side of it, but as long as you're passionate about it and you hang in there, I truly believe there is room for everybody.