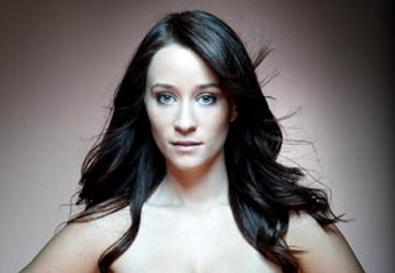 "This time last year I was working at a restaurant pulling double shifts, praying that one day I would be able to not be a waitress," says Mekenna Melvin, and thankfully her prayers were answered.
The daughter of a drama teacher, Mekenna attended the American Academy of Dramatic Arts in New York before coming to Hollywood. She's guest-starring on NBC's "Chuck" the next few episodes as the daughter that Col. John Casey (Adam Baldwin) didn't know he had.
Mekenna is a free spirit who's still remarkably focused—she's even made her own "bucket list" of things she wants to do before she dies. With an upcoming role on ABC's "1-8-7 Detroit," it looks like her waitressing days are over.
Chosen as this week's Actor2Watch, Mekenna will be featured in a series or articles, fun facts and social media tweets through this week for subscribers of
Girl2Watch.com
.
Actor2Watch:
What was your first real break as an actor?
Mekenna Melvin:
My first real job was on "Lie to Me," and it was the best experience. You get your first job and you get to work with Tim Roth? I mean, pinch me. It was amazing. That was my first job, but "Chuck" has been the first thing that has been a big thing for me.
A2W:
What kind of training did you get, and who do you study with?
MM:
My mom is a drama teacher, so she introduced me to this world. After high school, I went to the American Academy of Dramatic Arts in New York and I had various teachers there. One who was really pivotal in my growth was Tracy Trevett, who actually passed away about a year ago. She was one of the teachers that really inspired me.
Then I went to the British American Drama Academy at Oxford, England. It was a summer abroad and I studied there. I went back to New York, graduated from the Academy, and then came over to Los Angeles. Since I've been here I've studied at Larry Moss and Howard Fine. I'm constantly studying.
A2W:
What are some of the jobs you had until you started working as an actor?
MM:
I had a job or two jobs since I was 14 or 15. I worked at a family friend's T-shirt company and literally glued a button onto a shirt for hours a day. Then I worked in retail at Pacific Coast Sunwear and at the Ballpark in San Jose for the Giants, which is like the farm league of the San Francisco Giants. I was a lifeguard for, like, three years.
When I moved to New York I worked at an afterschool program for P.S. 116. I was a cocktail waitress in New York, then moved to L.A. and had three different waitressing jobs. You name it, I did it.
(Photo by Warner Bros. Television Entertainment/Jordin Althaus)

A2W:
What was the worst job?
MM:
I have to say I'm not a big fan of cocktail waitressing. Not because the people I worked with weren't great—I just don't like being up for that late. After a certain hour people are drunk and your feet hurt because you're walking around. You feel like you've run a marathon afterwards.
A2W:
What role do your agent and manager play in your career?
MM:
My manager is Anna Liza Recto and she is amazing. When I first moved out here I had no idea how to get from being an acting student to working. She saw me at a workshop and said, "I like you, but I don't know." I came in for a meeting and at the time she would say, "Mmm, that was good. Here's some notes. Bring it back, bring it back." I think I came back four different times and then she said, "We're going to work together."
She's just been on my side. I feel really lucky to be there. Then she recently decided to go her own way and start her own management company, and I followed her. It's been a really good thing. Currently I don't have an agent. I did have one, but all at the same time a bunch of agents left the agency I was at. I'm figuring out where I'm going to go next.
A2W:
Tell us about your Twitter account.
MM:
I was totally slow on the bandwagon. Everybody was like, "Do it." I didn't understand Twitter, I couldn't read the apps, and none of it made sense. But a good friend of mine who is into this social media thing sat me down and said, "Okay, this is what we've got to do." I still feel like I'm just figuring it out, but it's been a lot of fun.
I set up the account, and when the episode aired on "Chuck," literally within 30 minutes I had, like, 200 new friends and they were really excited about the show and about the character. That's when I realized, "Yeah, this is a really cool thing. It's really awesome to be able to really hear what the fans like and to have this dialogue with them."
A2W:
Is there anything you wish someone had told you when you first started out acting?
MM:
One of my first days at school, my teacher said, "Can you think of anything else you think you would be good at and want to do with your life other than acting? If you can, do it because this is a hard road and you really have to love it and have to be really dedicated because it's not easy. Not only is it not easy, it's a totally different lifestyle than the normal nine to five.
"But with that said, if you love it you have to really dedicate yourself and immerse yourself in it, and know who you are, trust yourself and believe in yourself, and surround yourself with positive people who are also moving in that direction. Don't get distracted with the parties and all the other stuff that happens when you are in your twenties." Just be focused and dedicated and study.