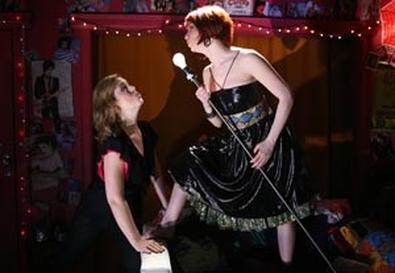 Are Melanie Edelman and Ellie Dvorkin finished with the script for
Mel & El
:
Show & Tell
? I hope not. This writing-acting team, real-life best friends since age 12, already has Timothy R. Mackabee's fantastic set to show off, a pink fantasyland crammed with posters from the 1980s and '90s, books, a refrigerator, gewgaws, a sofa, and a pillow with Liza Minnelli's face on it. Plus space for their mothers, played by hectoring puppets, to make scene-stealing cameos. But Mel and El sometimes show too much and don't tell enough, or vice versa. When their anecdotes are personal—about performing made-up commercials, for example—they're the two offbeat girls the cool crowd at school hated because Mel and El were a whole lot cooler than them. When their comic bits are uninspired, the evening idles like an overlong cabaret act. (Early versions ran at the Duplex and the Laurie Beechman Theatre.)
Don't get me wrong:
Mel & El
is a hoot, but it's crying for a final rewrite. The opening number, "You're My Bitch," has the right attitude. It sets up their relationship—how they met at a jazz class and have been BFFs ever since, through high school, college, boys, men, sex, and careers. It tells you the show's hook, and it hooks you all the more with its alt-rock score (lyrics by Dvorkin and Edelman, music by Patrick Spencer Bodd). It shows you why they deserve an evening: Dvorkin is short, ballerinalike, kooky, and has a pleasant voice; Edelman is tall, full-featured, a deadpan master, and her belt could launch the space shuttle.
Some songs, like "Little Pink Box," play nice in this sandbox, but others stiff on cleverness, trading on lame rhymes and mediocre gags. Both women address the audience but never acknowledge it. I mean, thanks for the illustration of fourth-wall acting, but how about a little lights up and letting the ladies' improvisational impulses have at it?
There also seems to be an impulse, perhaps imposed by director Moritz Von Stuelpnagel, to forge a narrative. Good thinking, but wrong move. The sensibility of Dvorkin and Edelman isn't just to skip down memory lane but to cut up. It's for them to be their irreverent, disgusting, idiosyncratic, devoted selves. We're shown some of that and hear about it in songs like "I Won't Poop in Public" (which Dvorkin won't do, it seems), but we don't need a faux climax involving a huge argument between them. And we don't need songs flowing with self-knowing rue.
How about more gags about people convinced they're lesbians? Or more plates of fudge? Or more baby shoes falling from the rafters? Or more puppets? Or more broad, gutter-level physical comedy? Or more of the running bit about the objects residing in their privates? I know it sounds offensive, but it's really a Mel and El thing.
Presented by and at Ars Nova
,
511 W. 54th St
.,
NYC
.
May 14
–
30. Tue
.–
Sat
.,
8 p.m
. (
No performance Sat
.,
May 23, and Tue
.,
May 26
.)
(
212
)
352-3101
, (
866
)
811-4111, www.theatermania.com, or www.arsnovanyc.com
.