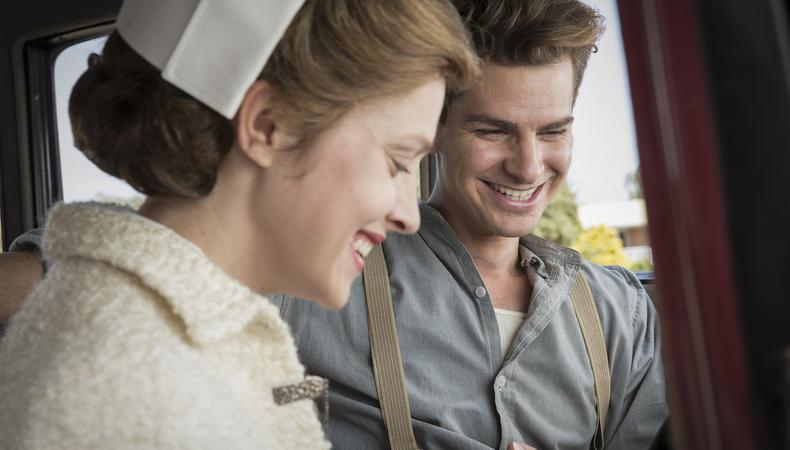 "This story of heroism is just utterly undeniable," says Academy Award–winning director and actor Mel Gibson. He's speaking of the astonishing true story of World War II army medic Desmond T. Doss, who refused to bear arms and kill the enemy during his time on the battlefield at Okinawa, Japan, all while saving 75 of his injured comrades. He is in history books today as the first conscientious objector presented with the Medal of Honor.
On Nov. 4, Doss gets his long-overdue Hollywood treatment with "Hacksaw Ridge," star Andrew Garfield's ticket to major awards consideration and Gibson's first directorial effort since 2006's "Apocalypto."
"Generally speaking, I generate my own stuff, and this was not that—this came to me from [producers] Bill Mechanic and David Permut.... A very good script. It ticked all my boxes," Gibson says. "It went through to my heart and then to my head. I found it a very compelling and moving story about something very basic, which is a guy who actually rises above everything and maintains his equilibrium and his higher self during an experience that reduces most men to the level of animals."
The "Passion of the Christ" director even admits to crying upon first read. "I figured if it's doing it to a cold-hearted guy like me, maybe an audience would like to experience this."
With the power of a true story, enthralling depictions of wartime, and an impressive ensemble at its back, the ambitious and inspiring "Hacksaw Ridge" marks a return to form for Gibson. But with time comes change, and he says he had to adapt to today's industry after being permitted less time and fewer resources than he was for "Braveheart" 20 years ago.
"The nature of the film game has changed now," Gibson notes. "Unless the guy's wearing spandex tights— you're not going to be given a huge budget or a lot of time to execute if you're not doing comic-book stuff."
Luckily, Gibson cast Garfield as his real-life superhero, and he rose to the challenges of portraying Doss in the grisly elements of a re-created war zone. Garfield has previously spoken on efforts to do Doss justice by visiting his hometown, handling his personal items, and getting to the essence of who this man was. The performance has already gotten "thumbs-up approval" from family and friends of the late Doss, who died in 2006.
READ: "Andrew Garfield Charges Into Awards Season in 'Hacksaw Ridge' "
"That's who the guy is: He's a guy who reaches for a profound level, and he has a huge amount of intelligence and a lot of heart, too," Gibson says of Garfield. "That guy is made to be a great actor."
While it's Garfield's show, "Hacksaw Ridge" also offers a slew of fine supporters, including Sam Worthington, Rachel Griffiths, Hugo Weaving, and Vince Vaughn in a dramatic turn as Sgt. Howell. Gibson says that he rarely holds auditions for his films, but he "didn't hire any duds" on "Hacksaw" thanks to one-on-one meetings with prospective parties, sometimes grabbing coffee with 10 actors vying for the same role.
"Generally speaking, I'll just sit and talk about the weather. You get an idea of who the person is and what they're capable of within 10 or 15 minutes of chitchat," Gibson says. This come-as-you-are approach continued while shooting, making for what Gibson calls a "congenial" set, despite the film's tight schedule and grueling subject matter.
"I know what it's like to be an actor in films, so I empathize with all their concerns. I listen to them. I certainly give them room to do whatever it is they think needs to be done because they've thought about it and they're coming from their truth," he says. "All the guys I chose, I hired them for a reason. I was just glad to be in a conference of experts and to be able to bounce my ideas off of theirs and see what they gave me.... I know what it is to be in their shoes."
Want your shot in Hollywood? Check out our film audition listings!