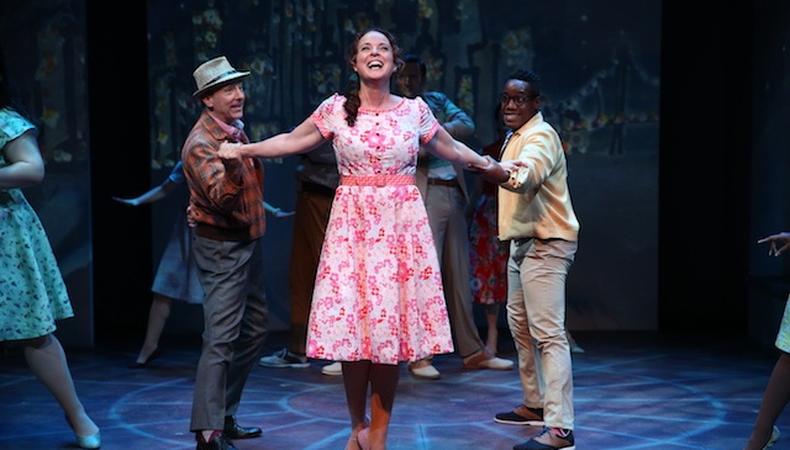 Between a role as Daisy Gamble, a part made famous by Barbra Streisand, in the Irish Repertory Theatre's production of "On a Clear Day You Can See Forever" (running through Aug. 12), a pair of concerts Aug. 6 and Aug. 7 at Feinstein's/54 Below, an upcoming album of Stephen Sondheim classics, and a masterclass at HB Studios, Melissa Errico is keeping herself busy. The Tony Award nominee and storied stage performer discusses her 20–year history with the Irish Rep and the wisdom she's learned along the way.
How does it feel returning to Irish Rep?
I've worked there for 20 years—this is my 10th production! The whole place is from another time and [holds] the values of the theater from before there was an internet, from before there was a commercial enterprise, which maybe it is a little more now. The Irish Rep isn't just an Off-Broadway theater. It's a place where people have been walking around and doing theater that do it for its own sake.
Your career has bridged what you call the "Golden Age" of theater and the age of the internet. How has that impacted you?
It's tricky in some ways because when I came into my prime in my early 30s, the internet had just started taking off. I was right out of a generation that felt like "A Chorus Line." People would come from Long Island and Queens and the Midwest. Each kid has a dream and wants to be on Broadway. You wait on lines, and it didn't seem quite as macro and global. It seemed like a destination as opposed to a big industry. You came to Manhattan and waited on line to audition. The equalizing thing of the internet is you can put your work out there, you can practice, you can find teachers. We used to have to walk around and figure out where to buy sheet music for an audition. We'd go to Colony Records on the corner of 49th and Broadway. We'd go there, [and] we'd meet each other in the aisles.
Have you used Backstage in the past?
I used to get my Backstage when I was a teenager, open it up, circle the stuff that interested me, and just show up. Rhode Island's Theatre by the Sea had an audition, and I went and waited in line at 8 a.m. You couldn't do that now: 7,000 people would show up. In those days, 85 people would come, or maybe even less. When I was a freshman in college, I was getting my Backstage, and one of the things I circled was the Ringling Bros. Circus was having auditions. The reason I didn't go into the circus was a few days before Ringling Bros. auditions, I had callbacks for Theatre by the Sea, and there used to be this place called 1515 Broadway. I was auditioning for final callbacks, and I got seen in the hallway by the director of "Les Misérables" in 1988 and I got the part of Cosette standing there. I went in, sang the music, and they gave me the job on the spot. I was in tap shoes and shorts. That wouldn't happen nowadays. I happened to know the music, [and] I happened to have the right voice. I'm not necessarily one generation or the other, but I think that's cool and that's OK—and maybe I can keep alive some of the wonderful bits of advice I've gotten over the years from people like Marvin Hamlisch and Marian Seldes and Sondheim.
What advice would you give your younger self?
Marian Seldes said to me the best advice to become an actress. I said, "I want to be an actress. What do I do?" And she turned to me very seriously and she just paused and she said, "Live." I'll never forget that. One of my great teachers, his name was Harold Guskin, and he taught Julie Andrews, [was] Kyra Sedgwick's teacher, Glenn Close, James Gandolfini. He was our private coach. He wrote a wonderful book called "How To Stop Acting," and it has a lot to do with knowing at what point all your preparation needs to go aside. You have to breathe and listen to the other person and let your reactions become absolutely natural and fresh. There are ways to disengage from all your plans, and you don't bore yourself to death with the pattern that you've planned. Patterns as an actor are deadly.
What has your latest role in"On a Clear Day You Can See Forever" added to your acting skills?
Last night, I totally let it out on "What Did I Have That I Don't Have." I let it go. I felt so much about what this person is saying about not feeling loved for who she is and not understanding what she's lost in the past. Interesting as we're talking about the past and the future, now I'm a more mature actor. I'm in my 40s, I can wonder what did I used to be like? What am I like now? How do you accept that, that you're in a new place in your life? It's not like I'm unique, but one day you get there and you think, Oh god, what am I like now? This wonderful song carries the plot of Daisy Gamble, and it can mush around in your own psyche and be very emotional. I pure belted and I felt amazing and I got to the last note and I don't think I took a big enough breath. I was two counts short of where I usually go. When I came back I said, "Crap, I usually hold that longer." But I let my mind go. I stopped trying to sing the notes. You've got to forgive yourself because the audience, if given a choice, they're going to choose the balls-out version. You go back to work every day and you try to marry both: You try to marry the technical and the passion.
John McEnroe, one of the greatest athletes in history, he's my husband's brother. He knows Bruce Springsteen and he went to one of his concerts, and John went up to Bruce and asked, "What's the secret to your artistic success?" And Bruce said, "You've got to have two thoughts in your mind at all times, and neither thought can become greater than the other: Tonight's the most important night of your life, and the other thought is it's only rock and roll. If one is greater than the other, in this balance of life, it's wrong."
And I think that's what prevents people from burning out. Is that true for you?
You're speaking my language! This is why Harold Guskin had such success. But one of his goals was to keep actors interested. Why would I want to stay in it if I'm not interested and able to feel free and relaxed? I've been through a lot. I've suffered and restored myself. I've also had three gorgeous children, a million great friends, a 20-year marriage. I've seen so much, and all that is my life to bring to these musicals and to bring to the audiences. I don't want anything—I don't want money, I don't want a Tony Award—I just want to be a part of the creative community.
Is that a rare sentiment to have nowadays?
I think younger people are naturally different because they're less aware that the pot of gold is already in their hands. They think there's something, and they keep running and it's coming. People are always asking, "How do I get into the business?" And I feel like you should take care of your talent and take care of yourself. Don't hurt yourself for it. I think a lot of people hurt themselves to prove themselves. I may have done that, too. Learn your skills, take care of your talent, take care of your soul, and show up with a smile. Expect the challenges so that way you're not disappointed. Idealism can sometimes be a burden.
That's a huge thing to carry around.
We're all very idealistic, theater people—head-in-the-clouds type of people. "Everything was beautiful at the ballet," as they say. Everything's not beautiful at the ballet. It is tough. Marvin Hamlisch may have said, "Everything was beautiful at the ballet," but I think he meant that ironically. And he embraced that it's ironic and enjoyed it for the shadowed reality that it is. Show business is show business: it's a job, it's reality. It's not fairy land.
Ready to get to work? Check out Backstage's New York City audition listings!