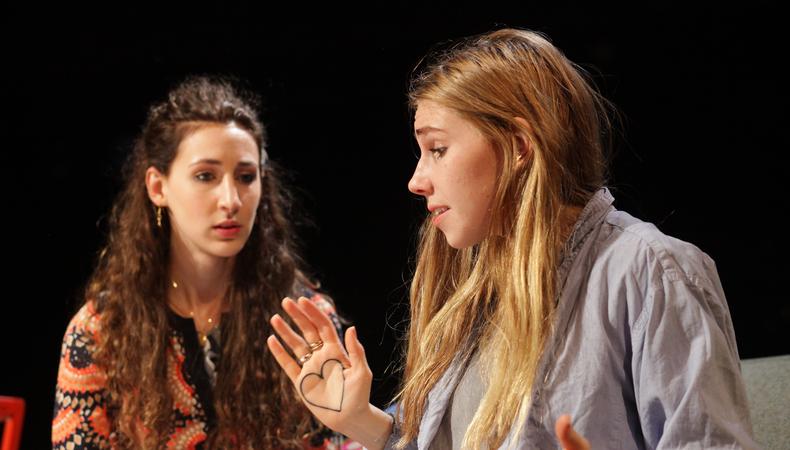 It's hard to fathom what convinced the estimable David Cromer to direct "Really Really," Paul Downs Colaizzo's ersatz, glaringly manipulative "Did it happen or didn't it?" melodrama about contemporary college students, an obstreperous kegger, and rape, from MCC Theater. Colaizzo certainly has an ear for glib, profane dialogue, but it reveals precious little about his stereotypical characters, who need to stay that way so he can make them do what he wants. With a different cast and director, the show was apparently a big hit for the Arlington, Va.–based Signature Theatre. Well, so was "Glory Days."
The intention seems to be a thunderous indictment of the "healthy selfishness" and unlimited sense of entitlement of the members of Generation Me, caused at least in part by the child-rearing practices of their parents, the Me Generation. Privileged golden boy Davis shares an apartment with his smart-ass sidekick, the less financially fortunate Cooper, and the rugby teammates have just finished throwing a party at which Leigh, of the hardscrabble childhood and sexually promiscuous past, has finally managed after four years of mooning to have sex with Davis. Unfortunately, Leigh is now committed to the rich, narcissistic Jimmy, also on the rugby team, who thinks she is having his baby. So when Jimmy's buds passively-aggressively let him know about the hookup, Leigh insists that she was raped. Conveniently, Davis can't remember a thing, so he can't defend himself. Hanging around to little purpose are video-game-loving straight arrow Johnson, another teammate; purportedly religious ambitious good girl Grace, Leigh's roommate; and Haley, Leigh's blowzy, conscience-deprived older sister.
Colaizzo begins his ham-fisted information-withholding up top, in a wordless scene in which we see Grace and Leigh stumbling home from the party. We have no way of knowing the import of what's happening, which is its sole purpose. Later on, we're meant to rack our brains and try to remember clues in Leigh's behavior to determine her honesty. Small chunks of backstory—Leigh and Haley suddenly reminisce for no good reason about the feckless mother who never made them lunch—are inadequate to the task of building character. Relationships are defined with clichés, such as Leigh repeatedly answering Jimmy's "I love you" with "I know." The sensationalistic climax is only made possible by an act for which the crafty Leigh has no plausible motivation, whether she's lying or not.
David Korins' apartment set keeps busily reassembling in different perspectives as if Cromer is desperate to inject energy into the largely static scenes. The young and attractive seven-person cast does what it can with the material, but Matt Lauria can't take Davis beyond being a construct, and Zosia Mamet, as Leigh, alternates between a weary surliness and a calculated warmth. Aleque Reid has the best timing of the night as Haley.
"Really Really" wants us to keep questioning the truth of what occurred long after it's over, but as my husband remarked as we strolled up Christopher Street to the subway, "If we had rented the DVD, we wouldn't have finished it."
Presented by MCC Theater, by special arrangement with the Lucille Lortel Foundation, at the Lucille Lortel Theatre, 121 Christopher St., NYC. Feb. 19–March 30. (212) 352-3101, (866) 811-4111, www.theatermania.com, or www.mcc.org. Casting by Telsey + Company/Will Cantler.
Critic's Score: D