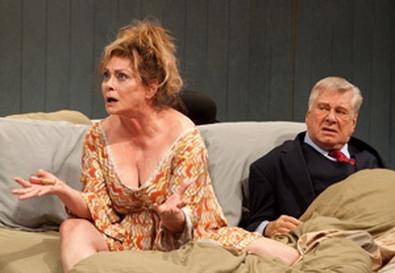 When, on Dec. 30, David Sheward filed his critique of the New York Gilbert & Sullivan Players' production of "The Mikado," the reviewing year ended for Back Stage. During 2010, Sheward and co–head critic Erik Haagensen reported on more than 250 theater and cabaret shows and, thanks to their responsibilities as members of the New York Drama Critics' Circle and the Drama Desk, saw many other offerings they didn't review. Rather than present yet another top 10 list of the "best" shows of the year, Sheward and Haagensen decided that a publication serving actors should salute actors.
What follows is each man's selection of 10 memorable performances—by five women and five men—seen in 2010. Not the "best," not the "most," not ranked in any order, simply 10 performances that were so outstanding they wanted to salute them. Ten is an arbitrary limit. Without question, there were other performances that were as memorable as these. Indeed, Sheward and Haagensen agree that the volume of theater they must see each year offers consistent proof of the high quality of acting on New York City stages. Without further ado, here's to you, the New York actor.
Haagensen's Heroes
Elizabeth Ashley: 'Me, Myself & I'
In Edward Albee's criminally undervalued play, Elizabeth Ashley took on the theater of the absurd and registered a knockout. Her grotesque, imperious, wildly funny mother of identical twins named OTTO and otto drove this delicious slice of existential vaudeville with ferocious energy. From the first moment, when from under flying hair in her messy bed she peered at OTTO and asked with a whine, "Are you the one that loves me?," Ashley was in complete command, virtuosically demented and scarily single-minded. It was all the more impressive after Ashley said in an interview that she had never before strayed from the realm of naturalism on stage. Could've fooled me.
Laura Benanti: 'Women on the Verge of a Nervous Breakdown'
Though undeserving of the critical drubbing it received, this Lincoln Center Theater musical adaptation of Pedro Almodóvar's film never jelled. The same can't be said for Laura Benanti's riotous turn as Candela, a dizzy Madrid model who has just discovered that she's shacking up with a Shiite terrorist. Benanti, who's quickly proving to be one of our most versatile and accomplished actors, equally at home in plays and musicals, took David Yazbek's best number, the tongue-twisting "Model Behavior," and delivered it with an extraordinary mixture of comic style and emotional depth. She stole this starry ensemble show, and I can only hope the Tony nominators don't forget her come spring.
Patch Darragh: 'The Glass Menagerie'
Director Gordon Edelstein blew the dust off this beloved classic by staging it in a seedy hotel room where Tom Wingfield is attempting to write a play about his troubled family. This daring and dicey approach would surely have failed without Patch Darragh's spellbindingly intelligent, quicksilver work as Tom. Unambiguously homosexual and incipiently alcoholic, Darragh's Tom was infused with our knowledge of playwright Tennessee Williams' difficult life. On stage virtually throughout as a writer watching his characters, Darragh had to make every moment active and succeeded brilliantly. It's not often that an actor redefines a classic role. Darragh did.
Shawn Fagan: 'Wife to James Whelan'
In the Mint Theater Company's fine production of this long-lost play by Irish writer Teresa Deevy, Shawn Fagan proved that an actor doesn't have to be flashy to be riveting. Deevy's James Whelan is a strikingly original variation on the standard strutting Irishman: a mixture of great emotional sensitivity and self-aggrandizing bluster, finished off with a surprising primness. Fagan thoroughly investigated every facet, finely shading his portrait and proving particularly effective in negotiating some hairpin turns in temperament. It all built to a man transformed by time and events who no longer knows who he is. In Fagan's superlative hands, the ache of being human throbbed keenly at the final curtain.
Emily Jenda: 'Drat! The Cat!'
There's no greater rush for a critic than encountering a blazing new talent. The terrific Emily Jenda is still non-Equity, but I'm sure that won't continue for long. From the moment she and her equally delightful co-star Mark Emerson finished Ira Levin and Milton Schafer's sly comic duet "Holmes and Watson," it was clear that Jenda was the real deal. As Alice Van Guilder, a bored rich girl–turned–cat burglar in early-20th-century New York City, Jenda showed an astonishing facility with a musical comedy style she's far too young to know anything about. She served Levin's twinkling wit impeccably, burst with intelligence, and sang like a dream. Hello, Emily!

Rory Lipede: 'When Last We Flew'
Attending the New York International Fringe Festival is rather like playing the lady and the tiger: You're never sure what's going to be behind that screen, and the chances are considerable that it will be deadly. So when you encounter work as smart and sharp as Harrison David Rivers' exhilarating new play, your joy is unbounded. When you also encounter a performance as hilarious and heartbreaking as Rory Lipede's, well, that's the definition of bliss. From the moment Lipede, as prim Midwestern Catholic schoolgirl Natalie, launched into a foulmouthed meltdown at assembly, she ruled the stage. Focused and fearless, Lipede embodied all the emotional chaos of adolescence as she confidently charted Natalie's complicated journey to maturity.

Alex Marshall-Brown: 'Uncle Tom's Cabin'
It's not easy playing one of the hoariest racial stereotypes in American history. The character Topsy in "Uncle Tom's Cabin" has long been synonymous with invidious racist attitudes about "shiftless" and "ignorant" blacks. But in director Alex Roe's fascinating modern take on what remains the most often performed American drama, the prodigiously talented Alex Marshall-Brown exploded onto the tiny Metropolitan Playhouse stage with visceral force. Rooting Topsy's pride in her ignorance and her delight in being "de wickedest creature in de world" in the girl's fierce hatred of her white owners, Marshall-Brown turned the character into a merrily insidious resistance fighter with astonishing effectiveness, suggesting that there is more depth to this iconic anti-slavery melodrama than generally thought.

Michael Shannon: 'Mistakes Were Made'
"Tour de force" is not a phrase I employ lightly, but there's none other that will do for Michael Shannon's epic turn as dodgy producer Felix Artifex in Craig Wright's gut-bustingly funny play. On display at the Barrow Street Theatre until Feb. 27, this almost-one-man show is vaulted into the ranks of the must-sees by Shannon's symphonic performance. Whether wheedling, whining, cajoling, barking, or stroking while juggling multiple phone lines, or earnestly unburdening himself with maudlin sincerity to his pet goldfish, Artifex is a glorious comic creation, one that Shannon never forgets to anchor in an increasingly desperate humanity. As I wrote at the time, "My hat isn't just off; it has yet to come to earth." And you know what? It still hasn't.
John Standing: 'Performing Noël Coward'
John Standing, who comes from a line of actors dating to 1809, met Noël Coward in Standing's mother's West End dressing room at the age of 10. She was starring in "Blithe Spirit." Mix that pedigree with a life's worth of close observance, and what you get is this utterly authentic cabaret show, seen at Café Carlyle. In more of a master class in acting than a boite turn, Standing provided American actors, who often struggle with the Master's unique style, with a once-in-a-lifetime opportunity to see exactly how it's done. Whether slicing through a comedy song or delivering a ballad with finely tuned emotional restraint, Standing was magic. As George Bernard Shaw once put it, "Bravo, Eliza!"

Eric Jordan Young: 'Neighbors'
Playwright Branden Jacobs-Jenkins asked a lot of his actors in this grandly theatrical and highly subversive play about a not-so-post-racial America. This Public Theater LAB production required acting rooted in emotional truth yet extravagant enough to embrace the play's considerable metatheatrical elements. As Zip Coon Crow, the gay African-American uncle of a troupe of traveling minstrels who wear blackface and represent offensive racial stereotypes, Eric Jordan Young came through bigtime. Kind and courtly, Zip is soon drinking tea with upscale white housewife Jean, whose uptight African-American husband, Richard, calls his new next-door neighbors by the N-word. Young's endearingly loopy charm chillingly gave way to something infinitely darker in Zip's inevitable confrontation with Richard. Like Jacobs-Jenkins' play, Young's performance was one of the most original offerings of the year.

Sheward's Superlatives

Viola Davis: 'Fences'
Viola Davis stunned Broadway audiences with her impassioned performances in the August Wilson plays "Seven Guitars" and "King Hedley II," but those interpretations still did not prepare us for her intense work as Rose Maxson in this Broadway revival of Wilson's first Pulitzer Prize winner. She masterfully conveyed Rose's fierce commitment to her marriage with the difficult Troy Maxson, fighting tooth and nail to keep her man when she learns of his infidelity. Davis made Rose into a mother tiger defending her family from hostile forces and even managed to outshine star Denzel Washington, as Troy, with her blazing ferocity.
Dane DeHaan: 'The Aliens'
I have never seen a more expressive depiction of adolescent angst than the one provided by newcomer Dane DeHaan in Annie Baker's play at Rattlestick Playwrights Theater. The most we learn about Evan, the awkward coffee-shop lackey, comes in a one-sided cell-phone conversation. Yet DeHaan superbly conveyed 17 years of isolation and longing with his halting speech and downward glances. We immediately saw that this is a shy outsider yearning to be invited to the cool kids' table. When Evan slowly accepted a cigarette from a hip slacker, his hesitancy and eagerness to take it were simultaneously heartbreaking and hilarious.
Jeannine Frumess: 'The Kid'
She was silent for much of her performance as Melissa, the birth mother in this new musical from the New Group, based on Dan Savage's memoir about his and his partner's adoption of a baby, but Jeannine Frumess endowed this teenage runaway with volumes of subtext. Frumess showed that Melissa makes no apologies for the fact that all she can manage is just getting by in her hand-to-mouth street life. In the solo number "Spare Change," Frumess straightforwardly set down the details of her character's homeless existence without bitterness or rancor, making the song a harrowing yet nonsensational account of a bleak world.
Jan Maxwell: 'Wings'
Is there any role Jan Maxwell can't play? After scaling the heights of hilarity in Broadway revivals of "The Royal Family" and "Lend Me a Tenor," she turned 180 degrees to play Emily Stilson, the desperate stroke victim at the center of Arthur Kopit's 70-minute explosion of a play. In John Doyle's imaginative production for Second Stage Theatre, the actor was bombarded with a kaleidoscope of sounds and images to replicate the sensation of losing your ability to communicate and comprehend the exterior world. Maxwell ran the gamut of emotions, from blazing anger to pathetic terror to Emily's final acceptance of her disability and whatever comes next, even death.
Deirdre O'Connell: 'In the Wake'
The mark of a truly inspired actor is the ability to take an unflashy role and make it real and deep. Judy, the cynical relief worker in Lisa Kron's new play at the Public Theater, is a jagged little pill who spends much of her onstage time smoking and retreating to a corner of her friend Ellen's apartment. Yet Deirdre O'Connell made her vibrantly alive, constantly pushing toward Judy's objective of helping the most people possible. The actor gave the character a deadpan expression and moved as though she were constantly in pain, but O'Connell also instilled a passionate humanity beneath Judy's leathery exterior.
Everett Quinton: 'Devil Boys From Beyond'
"Fuck mankind," snarled Everett Quinton as Florence Wexler, who is not about to give up her hunky alien lover to save humanity. She uttered the expletive while contemptuously flinging her cigarette butt into the audience. In Buddy Thomas and Kenneth Elliott's unfortunately short-lived Off-Broadway spoof at New World Stages, Quinton, a veteran of the legendary Ridiculous Theatrical Company, returned to his drag roots to portray this hot mama from Lizard Lick, Fla. Quinton evoked numerous nasty Southern-fried stereotypes in a scaldingly funny turn as a woman who will let nothing—not even the fate of the world—stop her from enjoying a last roll in the hay.
Mark Rylance: 'La Bête'
After winning a Tony Award for bouncing off the walls in the Broadway revival of the lighter-than-air comedy "Boeing-Boeing," Mark Rylance proved he can combine slapstick with sophisticated wordplay in this Broadway revival of David Hirson's art-versus-commerce play in verse. As the riotously obnoxious street clown Valere, Rylance pulled every trick in the actor's book. Hirson's play opens with a marathon monologue from this spectacularly egotistical fool, and Rylance turned this aria of vanity into a tour de farce, as Valere revels in his self-proclaimed brilliance while burping and farting, misquoting the classics, and destroying the home of his host, the poet-playwright Elomire.

Liev Schreiber: 'A View From the Bridge'
Eddie Carbone, the tragic longshoreman in this Arthur Miller classic, has become one of those roles actors long to play. Liev Schreiber, one of the few star-level actors to consistently return to the New York stage, found a vulnerability and tenderness in Eddie that has often been overlooked. Eddie's forbidden sexual desire for his niece Catherine coexists with his protective paternal feelings for her. These conflicting emotions played across Schreiber's eloquent features at Broadway's Cort Theatre as Catherine (Scarlett Johansson) told Eddie of her love for Rodolpho, an illegal immigrant staying in their Brooklyn apartment. It was just one painfully detailed moment in a performance full of them.
Sherie Rene Scott: 'Everyday Rapture'
The quirky offbeat humor that Sherie Rene Scott brought to her roles in "Aida," "Dirty Rotten Scoundrels," and "The Little Mermaid" was on full display at Roundabout Theatre Company in this autobiographical musical that she co-authored with Dick Scanlan. Combining self-deprecating wit, dynamite vocals, and razzle-dazzle showmanship, Scott took us on a funny and insightful trip from her repressive Mennonite upbringing in Topeka, Kan., to battling insecurities into adulthood despite headlining those Broadway shows.
T. Ryder Smith: 'Sarah Ruhl's Passion Play'
What do Queen Elizabeth I, Adolf Hitler, and Ronald Reagan have in common? They are all characters in Sarah Ruhl's epic three-part "Passion Play," each representing iron-fisted authority in a different era and all played to perfection by T. Ryder Smith in Epic Theatre Ensemble's memorable production. These historic figures could have come across as political cartoons, but Smith endowed each with an extra dimension. He made Elizabeth cruelly authoritarian beneath her protestations that she has only the welfare of her subjects at heart; his Hitler was quietly menacing and did not need to flaunt his tyranny; and his Reagan used folksy charm to dazzle and confuse. It was a triple tour de force.