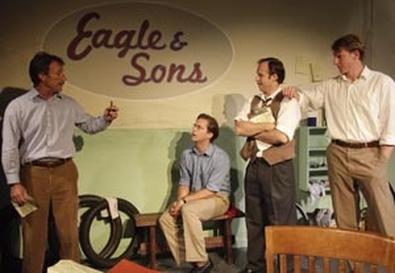 At the climax of Arthur Miller's autobiographical portrait of the artist as a young man, authorial stand-in Bert muses on the ironies of the daily grind during the Depression. "I don't get it," says the college-bound youth. "How is it me that gets out? …Oh, there ought to be a statue in the park, To All the Ones That Stay." It's the heart-piercing peak of an unbroken series of mesmerizing moments that compose the superb revival at Ruskin Group Theatre.
First produced in 1955 as companion to the one-act version of "A View From the Bridge," this memory play is marred by its author trying to say too much in too little time. That's hardly a fatal flaw—not when set against the force of Miller's sociological observations (the play could not be more topical) and layered subtext, which director Amelia Mulkey's pristine staging lands with remarkable economy. Transforming the venue into the dingy shipping/receiving area of a Brooklyn automotive parts warehouse, courtesy of set designer Cliff Wagner, Mulkey nails the tricky mix of realism and impressionism. She makes effective use of Mike Reilly's subtle lighting, and the recurrent mechanistic sounds—tapped fingers on a chair, metal coffee cup, pencil on a desk—are inspired, supplied by a dream cast.
Lane Compton gives Bert a natural, wide-eyed quietude that recalls the young Richard Thomas. Nick Cimiluca brings palpable sensitivity to crony Kenneth, the idealistic Irishman who has lost his bearings by the final fade-out. Jason Paul Field is no less impressive as Larry, who can locate any part in the place, his brief exchange with Julia McIlvaine's vivid secretary containing an entire pocket history of an affair in a few sentences. Conor Walshe's concentration as near-catatonic Tom Kelly constitutes a mini–tour de force. Lynn Wanlass' frenetic concern as switchboard operator Agnes could have walked off Miller's pages. Gregory G. Giles' splenetic supervisor, Paul Denk's sage long-timer, and the saucy tag team of Timothy George Connolly and Val Masouris offer spot-on miniature portraits, and intensely focused Richard Leighton steals the show as volatile Gus, who carries Miller's most tragic through-line to house-stilling fruition. Jeison Azali, Billy Ensley, and Hamilton Matthews complete a sterling ensemble, with alternates Lola Kelly and John Wickersham, whose unalloyed involvement brings Miller's haunting, sometimes hilarious reminiscences to such meaningful, moving, pitch-perfect life.
Presented by and at Ruskin Group Theatre, 3000 Airport Ave., Santa Monica. June 10–July 30. Fri.–Sat., 8 p.m.; Sun., 2 p.m. (Dark July 3.) (310) 397-3244. www.ruskingrouptheatre.com.