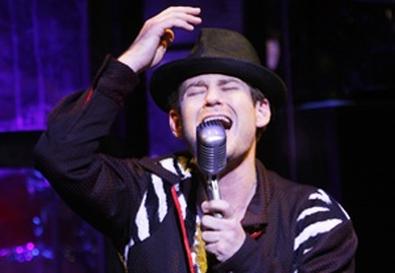 Though its brain may be a bit simple, "Memphis" has its heart and soul in the right place. The new musical features a rock-solid score by Bon Jovi keyboardist David Bryan, dynamic singing, and athletic dancing. On the debit side, Joe DiPietro's book reduces a traumatic period in American cultural and musical history to a bland "Behind the Music" special, and director Christopher Ashley encourages his cast to limn broadly, blunting the impact of several potentially heart-wrenching moments.
Set in the title city during the days of segregation, the story focuses on rebellious disc jockey Huey Calhoun, a lovable, larger-than-life personality who introduces "race music" to white audiences and paves the way for its influence on rock 'n' roll. As if that weren't enough to inflame the bigots of the community, Huey barely conceals his affair with an African-American singer. Predictably, their romance and Huey's career both end in tragedy, but we get more than two hours of roof-raising numbers from a dynamic cast, choreographed with muscle and flair by Sergio Trujillo.
As Huey, Chad Kimball bursts into Broadway stardom after several promising supporting roles, including a memorable turn as the cow in "Into the Woods." Resembling a young George W. Bush both physically and vocally, Kimball combines laid-back charm with an irresistible rough energy. He really does appear to be an uneducated country boy with an ear for what the kids will listen to rather than just another New York singer-actor putting on a Southern accent.
Montego Glover displays a powerful set of pipes as Felicia, Huey's love interest, as do J. Bernard Calloway as her protective brother and Derrick Baskin and James Monroe Iglehart as a bartender and a janitor with hidden musical talent. Cass Morgan gets a surprise gospel song as Huey's conservative mother. Unfortunately, with the exception of Kimball's Huey, the characters come across as two-dimensional clichés—clichés who can sing but clichés nonetheless—so when Felicia is brutally attacked by racist thugs, it's strangely unmoving.
Bryan successfully captures the flavor of the R&B and gospel tunes of the period without imitating them. However, there is one out-of-nowhere number in which Felicia suddenly turns into Diana Ross and warbles a Supremes-style bubble-gum confection called "Someday." It's a pretty tune but right out of the 1960s, at least 10 years ahead of the show's time frame.
David Gallo's set makes the Tennessee town seem like a deserted warehouse. At least it's not a gloomy warehouse, thanks to lighting designer Howell Binkley. While "Memphis" may not be a credible re-creation of a real time and place, it does capture the spirit of the city's music.
Presented by Junkyard Dog Productions, Barbara and Buddy Freitag, Marleen and Kenny Alhadeff, Latitude Link, Jim and Susan Blair, Demos Bizar Entertainment, Land Line Productions, Apples and Oranges Productions, Dave Copley, Dancap Productions, Alex and Katya Lukianov, Tony Ponturo, 2 Guys Productions, and Richard Winkler, in association with Lauren Doll, Eric and Marsi Gardiner, Linda and Bill Potter, Broadway Across America, Jocko Productions, Patty Baker, Dan Frishwasser, Bob Bartner/Scott and Kaylin Union, Loraine Boyle/Chase Mishkin, Remmel T. Dickinson/Memphis Orpheum Group, ShadowCatcher Entertainment/Vijay and Sita Vashee at the Shubert Theatre, 225 W. 44th St., NYC. Opened Oct. 19 for an open run. Tue.–Sat., 8 p.m.; Wed. and Sat., 2 p.m.; Sun., 3 p.m. (No performance Tue., Oct. 20.) (212) 239-6200, (800) 432-7250, or www.telecharge.com. Casting by Telsey Casting.