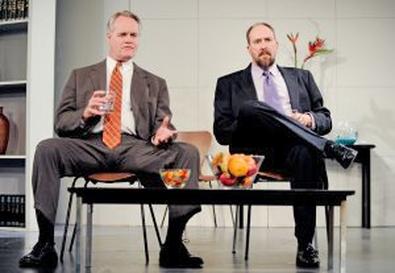 Jason Wells' Steppenwolf-bred dark comedy, now in its West Coast premiere, initially feels like an enigmatic Samuel Beckett play, updated to offer sardonic commentary on greed and amorality in the corporate jungle. Yet that impression fades as his lengthy one-act plays out. Pitch-black humor accented with violence and paranoia, as in the classic "The Manchurian Candidate," can be simultaneously hilarious and chilling, but Wells' tale of Machiavellian boardroom plotting doesn't fully jell. Director Alexis Chamow and an adept cast elicit nervous laughter from the audience as the madness unfolds, yet the piece seems a few gasps short of its intended impact.
The cryptic narrative is about a business conflict that's not specified, an unidentified rival, the group of ruthless high rollers (Dana J. Kelly Jr., Alan Brooks, William Salyers) who want that opponent dead, a bloodthirsty weapons expert (Robert Pescovitz), and a young businessman (Michael Matthys) who suggests a compromise for the men. The group's fumbling efforts to forge a workable assassination scheme carry a hint of the Keystone Kops; at the same time, they evoke resonant reflections on corporate inefficiency and monumental screw-ups—Enron, Toyota, and beyond. The executives' lack of regard for endangered bystanders offers hair-raising parallels to terrorist missions. When the dastardly plan spins out of control, the play moves toward an ironic but inevitable calamity.
Amid a strong ensemble, Pescovitz stands out, projecting an ideal mix of goofiness and insanity, a seemingly harmless kook until we realize how dangerous he is. As Kit, the eldest of the conniving businessmen, Kelly is superb, exerting a cool control when putting in his two cents worth about the murder plans, and making the most of a scene in which he's the only conspirator to experience a moment of conscience. Matthys excels as an ambitious idealist forced to make a tough choice. Salyers and Brooks likewise give solid portrayals.
The atmospheric production is smartly designed, with special mention due for Sara Ryung Clement's set, Christie Wright's lighting, and Leah Piehl's costumes. Wells' attempt to depict political power gone amuck is gutsy and sometimes quite funny, but the play's narrative needs tighter focus.


Presented by Furious Theatre Company at the Carrie Hamilton Theatre, 39 S. El Molino Ave., Pasadena. Feb. 27–March 28. Thu.–Sat., 8 p.m.; Sun., 7:30 p.m. (626) 792-7116. www.furioustheatre.org.