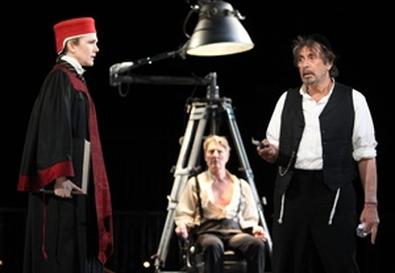 First things first: I've never been much able to stomach "The Merchant of Venice," not when I first read it in high school nor when I first saw it (in
1973 on TV
, starring the husband-and-wife team of Laurence Olivier and Joan Plowright). I'm always too aware of William Shakespeare enthusiastically pandering to the anti-Semitism of his day in this "comedy" while absolving himself with the "Hath not a Jew eyes?" speech. Nevertheless, there's some vintage language and two intriguing characters: Shylock and Portia. Director Daniel Sullivan is fortunate to have terrific performances in those roles from Al Pacino and Lily Rabe. So if you can stand the play's ick factor or are unfamiliar with the work, a trip to the Delacorte is probably in order.
I have to believe that Pacino is the reason for this production, and he does not disappoint. Viscerally delineating Shylock's pervasive sense of otherness, the star potently charts his character's unraveling, from prosperous businessman to rage-filled avenger to humiliated soul. Pacino begins with a man who thinks he has contained his rage and adapted to his circumstances. But once the Christian Lorenzo spirits away the Jewish Shylock's only daughter, Jessica, and converts and marries her, the moneylender starts to crack. When Antonio, the title character, offers a chance at revenge through taking out a loan for his feckless friend Bassanio, Pacino's riveting Shylock is utterly incapable of resisting. The only time the actor falters is in the impossible trial scene, where his complicated creation can't serve Shakespeare's ugly, crowd-pleasing melodramatics.
Rabe is a superb Portia, eschewing the saintly approach in favor of emphasizing the lady's intelligence, fierce wit, and implacable determination. Highly believable in her male disguise with lowered vocal register, Rabe goes right for the jugular in prosecuting Shylock, giving us a brutal woman who takes almost sadistic pleasure in toying with her adversary. Unfortunately, Hamish Linklater's boyishly callow Bassanio is no match for this Portia. Indeed, it feels as if she wants him for a husband because she knows she can rule him. Linklater isn't helped by Byron Jennings' querulous Antonio. The two men never establish a convincing bond of brotherly love despite constant protestations of same.
Jesse Tyler Ferguson plays the clownish servant Launcelot Gobbo entirely too broadly. More successful are Heather Lind's confused, self-hating Jessica, who is well-matched by the handsome Bill Heck's calm and controlling Lorenzo. Jesse L. Martin swaggers enticingly as Gratiano, a friend of Bassanio, and Nyambi Nyambi and Max Wright are hugely funny as two of the wealthy Portia's suitors, who must negotiate her late father's specially devised test to win her hand. Special mention goes to Marianne Jean-Baptiste's demure yet game Nerissa, Portia's maidservant.
Sullivan's production is best at showing how this society is responsible for creating Shylock. The director has understandably shrouded the comic-romance sequences in an underlying melancholy, aided by Dan Moses Schreier's evocative musical score, though Sullivan can't totally squelch some of Shakespeare's indestructible if now uncomfortable sitcom setups. Mark Wendland's cold revolving set of skeletal black metal also helps lower the comic temperature, though I could have done without the looming abacus. Jess Goldstein's Edwardian costumes evoke another anti-Semitic society ruled by an insular circle of privilege, though they seem out of place in Italy. Ken Posner lights it all expressively once the sun goes down.
On a lovely summer night, theater in Central Park is always magical, which greatly aids Shakespeare's endless fifth act of shallow romantic folderol involving twin gifts of rings. Sullivan devises stage images tying Jessica to her vanquished father in an attempt to take the curse off the frivolity and inevitable happy endings. But for modern audiences, "The Merchant of Venice" ends with Shylock's humiliation, and there's just not a damn thing to be done about it.
Presented by the Public Theater at the Delacorte Theater, Central Park (enter at Fifth Avenue and 79th Street or Central Park West and 81st Street), NYC. July 1–Aug. 1. Schedule varies. (212) 967-7555 or www.publictheater.org. Casting by Jordan Thaler and Heidi Griffiths.