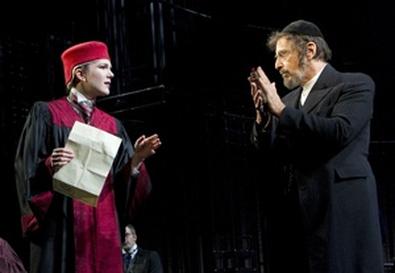 After a hit run this summer outdoors in Central Park, the Public Theater production of "The Merchant of Venice" has moved indoors to the Broadhurst Theatre, largely on the strength of Al Pacino's star status. But this sterling version of Shakespeare's classic tale of greed, romance, mercy, and religious intolerance is much more than a vehicle for one actor, magnificent though that actor is. Director Daniel Sullivan's brilliantly conceived Edwardian-set staging brings all the undercurrents of conflicting passions to the surface. Outdoors the sylvan setting weighted the production toward the airy romance between Portia (Lily Rabe), the high-spirited heiress, and Bassanio (David Harbour), the poor but honest gentleman. Now that Mark Wendland's revolving wrought-iron set has been fitted into a smaller indoor space, with the black-painted theater wall serving as a backdrop, the emphasis has shifted to the darker story of Shylock (Pacino), the revenge-hungry Jewish moneylender bent on exacting a pound of flesh from Antonio (Byron Jennings), the merchant of the title and bosom friend of Bassanio. When the two tales converge in the blistering trial scene, theatrical fireworks explode as two heavyweights at the top of their game—Pacino and Rabe—clash.
Both stars' performances have deepened. Pacino has added even more detail to this complex figure. Shylock has been played as a heartless villain and an innocent victim of anti-Semitism, but Pacino combines elements of both to create a multilayered interpretation of arguably Shakespeare's most controversial character. This Shylock is a shrewd businessman driven to irrational ends by an intolerant world. At first, when making a deal with Antonio and Bassanio, he is jovial and friendly, but as he gradually reveals his anger over the former's bigoted behavior, Pacino slowly uncovers Shylock's obsession with vengeance. When he demands the fatal payment from Antonio, it's as if he's railing against all the injustices his people have ever suffered and he believes himself justified in seeking murder for his tormentor. After Shylock's defeat, Sullivan has added a final moment of defiance against Venetian Christian society. The backdrop allows lighting designer Kenneth Posner to create ominous shadows and turn the scene into a frightening forecast of a fascist Europe. In this climactic moment, Pacino makes Shylock beaten but not totally downcast.
Rabe has also incorporated more shading into her finely etched portrait of the perceptive Portia. She wisely underplays the heroine's withering wit when describing the deficiencies of myriad suitors and tones down her passion when encountering Bassanio. Rabe's face becomes a map of conflicting sensations when Portia is disguised as a male lawyer, observing both the hypocritical workings of Bassanio's all-male world and that he and Antonio may have been more than just friends. Just as Pacino makes Shylock more than a monster or a victim, Rabe gives us a supremely intelligent woman not satisfied with the limited choices of her time.
The homoerotic undertone is just one of the many thematic veins Sullivan has mined in this rich production, creating a Venice where wealth is the driving force and the social status quo must be maintained. In addition to Wendland's set and Posner's lighting, Jess Goldstein's period costumes and Dan Moses Schreier's evocative music skillfully fulfill the director's vision.
Jennings intensely conveys Antonio's love that dare not speak its name, but Harbour, who replaces Hamish Linklater, hits Bassanio's comic bits a bit heavily. Conversely, Christopher Fitzgerald, new to the comic-relief role of servant Launcelot Gobbo, plays it too darkly. Newcomer Marsha Stephanie Blake makes for a playful Nerissa, and Jesse L. Martin's rakish Gratiano, Gerry Bamman's dignified Duke of Venice, and Heather Lind's self-doubting Jessica, Shylock's daughter, are welcome returns from the summer.


Presented by the Public Theater, Jeffrey Richards, Jerry Frankel, Debbie Bisno and Eva Price, Amy Nederlander and Jonathan First, Stewart F. Lane and Bonnie Comley, Universal Pictures Stage Productions, Merritt Forrest Baer, the Araca Group, Broadway Across America, Joseph and Matthew Deitch, JK Productions, Terry Allen Kramer, Jay and Cindy Gutterman/Cathy Chernoff, Mallory Factor/Cheryl Lachowicz, Joey Parnes, and the Shubert Organization at the Broadhurst Theater, 235 W. 44th St., NYC. Nov. 13–Feb. 20, 2011. Schedule varies. (No performances Jan. 10–31.)
(212) 239-6200, (800) 432-7250, or www.telecharge.com Casting by Jordan Thaler and Heidi Griffiths.