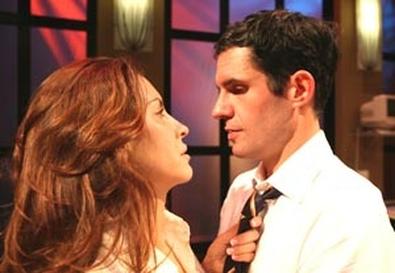 Neil LaBute's lacerating drama premiered Off-Broadway a year after Sept. 11. Though the play ponders the effects that such a near-apocalyptic calamity might have on individuals, its most compelling thematic points derive from its depiction of a harrowing relationship meltdown, in an Edward Albee vein.
It's an intimate story of two people in love who are desperately trying to salvage their bond amid a torrent of moral dilemmas and personal insecurities. Director Ron Klier guides two fiercely committed actors in a knockout production that elicits profound ruminations on urgent issues.
If the chaos surrounding a public massacre allowed you to run away from dreaded responsibilities and embark on a new life, would you take the opportunity? On Sept. 12, 2001, Ben (Johnny Clark) lingers in the Manhattan apartment of his work supervisor, Abby (Michelle Clunie), with whom he is having an intense extramarital affair. Ben had been scheduled to attend a meeting in the World Trade Center the prior morning.
Yet, because he was indulging in a tryst with Abby and did not make the meeting, he escaped the terrorist attack. He's among those reported missing and assumed dead. He's considering abandoning his wife and children and running away with Abby to start a new life together. Yet Abby challenges Ben's eagerness to benefit from a horrific international crisis and the deaths of thousands of innocent citizens. She also airs her dissatisfaction with his unwillingness to openly leave his marriage. Their relationship faces a zero-hour confrontation of its own.
Clark masterfully conveys the pent-up agony of Ben's dilemma, incorporating incisive details of the man's ordeal in telling silences, taut body language, and sudden bursts of hostility. Moving beyond a typical misogynistic LaBute male character, Clark elicits our empathy even as we reflect on Ben's weaknesses.
Similarly, Clunie brilliantly segues between harping harridan and vulnerable woman in love, illuminating the multiple dimensions of this ostensibly tough cookie. Danny Cistone's superbly conceived loft apartment set is at once luxurious and oppressive, enhanced by Derrick McDaniel's wonderfully textured lighting. Klier's hard-hitting production casts a haunting spell of heartbreak and despair.
Presented by Vs. Theatre Company at [Inside] the Ford, 2580 Cahuenga Blvd. East, Hollywood. Mar. 19–Apr. 24. Wed.–Sat, 8 p.m.; Sun., 2 p.m. (323) 461-3673. www.fordtheatres.org.