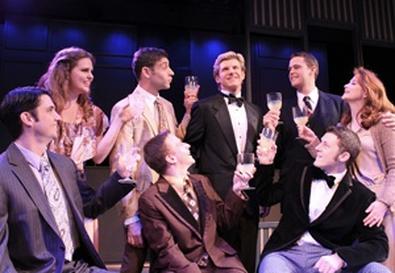 Stephen Sondheim's 1981 musical is generally not considered among the top tier of his works. George Furth book, based on George S. Kaufman and Moss Hart's 1934 play of the same name and told in reverse-chronological order, remains a bit unwieldy. Yet Sondheim's reprise-dominated score has provided some of the most popular standards in his repertoire. Director Richard Israel's production benefits from a fluid and polished staging and brilliantly nuanced performances. In this snappily paced rendition, the story feels more cohesive and accessible than is often the case in revivals of this piece.
Set against a showbiz background, the musical's best moments recall the bite and sophistication of the classic film "All About Eve." It starts in 1976, as songwriter-producer Franklin Shepard (Brent Schindele) sits at a piano, reflecting on his life and career, particularly the ups and downs of his longtime friendships with his songwriting partner, lyricist Charley Kringas (Matt Bauer), and a theater critic, Mary Flynn (Leslie Spencer). Adultery, divorces, marriages, and the pitfalls of fame and fortune are recounted during flashbacks to various years, ending on a New York rooftop in 1957, when everything looked promising for the trio of young pals. The musical is a poignant portrait of compromised dreams and the erosion of relationships, leavened by sly humor and the score's more joyous songs, such as the title tune and the exuberantly optimistic "Our Time."
There are choice roles in this bittersweet saga of wannabe "movers" and "shapers." Schindele is charismatic as a charming yet morally challenged Hollywood player, and he sings superbly. Bauer excels in capturing the comedic and dramatic elements of his role, earning empathy for this neglected buddy, and acing the showstopping number, "Franklin Shepard, Inc.," in which Charley publicly exposes his self-centered friend's weaknesses. Spencer is terrific in conveying her character's startling transition from idealistic young writer to disillusioned and drunken shrew, and she sings with passionate conviction, particularly in the haunting "Like It Was." Gina D'Acciaro is exemplary as Gussie, the brassy Broadway star who goes after fickle Franklin and gets him—for a while. Her powerful voice is shown to fine advantage in "Growing Up." The versatile triple-threat ensemble is likewise on target.
Music director Johanna Kent leads a superb backstage orchestra, and John Todd provides vibrant and stylish choreography. Stephen Gifford's scenic design, Lisa D. Katz's lighting, Sharon McGunigle's costumes and Krys Fehervari's wig and hair designs create a chic visual sheen.
Presented by Actors Co-op at the Crossley Terrace Theatre, 1760 N. Gower St., Hollywood.
Sept. 17–Oct. 24. Fri.–Sat., 8 p.m.; Sun., 2:30 p.m. (323) 462-8460, ext. 300. www.actorsco-op.org.