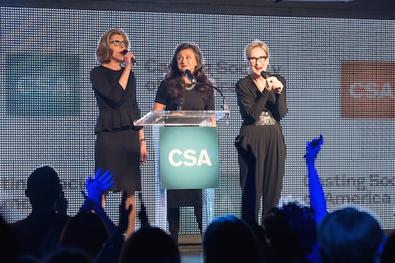 Attendees of the 30th Annual Artios Awards in New York City got a pleasant surprise last night when some special guests appeared to help honor director Rob Marshall.
As the Oscar nominee and Emmy winner was being presented with the New York Apple Award, Christine Baranski appeared on stage and began singing about how many actors decided they wanted to show up for Marshall. "Anyone else for the festival?" she sang, borrowing a page from "Prologue: Into the Woods."
And before the audience members could catch their breath, Tracey Ullman walked onstage, chiming in, "I want to go to the festival."
And, while the audience members' mouths were still hanging open with awe and delight, the two actors harmonizing over screams and gasps, the one and only Meryl Streep walked out singing, "Please let me go to the festival."
The three continued with versions of "Into the Woods" songs about their fearless leader and casting directors. "Sometimes people cast you just because you're good. Other times they cast you, when no one thought they should," sang Streep.
"But Meryl stands alone," Baranski and Ullman sang, causing the audience to erupt in laughter. "So good it makes you groan," they added.
The three went on for a while, their incredible performance clearly rehearsed with immeasurable love and respect for Marshall. Because words can't do the inspired song justice, watch it for yourself below, along with Marshall's acceptance speech.
Inspired by this post? Check out our audition listings!