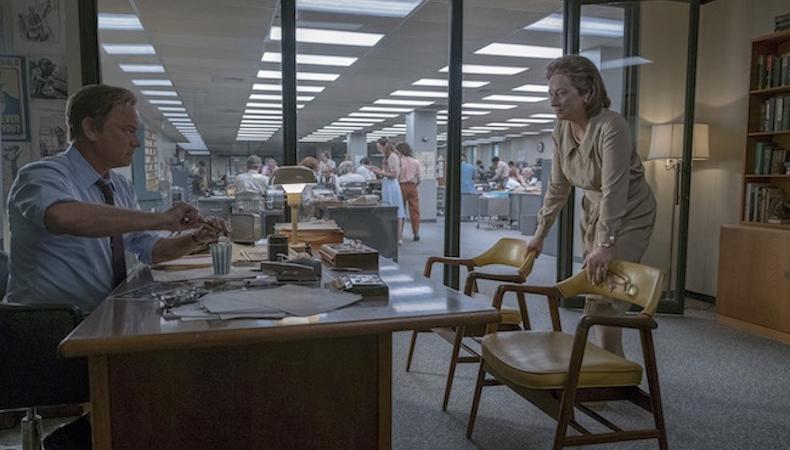 The spec script Elizabeth Hannah wrote for "The Post" was the best one "Spotlight" screenwriter Josh Singer had ever read. He knew this was a special project, and while he hesitated to take on a gig that would have him work yet again on a journalism movie, he knew Hannah had created something decidedly different from the journalistic procedural that earned him an Academy Award in 2016. For starters, while "Spotlight" was a reporting story following the Boston Globe's inimitable team of investigative journalists, this latest Steven Spielberg–Tom Hanks project was always designed to follow the Washington Post's editors and publishers—the power players. These figures were tasked with making the call to publish the explosive Pentagon Papers that showed how the U.S. government had misled Congress and the American public about the country's involvement in Vietnam.
But beyond being an impossibly timely tale about the value of a free press that holds those in power accountable, "The Post" is the story of a woman finding her voice. The woman in question is Katharine Graham, played in the film by Meryl Streep, who reminds us all that she can do more with a sigh than many can with entire monologues. Hannah had been enamored of Graham ever since reading her memoir, "Personal History," where the Post publisher spoke candidly about her anxiety about taking the reins of her family's newspaper business at a time when women were rarely granted such positions. Rather than rhetorically ask, "Why isn't there a movie about this woman?" Hannah set about to make it herself.
"That is something that is very relatable," Hannah shares with Backstage. "The idea of working in a male-dominated industry is not foreign to me. Being at a table filled with men and being the only woman trying to speak up…was something that felt very interesting, and [there was] just something about her that I couldn't get out of my head."
No doubt the resonance of the story in today's environment helped fast-track the project; it took only nine months from the moment Spielberg read the script to having a completed movie. That's a testament to the film's industrious producers, Amy Pascal and Kristie Macosko Krieger, who nurtured a collaborative spirit on set. For while "The Post" is a film is about a great woman, it's also made by great women. "Liz, first and foremost," Singer said. "Krieger and Pascal, who pulled off a miracle; Ann Roth, whose costumes are extraordinary; Ellen Lewis, who cast the hell out of the movie. And then, of course, you have Meryl."
READ: What Meryl Streep Says About Acting
"With Kay [Katharine], there was always Meryl," Hannah confessed. Whenever she sits down to write, she's found that having specific actors in mind helps her hone in on their voices and make their characters sound more authentic. But while the three-time Oscar winner was her dream choice for the role, she could never bring herself to write with Streep in mind. "Because I was so intimidated with the idea of Meryl coming anywhere near this movie. I would sit down to write something and I would have to walk away because I was in a panic." Instead, Hannah went back to Graham's memoir in audiobook form, using the publisher's own voice as inspiration.
Nevertheless, she's the first to point out that Streep wholly elevated what was on the page. "She brought such an immense amount of humanity and empathy and vulnerability to the role…. You hope that when you write something, that it doesn't stay in the drawer, that somebody wants to make it. Not only that, but that the characters you've tried to create will then be brought to life by people who care about them and who take them to the next level. And everyone in this film didn't just take it to the next level. They found a level above that—and a level above that!"
Want to star in a nonfiction film? Check out Backstage's film audition listings!