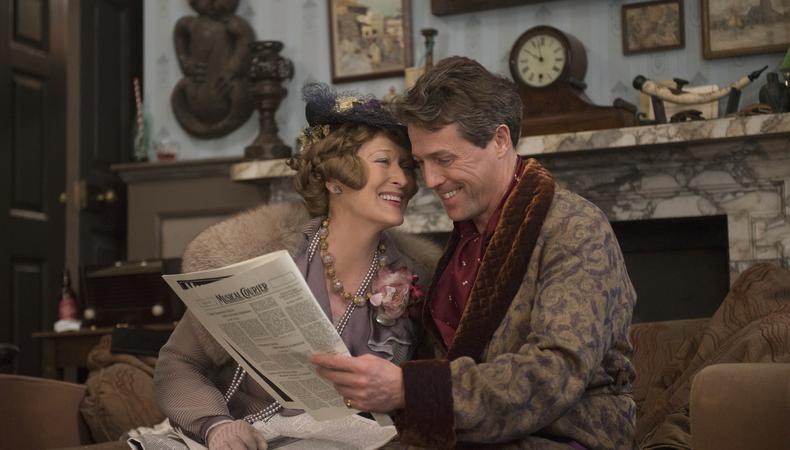 Ernst Lubitsch, the prolific German-American filmmaker of the 1930s, has a famous quote: "I've been to Paris, France, and I've been to Paris, Paramount. I think I prefer Paris, Paramount."
Stephen Frears, director of such films as "Dangerous Liaisons" and "The Queen," grew up idolizing Lubitsch and his sparkling comedies of manners. "I was brought up on Paramount comedies," he says. "There is a studio version of life that is nevertheless still felt. I knew it didn't take place in a sort of documentary world."
Such is the approach of "Florence Foster Jenkins" (in theaters Aug. 12), Frears' latest biographical dramedy, about the life of the notorious New York heiress who went down in history as the worst opera singer ever to perform at Carnegie Hall. Nicholas Martin's screenplay could have been given the standard Hollywood biopic treatment, but in the hands of Frears, cinematographer Danny Cohen, composer Alexandre Desplat, production designer Alan MacDonald, and costume designer Consolata Boyle, the film presents 1940s New York in all its flashy glory, a heightened world suited to serve as backdrop to such an extraordinary—and sometimes painfully funny—story.
"I'm surrounded by very good people," says Frears with a laugh when asked about establishing the film's distinct look. "I've got away with it." It helps, too, to be working with actors who understand that heightened quality, and who can deliver comedy without sinking into cheesiness. Frears again thinks of the Lubitsch era, when Paramount Pictures had rosters of highly trained performers under contract. "You have to find actors who can do that stuff in the way studios had companies of actors. That was how those films were made."
Luckily for Frears, in this case he had Meryl Streep as his star. The director starts spouting the usual adjectives—"She's such a brilliant actor, very informed and very hardworking...very attentive"—but adds that what makes Streep so wonderful is her ability to find new meaning in each take. "She does subtly different things," he explains. "She'll put the emphasis on one place rather than the other.... She seems to have her talent in her fingertips."
READ: "How to Be a 'One-Take Wonder' "
Streep's portrayal of Florence contains elements of broad comedy, as in the scene when we first hear the atrocious pitch, pronunciation, and timing of her singing. But underneath Florence's eccentric confidence, she is haunted by the syphilis she contracted from her first husband decades ago; throughout the movie, Streep offers glimpses into her understanding of mortality.
She and Frears never allow Florence to be ridiculed by the story itself. "My greatest ally was Meryl; she was adamant that shouldn't happen," he says. Although the audience at Florence's culminating concert at Carnegie Hall laughs at her voice, the film's audience sides with Nina Arianda's Agnes when she encourages Florence to keep singing.
"She's so talented and witty and unafraid," says Frears of Arianda. "I can't analyze why she's so good." He has the same praise for the rest of his cast, especially Hugh Grant, who plays Florence's partner and manager, St. Clair Bayfield. Grant hits all the beats of a man torn between sheltering the woman he dotes on and living a second, less performative life. "I've always known he was a brilliant actor," Frears says. "It came as a surprise to other people! To me, I've always thought he was a highly intelligent man—and that he could do light comedy."
To navigate the tone of a movie like "Florence Foster Jenkins," which laughs at and with its subject, actors have to possess both intelligence and humor. When Frears first heard Florence singing—on YouTube, he says—and learned about her life, he was filled with both hope and heartbreak. "It's a terribly tragic story, but there's a lot of laughter," he says. "It's so funny and so touching at the same time, in some mysterious ways."
Want to make sure you don't sing like Florence Foster Jenkins? Watch here: