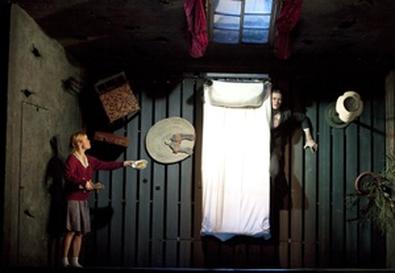 One of the joys of Brooklyn Academy of Music's Next Wave Festival is sampling unusual theater from countries that are rarely represented on American boards. A prime example is this shockingly different and excitingly physical adaptation, by Iceland's Vesturport Theatre in collaboration with London's Lyric Hammersmith Theatre, of Franz Kafka's classic novella of alienation, "Metamorphosis." There was a Broadway theatricalization by Steven Berkoff that had a limited run in 1989 and starred Mikhail Baryshnikov as Gregor Samsa, the low-level salesman who is transformed into a giant cockroach and becomes a pariah to his struggling family. I missed that production, but photographs suggest it was an abstract affair, with an all-white minimalist set. This version, adapted and directed by David Farr and Gísli Örn Gardarsson, who also plays Gregor, is rooted in the real world of 1915 Prague, with Börkur Jónsson's detailed set gradually transforming into a nightmarescape.

The production opens with the bourgeois Samsa clan sitting down to breakfast, their movements and expressions broad exaggerations of contentment. Their cartoonish happiness is shattered when they hear the changed Gregor scuttling about in the room above their heads. Fortunately, there is no insect makeup or costume for Gardarsson. Instead, Gregor's room is an upside-down version of the rest of the house and covered with holes for Gardarsson to grip. This handsome, athletic actor gymnastically crawls all over the set, effortlessly creating the illusion that Gregor is a wall-crawling roach (and on a much smaller budget than "Spider-Man"). As the family's fortunes decline, due to the loss of their son's income, Gregor descends lower on the food chain, until his humanity is totally gone and he is as animal-like as he appears.

In this version, the shadow of Nazi Germany, the menace that invaded Kafka's Czech homeland, is ever present. When Gregor's saintly sister, Greta, finally loses her patience and beats her transformed sibling, the harrowing scene evokes the specter of concentration camps. A prospective boarder, Herr Fischer, boasts of his athletic prowess and dedication to the state, not unlike an Aryan über-man. When he discovers the family's secret, in a startling coup de théâtre—Gregor bursts through the ceiling—Fischer threatens them with the coming final solution.

The small cast perfectly balances the reality of the Samsas' predicament with the fantasy elements. Gardarsson is nothing less than stunning; his acrobatics are amazing but never distract from his heartbreaking limning of a man slowly losing his identity. Nína Dögg Filippusdóttir makes Greta's change from loving sister to heartless neo-Nazi equally affecting. Ingvar E. Sigurdsson and Kelly Hunter bring their own subtext to the parents, as does Jonathan McGuinness to Herr Fischer and Herr Stietl, Gregor's oppressive boss.

Björn Helgason's lighting, Nick Manning's sound, and Nick Cave and Warren Ellis' original music innovatively combine with Jónsson's Escheresque set to create this surrealistic world, where the everyday and the bizarre collide.



Presented by Brooklyn Academy of Music as part of 2010 Next Wave Festival at the BAM Harvey Theater, 651 Fulton St., Brooklyn, N.Y. Nov. 30–Dec. 5. Tue.–Sat., 7:30 p.m.; Sun., 3 p.m. (718) 636-4100 or www.bam.org.