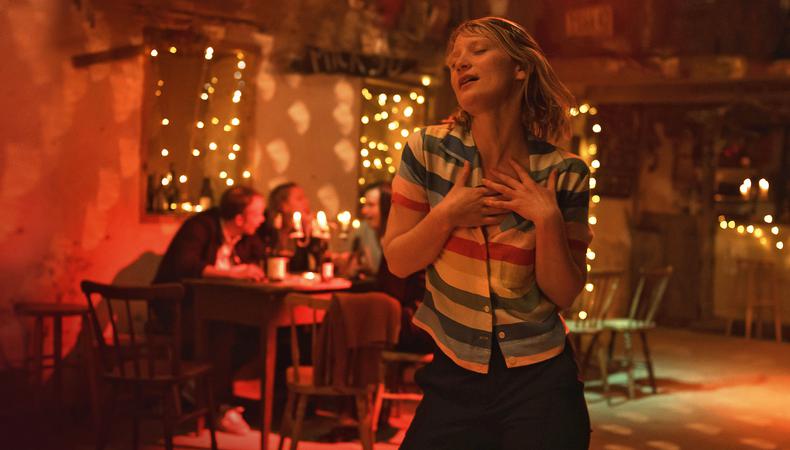 "Horror without catharsis" is how Chris (Vicky Krieps) describes the films of Ingmar Bergman in "Bergman Island." By contrast, the films of Mia Hansen-Løve always include some form of release, for both her characters and the audience. Hansen-Løve describes that as the heart of why she makes cinema at all. "Bergman, [whom] I love very much, explores the brutality of human relationships. But I couldn't make my own films this way, because I need catharsis," she says.
Instead, Hansen-Løve's movies—which include "Things to Come" and "Maya"—are about intellectuals and artistic types in everyday situations. But by the end, you often feel like life's big questions have been answered.
Her latest, "Bergman Island," in theaters Oct. 15, follows a filmmaking couple, Chris and Tony (the latter portrayed by Tim Roth) visiting Fårö, the island where Bergman lived. They are both working on screenplays, though writing is easier for him than it is for her. Employing a film-within-a-film device, we see Chris' screenplay come to life as Amy (Mia Wasikowska) also visits Fårö and reconnects with an old flame, Joseph (Anders Danielsen Lie).
"Chris and Amy are two sides of the same person, shown at different moments. Yet I never thought they could be played by the same actor," says Hansen-Løve, explaining how she cast the film. "Vicky had vulnerability and fragility but also authority—I could see her as a director—while Mia had this innocence about her. I could see her as this eternal teenager, someone who cannot overcome their first love. She's a prisoner of her feelings. Mia has a lot of experience as an actor, but on set, I felt I was filming an unprofessional actor. She had this openness and freedom in front of the camera, not paying attention to how she would look."
Both of the film's stories deal with intimate relationships—or as Hansen-Løve puts it, "the difficulty of finding somebody with whom you can have everything. Something's missing in both relationships." However, she adds, there are differences between the two couples, too: "Joseph and Amy's relationship is more physical, more sensual, whereas the bond between Chris and Tony seems more cerebral, yet they have this complicity that comes from doing the same job."
To capture that kind of intimacy on film, Hansen-Løve built a foundation of trust with the actors. "I really believe that the way I behave with the actors, as a human being with authenticity, will influence the mood of the film," she says. Krieps, who's known for her breakout role in "Phantom Thread," is the only actor of the quartet who appears in both stories. That deepened the bond between the actor and director. Says Hansen-Løve, "We developed this strong relationship that had to do with all the obstacles we had to overcome in order to make the film. I spent so many months on the island with Vicky. She brought her kids, I brought my kid, and we became like family."
READ: A Beginner's Guide to Writing a Script
Hansen-Løve's mining of her own life for film may seem effortless, but that just means she's good at her job. "I'm happy it looks easy, but nothing is actually easy, and it's certainly not easy to create fiction from your own life," she says. "Part of why you make films is to try to reach what you can't reach in your life."
Her advice to other storytellers is to trust that the complexity of everyday life is enough to sustain your piece. "Events that can seem banal, that everybody experiences, are what life is about," she says. "That's what cinema is about, too."
This story originally appeared in the Oct. 14 issue of Backstage Magazine. Subscribe here.
Looking for remote work? Backstage has got you covered! Click here for auditions you can do from home!