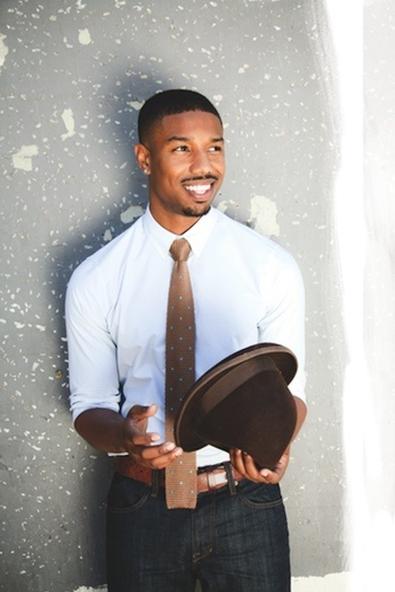 A year has passed since Michael B. Jordan wrapped "Fruitvale Station," originally titled "Fruitvale" when it premiered at this year's Sundance Film Festival and won both the Audience Award and the Grand Jury Prize. But even now, on a sweltering Los Angeles day, Jordan gets visible goose bumps talking about playing Oscar Grant, the unarmed 22-year-old shot by a Bay Area BART station officer on New Year's Day 2009. "You see this?" he asks, pointing to his arm.
That response isn't atypical when talking about "Fruitvale Station," which is a testament to the power of both writer-director Ryan Coogler and Jordan. The film is a moving portrait of an imperfect man—a son, a boyfriend, a father, a friend—who was trying to turn his life around when it was senselessly cut short. Jordan was living in Los Angeles when he first heard about Grant from a friend who posted video of the shooting—captured by bystanders with cell phones—on his Facebook page. "I watched it over and over again because I was trying to find a reason or make it make sense," he says. "Like, the officer had a reason to shoot him because he did this or that. But I couldn't find it. And I was upset; I was angry and frustrated, and I felt helpless." Four years later, the script for "Fruitvale Station" arrived, and Jordan found himself crying uncontrollably as he read it. "I still have the tear-stained script," he says. "Not only was it a beautiful story; I found a way to express myself through my work. And I jumped at the opportunity."
Not to say he wasn't intimidated by the role. A professional actor since the age of 11, the 26-year-old had never played a real-life person. And while he'd been a strong supporting player in films such as "Red Tails" and "Chronicle" and on TV's "Friday Night Lights" and "Parenthood," "Fruitvale Station" would mark his first lead role. Coogler, for one, had no doubts about his leading man. "I knew his work, and though he's always the guy in supporting roles, you want the camera to stay on him," says Coogler. "You want to spend time with him; you want to be with him. And when I found out he hadn't been the lead in any movies yet, I got excited to be the one that could give him that opportunity." Coogler was so sure that when they met at a Starbucks in early 2012, he offered Jordan the role without an audition. "That was amazing, but it's a different kind of pressure," says Jordan with a laugh. "Somebody believes so much in you and had no doubt [you] could handle it. I was like, 'I'm glad you've got so much confidence in me because I'm still working it out!' "
To prepare, Jordan went to the Bay Area and spent time with Grant's friends and family, including his mother, Wanda (played in the film by Oscar winner Octavia Spencer), and his daughter, who was 4 when her father was killed. One thing he learned early on was that everyone had his or her own version of Grant. "Everybody gave their own perspective of him because he was a different person to everybody," says Jordan. "He was very complex. Oscar was a people pleaser; he wanted to keep everybody happy. He got tired of letting down the most important people in his life. Over time, it started to weigh on him, and he wanted to change for them." The film pulls no punches in showing Grant's flaws—he had dealt drugs and served two prison terms.
But those mistakes appealed to Jordan. "What's most important is he was trying to get his life on track. And sometimes your best isn't good enough, which is unfortunate. Remember, he was 22 years old. At that age, you're supposed to make mistakes. He was trying to figure it out."
Though he felt a huge responsibility in playing a real-life person, Jordan says he took it day by day. "I just figured if I worked hard and did the homework, I could hold my head high because I put everything I could into the role," he says. Aside from tackling the emotional scenes, Jordan says one of the biggest challenges was growing a beard. "What you see onscreen is three months of me growing out my facial hair," he says with a laugh. "I want to grow a beard, and I can't!"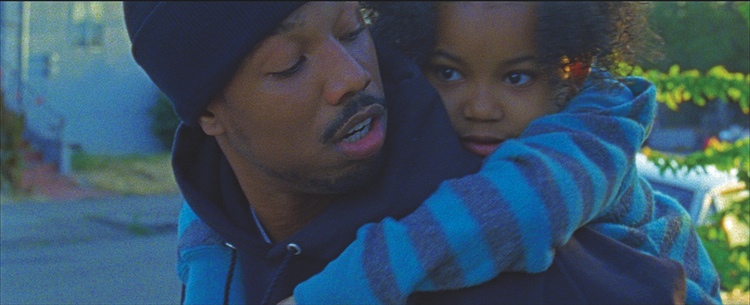 Though he's been an actor for more than half his life, Jordan can already feel a shift in his career since the rave reviews started pouring in for "Fruitvale Station." "I'm having different conversations now," he says. "Studio executives, writers, directors, filmmakers that are interested in working with me. It's nice—you feel like the hard work pays off. Every day is a dream and a journey." And though he started young, he's grateful that his career has taken a gradual ascension so that he's now mature enough to handle the onslaught of attention. "I never got too much, too fast," he says. "It's always been small success to small success, just enough to keep me going. Thirteen years later I have the emotional tools to handle the situation and not let it go to my head. And my family and friends keep me grounded. If I were ever to start stepping out of line, they would bring me back to reality fast. And I love them for it."
Next up, Jordan will be seen in the romantic comedy "Are We Officially Dating?" alongside Zac Efron and Miles Teller. "I wanted to do something a little lighter after playing Oscar," he says. As for rumors he'll play Johnny Storm in the upcoming "Fantastic Four" reboot from "Chronicle" director Josh Trank, Jordan expertly evades the question. "I've heard those rumors," he says with a smile. "It's no secret me and Josh are really good friends, but we'll see what happens in the next couple months." He's excited that he's getting to meet on roles not specifically written for an African-American. "I don't want to play just the black guy in films," he says. "I want the scripts Leonardo DiCaprio doesn't have time for. Joseph Gordon-Levitt isn't available? Call me."
DiCaprio could find Jordan giving him some competition this year, as "Fruitvale Station" has been stirring up Oscar talk since its Sundance premiere. "I just cover my ears and run in the other direction," he says of such buzz, adding that years of auditioning and disappointments have taught him not to get his hopes up about anything in the business. "Both Octavia and Forest Whitaker, who was a producer on the film, gave me great advice," he says. "They told me just do the work and let your work speak for itself. Don't get caught up, go day by day, enjoy the ride. But yes, it's wonderful to be in the conversation." Spencer, for one, is a fan. "Michael was a joy to work with. He's the consummate professional with the strongest work ethic," she says. "I'm so thrilled for him that he carries this film in true leading man fashion, and that his immense talent is being appreciated by all."
Perhaps the reviews that matter the most come from Grant's family and friends—and they have been overwhelmingly positive. "I think for them it's exciting, it's sad, it's opening some old wounds," he says. "One of his best friends came up to me after a screening this week and said, 'That was him. You nailed it.' I think this film is helping them in the healing process. They are celebrating his life after mourning for so long."