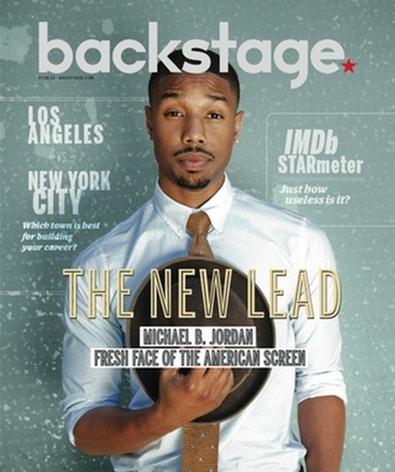 It's been a year since Michael B. Jordan wrapped "Fruitvale Station," which won both the Audience Award and the Grand Jury Prize at this year's Sundance Film Festival, and he chatted with Backstage about the transition from supporting actor to leading man. Pick up a copy of the latest issue on newsstands on Thursday, and check out a sneak peek of the story below!
---
Michael B. Jordan On "The Wire"
Though Michael B. Jordan claims he was "an ugly kid" at age 11, a receptionist at the doctor's office found him so cute she suggested he try modeling. "I figured it was a cool way to make some extra dollars and get out of school early. Plus craft services—what more could a kid want?" says Jordan. The next day, he and his mother picked up a copy of Backstage in New York, and he literally closed his eyes and picked a manager 
from the listings. He went in the following day, and he was going on auditions a day later.
"Modeling turned to background work, which turned to small roles. It just had a snowball
effect," he says. Time on the soap opera "All My Children" with Susan Lucci taught him to be a professional and memorize lines fast.
But it wasn't until he played teen drug dealer Wallace on the HBO series "the Wire" that Jordan knew acting was his calling. "I was doing a scene where he first started sniffing coke," he recalls. "I was so far out of my element I didn't know what the hell I was doing." co-star Andre Royo took him to the side and coached him through how to feel. "He said, 'You're going to start feeling warm from the top of your head down to your toes.' He really took me through it. He said, 'Don't worry about the cameras or anybody else here; just lose yourself.' It was the first time I ever lost myself in a role, and I fell in love with it." Royo even called him the next day to see how Jordan felt. "I remember being depressed afterwards for a day, not really sure why I felt so drained," he says. "But from that point on, I was always chasing that moment of losing myself again within these characters.