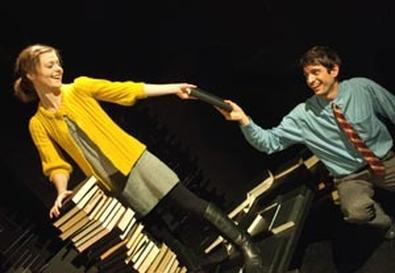 It seems that emerging playwright Rachel Bonds wishes to be the chronicler of damaged souls. Her well-received one-act "Penelope," produced at Ensemble Studio Theatre, was a study in the rescue of a depressed woman. In the 70-minute "Michael & Edie,' Bonds again examines the coming together of two young people haunted by their pasts. Told with delicacy and several inventive theatrical touches, it's a play suffused with sadness. But as there is no rescue in sight for either of the title characters, the play, which along the way hints at romance and warmth, dwindles to a conclusion that is neither hopefully positive nor satisfyingly negative. It's rather like being taken on a journey only to be told to get off one stop before the destination.
Michael (Matthew Micucci), arriving in an unspecified city, takes a new job at a bookstore run by the tricky John (Gabel Eiben). Here Michael meets the damaged Edie (Stephanie Wright Thompson) and is immediately attracted to her, speaking unheard arias of praise as they work together. Fleeing from their sad lives, both Michael and Edie seek solace from the books—and from each other. At home, Edie is kept company by the ghost of her brother, Ben (Jacob Wilhelmi). Salinger's "Franny and Zooey" is a continuing topic of discussion for them. Michael has left behind a very alive but also very unstable sister, Sarah (Jocelyn Kuritsky), who telephones at all hours and now inhabits only the bathroom. The active Michael and the passive Edie struggle with their relationship, but when we witness the contrived development of the dead Ben joining the disturbed Sarah in the bathtub, we know things will not go well.
Hugh Morris' inventive art installation of a bookstore, with its charming tin-can phones, suggests a world of books where Michael and Edie might find redemption. Bonds flirts with this notion as the couple runs through delightful alphabetical listings of famous titles on the shelves. But no, and the more suitable "Bleak House" never gets a mention.
With several imaginative directorial touches, Robert Saenz de Viteri leads his cast of talented fresh faces on this journey for sensitive souls. Thompson's Edie is almost too convincing in her sadness, while Micucci, given the difficult task of being the only life force in the play, is an affecting Michael.
Taking on the themes of grief, fear, and that old standby, death, Bonds is nothing if not brave. Despite the play's flaws, she's worth watching.
Presented by the Greenpoint Division at Access Theater, 380 Broadway, NYC. Dec. 5–19. Wed.–Sun., 8 p.m. (Sun., Dec. 19, performance is at 2 p.m.) (800) 838-3006 or www.brownpapertickets.com.