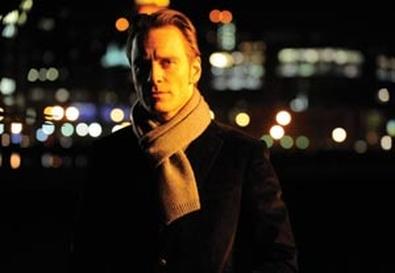 Michael Fassbender insists on having a sense of humor about sex. The actor is currently delivering acclaimed performances in two films in which coitus is a central topic. In "A Dangerous Method," he plays Carl Jung, whose study of sexuality leads to a torrid affair with a patient played by Keira Knightley. In the NC-17-rated "Shame," which re-teams him with "Hunger" director Steve McQueen, Fassbender delivers a startling naked performance, literally and figuratively, as a sex addict. At a press conference for "Shame," Fassbender and McQueen are like naughty boys misbehaving; Fassbender jokes that he used "fluffers" on set, and McQueen says his main motivation in making the film was "wanting to see Michael naked." When complimented on his lighthearted attitude in the face of such serious subject matter, Fassbender replies, "You have to laugh. In life in general, it's either laugh or cry, and it's always better to laugh."
Here are five things to know about Fassbender:
1. McQueen and Tarantino changed his career.
Fassbender says he was a struggling actor for many years, with "friends who let me sleep on couches," before he landed work in such projects as "Band of Brothers" and "300." "Hunger," in which he lost more than 30 pounds to play real-life IRA prisoner Bobby Sands, changed his life. "Filmmakers saw it, and it got me in the room with them," Fassbender notes. One such filmmaker was Quentin Tarantino, who cast Fassbender as British officer Archie Hicox in "Inglourious Basterds." Fassbender had only one scene, but it was a great one; the way his character holds up three fingers gives away that he isn't German, and a bloody shootout ensues. After the film came out, Fassbender would pass people on the street who were holding up three fingers. "I was confused at first; then I laughed," he recalls. "Quentin puts you in iconic scenes with these little symbols people remember. And that's sort of the dream."
2. He's not surprised by all the sex talk around "Shame."
Fassbender says he knew going into the movie that much discussion would focus on his full-frontal nudity and the graphic depictions of sexual relations. In fact, he sees it as a positive. "Most audiences are intelligent, and they don't mind exploring these questions," he reasons. "But I also think, when it comes to press, it's just the easiest question. Like with 'Hunger,' the thing people focused in on was 'Wow, he lost all that weight—he must be a good actor!' " He says he wasn't unnerved by the content. "It's like, yeah, you know, I have a penis, and so do half the people out there. And a lot of the other half have seen them. It's not that unusual."
3. He considers "Shame" his hardest role to date.
Fassbender says his role in "Shame" was difficult, but not for the reasons one might think. "It wasn't about the nakedness; it was the places I was going to," he says. His toughest day involved shooting a tragic scene involving his sister, played by Carey Mulligan. "I remember feeling crazy when that was done, and they were like, 'Okay, change your clothes; we're heading to the gay club!' There was no rest. We shot it in five weeks, and it was an intense energy and focus. It was very draining: This guy is not somebody who likes himself very much, so he's abusing himself quite a bit."
4. He treats all his roles with equal respect.
It's been a banner year for Fassbender, whose other 2011 films include "Jane Eyre" and "X-Men: First Class." Asked if he takes playing Edward Fairfax Rochester as seriously as he does head mutant Magneto, Fassbender doesn't hesitate. "Absolutely, because my face is up there and I'm attached to it, and I don't want to do bad work," he notes. "I have a responsibility to the story, there's a lot of money and time and energy being put into it, and I have a responsibility to the audience and the fan base. I always try to believe in the characters, even if they're fantastical. I need them to be believable so you can go on the journey with them." He prepares the same for all projects. "I just sit with the script," he says. "I spend an awful lot of time with it, re-reading it like 300 times. Then I live and breathe with the characters; I spend a lot of time with them per day. And I like to have the whole script learned by the first day of shoot." He adds that he spends a lot of time trying out ideas and how a character would behave in different scenarios. "I have a very logical technique in place from the schools I went to; it's all about personality types and movement and space. How someone homophobic works with their hands. How a politician controls the area around them. How a dreamer is more self-indulgent and moves with a dreamlike quality." Asked if this has ever led him to become proprietary about characters and argue that, say, Magneto would never say such a line, Fassbender laughs. "Yeah, probably," he says. "I can see myself having a sort of hissy fit in my helmet. I used to be more like that. Now I'm a lot more open; why not try it out? In 'Shame,' there was a moment where we're sitting on the couch and I don't want to put my arm around my sister when she hugs him. He wants to wriggle free. I remember thinking: Well, just keep it there. Try it this way. Why are you making these rules? It's only closing doors. I can try it and if it doesn't work, scrap it. So I'm not as precious as I was before."
5. The first time he saw "Shame" was with his father.
"I told my parents while I was making it, 'Look, this isn't one we're going to see together,' " Fassbender recalls. "I warned my father, 'There's some stuff here that's pretty close to the bone.' And he said, 'Look, you're an artist; you've got to do your thing. That's your job.' " When his parents were with him in Italy when the film premiered at the Venice Film Festival, he reconsidered and invited them. His mother ended up not going, but his father attended. "During the film, I kept thinking, 'Thank God Mom's not here!' " he notes. "And my dad was sitting behind me going, 'Thank God Adele's not here!' But she'll see it, just not in the same room as me." After the film, Fassbender says his father approached McQueen and said, "You did it again." And what did he say to Fassbender? "Just one word. 'Amazing.' "
Outtakes
Will next be seen in Steven Soderbergh's "Haywire" and Ridley Scott's "Prometheus"
Other films include "Jonah Hex," "Centurion," and "Fish Tank"
Won a SAG Award as a member of the "Inglourious Basterds" ensemble