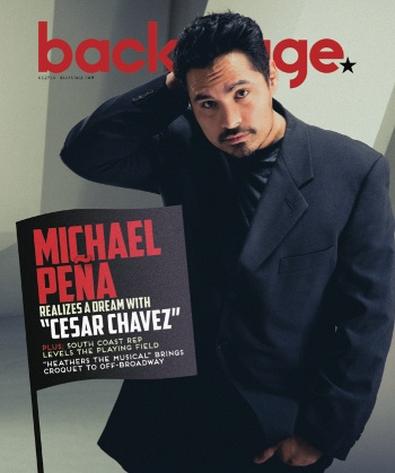 Michael Peña graces our cover this week, and he chats with Backstage about his roles in the upcoming "Cesar Chavez" as well as "Fury" with Brad Pitt. Check out a sneak peek from the feature below!
---
Michael Peña on Doing it For the Money
Actors come to their vocation for a myriad of reasons. Michael Peña's initial inspiration couldn't have been simpler.
"I did it for the money, man," he says. Growing up in Chicago, Peña and his brother worked full-time from an early age, in part because their mother was ill. He was 19 and looking for work when he heard about an open call. He went in for the lead role, but without any experience, he was offered a featured extra part.
"The paycheck that I brought home was way more than I was making at the bank where I was working at the time," he says. "I remember it was, like, a four-figure check, and I thought, 'Holy shit! This is a great way to make money. Cool, I can do this acting thing.' "
Moving to Los Angeles, Peña realized that the "acting thing" wasn't so easy. According to him, for the first several years he was only going up for auditions to play "Gangbanger No. 1 or Gangbanger No. 2." But along the way, he developed an appreciation for the process, especially after meeting a woman who seemed more impressed with actors' résumés than with the quality of their craft. "She would say, 'He's recurring in this, she's got two nationals running right now,' " he recalls. "She never once said, 'Oh, this person does amazing work.' I was, like, 'Fuck this, I don't wanna be that guy [so concerned about] status.' "
That dedication to the work was magnified when he was cast on "Felicity," which really opened his eyes. "J.J. Abrams was a writer," Peña says. "I thought, 'I normally don't get this kind of writing. It would be cool to say this stuff.' I think I was acting for four years [by that point], and I was kinda getting bored with it. But then when I got good writing, that's what changed everything."