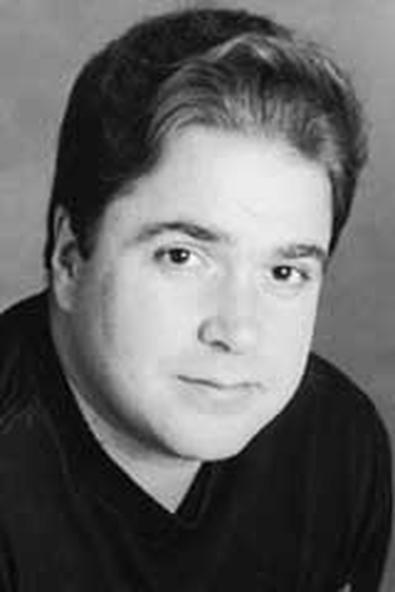 "That's what I play -- blue-collar Italian-Americans. You got to be typecast in order to work. I've been blessed." So asserts actor Michael Rispoli, who is playing, yet again, a blue-collar Italian-American, this time as the title character in "Magic Hands Freddy," a new play by Arje Shaw ("The Gathering") that bowed Off-Broadway at the Soho Playhouse, Thurs., Feb. 19.
Still, Freddy is a far cry from the cops and crooks Rispoli usually inhabits on television and, to a lesser extent, in movies. Rispoli is, of course, best known as Jackie Aprile, the ailing crime boss who died during the first season of "The Sopranos" but later returned in flashback episodes. Interestingly, Rispoli is so identified with that TV role that several fans -- aging men, who themselves look like characters right out of "The Sopranos" -- approach him outside the theatre before a performance to get his autograph on cast posters of (you guessed it) "The Sopranos."
After some delay (thanks to the poster signings), Rispoli meets with me at a restaurant near the theatre. The baseball-cap-sporting Rispoli is matter-of-fact and low-keyed, gracious towards his fans and apologetic to the reporter.
One thing is for sure -- Freddy doesn't have those problems: no fans, no reporters. He is a working stiff, a good-hearted lug of a guy, who is trapped in a loveless marriage and overly involved with his younger brother Calvin (Ralph Macchio), whom he has put through school and loves deeply. "Freddy" tells the story -- without giving away too much -- of a man coming to terms with his own blindness. It is a tale of misplaced trust, betrayal, and, finally, self-knowledge. The title refers to Freddy's profession. He is a masseur with "magic hands."
"The big challenge is in having the energy to jump on the train and take the play's journey," Rispoli admits frankly. "The first act is over before I have a breather. And then there's the very emotional second act, which also goes by without a breather. A major difficulty is in trying to find a path through the play. I don't want to peak too early."
The 40-ish Rockland, N.Y.-born Rispoli acknowledges other challenges as well, not least the need to hint at the presence (albeit latent) of Freddy's inner demons, so that when he explodes at the end, the outburst is prepared for. And then there are the ethnic issues, specifically the danger of appealing to stereotypes of blue-collar Italian-American men.
"This guy accepts his lot in life, he takes his lumps, but I've worked hard not to make him sound dumb," notes Rispoli. "I try to emphasize his joy as opposed to his crudeness, although he may be a little rough around the edges. I can relate to a lot in this character.
"My own wife, unlike Freddy's wife, Marie, is open and loving. So I understand his loss precisely because I don't suffer that loss," he continues. "I also have a lot to draw on in terms of his relationship with his brother. I come from a big family where there is a lot of love -- not that we talk about it, but it's there."
Why Not Cyrano?
Rispoli, the seventh child in a family of eight kids, grew up in a home that was, at once, working-class and highly literate. His father, the son of Italian immigrants, had graduated from Columbia University with a degree in philosophy and a lifelong love of poetry. Yet, he made his living as a hardware store owner.
Rispoli earned his undergraduate degree in theatre from SUNY at Plattsburgh and came to New York City, where he studied acting at the Circle in the Square Theatre School's professional workshop. He launched his career Off-Broadway in the Circle Rep-Steppenwolf revival of Lanford Wilson's "Balm in Gilead," directed by John Malkovich.
Still, for much of his early career, he recalls "bartending, painting people's homes, moving them, and dodging my landlord." He was also doing readings, workshops, and auditioning all over town. "We're dream chasers," he says. "Nobody owes us our dream. But we have to chase it."
In 1988, in an effort to create work for themselves, Rispoli and several actor friends formed Willow Cabin, whose production of "Wilder, Wilder, Wilder," three one-act plays by Thornton Wilder, moved to Broadway, earning a Tony nomination.
Nonetheless, the success marked the beginning of "a loss of innocence among the actors in the company," Rispoli recalls. "We had moved from our 20s to our 30s, some of the actors were getting married, others weren't sure that this was the right profession for them and were searching for new lives; I went to the coast to make a movie. We were splitting up and with it went the enthusiasm. A lot of companies ultimately implode because of politics."
The West Coast was -- and continues to be -- a good place for Rispoli. In addition to appearing in the aforementioned "Sopranos," Rispoli has guest starred in such TV shows as "ER," "Touched by an Angel," and "Law & Order." Among his film credits: "While You Were Sleeping," "Summer of Sam," and "Two Family House." Rispoli will soon be seen in Disney's "Mr. 3000" and he has just wrapped an ABC-Warner Bros. pilot for the 2004 fall season. On the drawing board: acting in Gore Verbinski's "The Weather Man," with Nicolas Cage, Michael Caine, and Hope Davis.
"I've done 17 pilots, seven of which got on the air," he says. "A turning point was getting the lead in a TV show, 'Great Defender.' Seven episodes were ordered, but when one of the top executives left and a new one was brought in, all of the projects which had been identified with that first executive got swept out, too, including 'Great Defender.' But the experience put me inside the world of TV deals."
Rispoli insists that he chooses his projects largely on the basis of who is going to be in it. "I judge everything in terms of the people I'll be working with."
He adds that as much as he enjoys working onscreen -- large and small -- "the characters can be a little interchangeable. The challenge is to find the mask that defines the character. It can be just a detail, like a tattoo. But then every actor, in every role and every medium, needs a mask in order to be naked and most real."
Rispoli -- whose New York and regional theatre credits include featured roles in "Macbeth," "Tartuffe," and "A Midsummer Night's Dream" -- insists that the character he most yearns to play is Cyrano de Bergerac.
"I love the fighting, the poetry, and the braggadocio. But because of the muscles I've been asked to use as an actor, I wouldn't even be thought of for it. If I were to be cast as Cyrano or a Connecticut prep-school teacher or a gay boutique owner, it would only happen if some director I had worked with in the past said, 'Why don't we give Rispoli a shot at it?' "
But that's all in the future. At the moment Rispoli is delighted to be appearing in "Magic Hands Freddy," a play that "resonates with a series of emotions that audiences recognize," he stresses. "I hope audiences feel the warmth and strength and leave the theatre, if not healed, then at least able to reflect on what happened. In many places, the play is not unlike a poem."