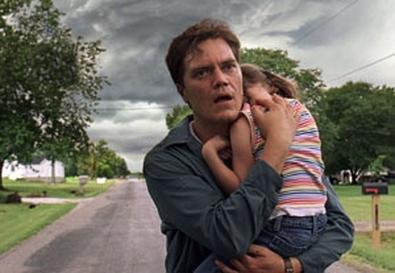 It's virtually impossible to discuss any performance by Michael Shannon without the word "intense" popping up. Consider his work as a delusional veteran in the 2004 Off-Broadway production of Tracy Letts' play "Bug," which he reprised in the 2006 film version. Or his Oscar-nominated turn as a man fresh out of a mental institution in 2008's "Revolutionary Road." Of course, TV viewers likely know him best as steely agent Nelson Van Alden on HBO's "Boardwalk Empire." With his 6-foot-3-inch frame and intimidating stare, it makes perfect sense that Shannon was cast as General Zod in the upcoming Superman reboot "Man of Steel."
In writer-director Jeff Nichols' sophomore feature, "Take Shelter," Shannon's intensity is put to perfect use as Curtis LaForche, a loving husband and father who finds himself plagued by apocalyptic visions of ominous clouds and strange dark rain. Neither Curtis nor the audience is completely sure if these images are nightmares or prophecies—his family has a history of mental illness—but they drive him to build a storm shelter for his family. The role gives Shannon an opportunity to play within his wheelhouse of crazed paranoia, but it also utilizes his gentle and sensitive side, as Curtis is driven by his love for his family.
In person, Shannon is a gentle and genteel giant, prone to cracking jokes, often at his own expense. Though he starred in Nichols' first film, "Shotgun Stories," he admits he might not have been the filmmaker's first choice for Curtis. "Honestly, I think he wanted to have a bigger budget, because 'Shotgun Stories' had about $5 and he wanted more," Shannon says. "He thought he might be able to get $10 or $20 for this."
Shannon read the script as a friend and claims he was never angling for the role. "Honestly, it was intimidating," he says. "I was like, 'I love the script, but whoever has to play that part, I don't envy that poor son of a bitch. It's going to be really difficult.' " When the financing finally came together, however, Shannon was offered the role. "It was very out of the blue and short notice," he says. "Jeff said, 'I've got the financing; it's going to happen in a couple months. Do you want to do it?' "
An intense 24-day shoot in Ohio followed, made easier because Shannon was working with his good friend and "Boardwalk Empire" co-star Shea Whigham, who plays a co-worker of Curtis'. For a pivotal scene in which Curtis has a public breakdown and begins ranting at the townspeople, the local extras had no idea what they were in for, says Whigham: "They were told, 'Come have some fish and be in a movie!' I knew what was coming, but they had no idea it was about to get so heavy. There was a palpable reaction. When he went at it and flipped the table, it was terrifying. People had to leave, it was so intense."
Shannon admits it can be difficult slipping into Curtis' mindset, but the actor leaves his characters behind on set. "I was too tired at the end of the day, honestly," he says. "You save your energy for the shoot." The most difficult scene for him to film wasn't the aforementioned breakdown but rather a scene, set in Curtis' front yard, that kept getting ruined by a neighbor's barking dog. At one point, the production made sandwiches to throw to the dog to quiet him—which worked, until the owner came running outside with a shotgun and had to be pacified.
Ultimately, Shannon says, the movie isn't about destruction but marriage. He praises co-star Jessica Chastain, who plays Samantha, Curtis' strong but understanding wife, for building a partnership the audience invests in. "It's difficult to show up and be husband and wife and just establish that relationship," he says. "But she's just got such a big heart, and she radiates this warmth and generosity of spirit. She's totally vulnerable all the time; there's no firewall there. That's the way she lives, and I think that translates into her work." This relationship is the heart of the story, Shannon notes: "The film is not just about Curtis, because if Curtis just lived alone in an apartment somewhere, it wouldn't be much of a movie."
Shannon's sympathetic portrait of Curtis puts the audience in a peculiar position. Because they don't want him to be insane, they're almost rooting for him to be right about these apocalyptic visions. "To me, the visions and what Curtis is experiencing, I find it very poetic. It's not so much a literal examination of deterioration or mental illness," Shannon says. "And it doesn't really matter at the end of the day if he's right or not—that's not the point. The point is: How do you live in this world that is so fragile; how do you cope with that?"
Outtakes
Other films include "Bad Boys II," "Vanilla Sky," and two 2009 movies with director Werner Herzog: "Bad Lieutenant: Port of Call New Orleans" and "My Son, My Son, What Have Ye Done?"
In addition to "Man of Steel," his upcoming films include "Premium Rush," opposite Joseph Gordon-Levitt
With Steppenwolf Theatre Company, he has appeared in three plays by company member Tracy Letts: "Bug," "Killer Joe," and "Man From Nebraska"
For his role in "Take Shelter," Shannon earned a Spirit Award nomination for best actor.