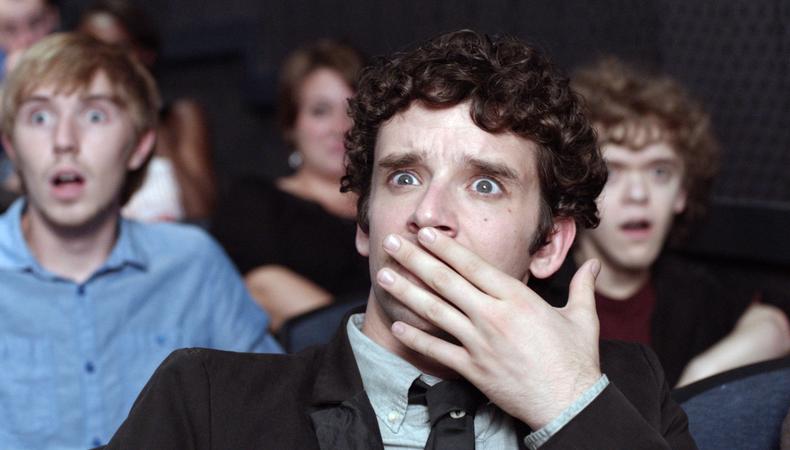 Known for his role as the viciously lovable Marc St. James on ABC's "Ugly Betty," and Louis on the short-lived CBS comedy "Partners," Michael Urie has turned his focus toward film, and most recently toward directing. The actor cut his teeth directing on several stage readings, including a workshop reading of the musical "Dreamstuff," as well as co-directing a documentary, "Thank you for Judging."
Urie recently combined his indie acting experience and theater directing experience to direct his first feature film, "He's Way More Famous Than You," starring Halley Feiffer and Ryan Spahn. The film, which premieres Jan. 20 at Slamdance, is a touching comedy about an actor, played by Feiffer, who will go to any means necessary to get her movie made, dragging her brother (Spahn) and his boyfriend (Urie) along for the ride. Urie, who joined the project early on before there was even a script, says that although a lot of the film is based in truth, "We always knew that we were writing about idiots. And we would do things the right way."
How did you get involved in "He's Way More Famous Than You"? Were you looking for something to direct?
Michael Urie: I have wanted to direct pretty much my whole life, but I've been following the acting thing because I also love doing that and I went to drama school and so it was just, that was what was available to me was this acting career that I've been enjoying all this time… When I was on "Ugly Betty," I asked them if I could direct, and in fact they were going to let me direct an episode of the web series that Becki Newton and I did, called 'Mode After Hours' that's still online. We had the best time doing it; we did like thirty little webisodes and they were going to let me direct one, but then we got canceled, so that sort of dashed my dreams. I didn't really have another idea of how to start directing…until Halley and Ryan asked me to. You know the scene in the movie where they come in and ask me to direct their movie? That's kind of based on real life, except I'm not as depressed in real life as I am in the movie.
So you hadn't even seen the script yet when you agreed to direct?
Urie: That's right. But I knew that they were funny and I knew the idea that they were going for so I knew that it was going to be funny.
This is your directorial debut for film, but you've directed theater before, right?
Urie: I directed a few staged reading of things; I haven't done a full play professionally. I did back in the day in high school and stuff, but that was a really great experience for me doing "Dreamstuff" because it was a musical which I love doing… I was working with the composer and lyricist on sort of presenting this new version of the musical and that really whetted my appetite for directing. So I credit that night for my inspiration to really try to make it happen for myself.
Did you feel like you knew what you were doing when you started directing?
Urie: I felt when I was directing that reading and some other readings around the same time really gave me confidence in talking to actors because as an actor I have worked with a lot of directors. And thanks to "Ugly Betty" I worked with dozens of directors that would come in and out so I knew a lot of approaches and I had experienced first hand a lot of approaches and I knew what I liked and didn't like. [On "Ugly Betty"] I was playing a very creative character that everybody wanted to play with, so directors would always have ideas for me and the way that they would approach their ideas was always different. So I was able to really learn from them what to do and sometimes what not to do…and then getting to sort of practice with those stage readings that I did. And then after "Ugly Betty" ended … I worked on three independent movies in close succession and… I really learned from those directors how to stay on budget, make your days, get it done, keep everyone happy, which is a huge thing in a movie, and to steer the ship.
What do you think was the most challenging part of directing?
Urie: I would have to say the most challenging thing about directing is the sheer stamina because…as a director you're always doing something. Someone always needs to talk to you. There are always decisions to be made and every day for as long as the movie goes on. So it's a marathon…You don't have to look nice, but it's all day every day.
Do you have advice for actors?
Urie: From an acting perspective, I would say that you should always try to make your own stuff. Always be ambitious about your own projects and always know better than anyone else what you're good at. That's why Halley and Ryan wrote this movie; they knew that they would be good at these parts and they knew that they could write something great. And I was lucky enough to be in their lives and they knew that I would be good at directing it and I had confidence that I could do it, so they had confidence in me.