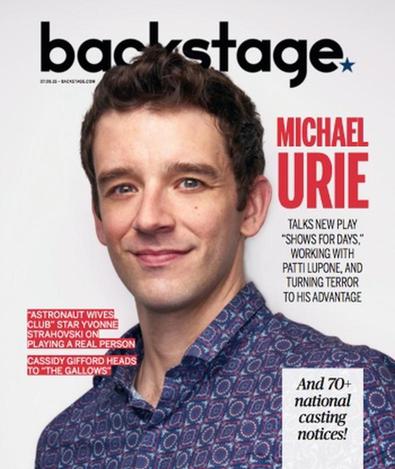 Michael Urie is having a full-circle moment.
Seated on the stage of the Mitzi E. Newhouse Theater at Lincoln Center, the actor is holding a talkback with drama students from his alma mater, Plano Senior High School. The students have come all the way from Texas to see "Shows for Days," a new comedy by Douglas Carter Beane in which Urie plays Car, a teenager falling in love with his local theater company, now through Aug. 23.
"One of the best things, I think, about being an actor is that you join these companies," Urie tells them. "This family will be together for four months and then we'll go our separate ways and join other families. They're all special, but this is very special because it's about the same thing that it is...a love letter to the theater."
You can practically see the stars in the teens' eyes. Although set in the '70s and based largely on Beane's upbringing with the Genesius Theatre in Reading, Pa., this love letter is addressed to these students, to anyone who's ever fallen under the theater's spell. Like the charmingly cluttered set behind Urie—stacks of wicker baskets, old lampshades, mismatched chairs—"Shows for Days" is at once intensely specific and reminiscent of all community theaters. It's a story to which thespians everywhere, and certainly Urie, can relate.
"I was 14 when I first did theater, just like Car," he says later atop a balcony overlooking Lincoln Center Plaza. The similarities don't end there; Car isn't so much drawn into the eccentric Genesius troupe as yanked, chiefly by a domineering diva named Irene (embodied brilliantly by domineering diva Patti LuPone) who recognizes his innate theatricality. "I was very shy, like Car," says Urie. "And I had a teacher who basically said, 'You don't have to be shy. Here's an outlet.' She made me act in a play. She knew."
Urie first played Car in an early reading of the play, during which his connection to Beane's alter ego was startlingly evident. "He did such a tremendous job we couldn't think of anyone else to do it," remembers the playwright. Did Urie's performance help shape the character throughout rehearsals? "He has a couple of my physical and vocal tics...and then I caught myself doing them," says Beane with a laugh. "He's made me incredibly self-conscious. I do think of his speech patterns when I'm writing now."
"His lovability quotient, not because he's trying to be lovable but because of who he is, is very high," says the production's director, Jerry Zaks. "He's got the gift of credibility; you believe him when he speaks." Through extensive and often last-minute rewrites, he adds, Urie grounded a narrator who in the hands of a lesser actor could devolve into wistfulness.
"So very much of this [play] is about getting the right tone and discovering that tone," Zaks says. "Michael was integral to that happening, and I'd work with him again in a heartbeat."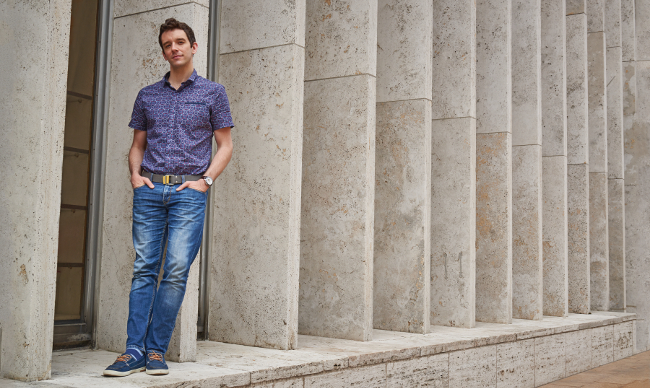 Ask Urie how he maintains such focus, however, and he'll tell you it's "terror," pure and simple. "The stakes are really, really high. I'm at Lincoln Center in the lead role of a new play by Douglas Carter Beane, directed by Jerry Zaks, starring Patti LuPone. It's terror!"
That last aspect, Urie jokes, is particularly motivating. "Being onstage playing a little kid, feeling like a little kid, having Patti LuPone yell at you, is terrifying. When she looks at you onstage"—he pauses to grimace dramatically—"there's no hiding.... She plays every scene like it's life and death."
In all seriousness, Urie admits he's ready for anything as a performer. "Honestly, nothing really scares me after doing 'Buyer and Cellar' for so long." ABC's "Ugly Betty" may have made Urie's face familiar to audiences, but it was his turn in Jonathan Tolins' one-man show—winning Drama Desk, Lucille Lortel, and Clarence Derwent awards—that made him a star. Inspired by the alleged mall of tchotchkes in Barbra Streisand's basement, "Buyer and Cellar" is both homage and elaborate riff, full of unexpectedly poignant moments that gave Urie the chance to show off his technical prowess and charm a whopping 541 times.
"I did that show with food poisoning, I did that show with a cold, I did that show after my favorite uncle died," he says. "I did that show in the dark once. I did that show in a giant theater without a microphone." After a demanding solo show, fearlessness comes easy onstage.
That impeccable performance—which earned Urie the "Shows for Days" reading, among other roles—owed a great debt to his speech and debate training in high school. Playing Tennessee Williams in the one-man biography-play "Confessions of a Nightingale," Urie took first place at the 1998 national championship in solo dramatic interpretation. A documentary he co-directed, "Thank You for Judging," chronicles the rigors of high school speech competitions.
Solo theater, Urie adds, bears a surprising resemblance to film directing. "I always equated it more to editing than anything else I'd done before. It becomes about crafting the audience's experience. Night to night in 'Buyer and Cellar,' that was my job. Once the lights go up on a one-man show or a speech performance, it's up to you. You get to conduct the events of the evening, you've got the baton. That's what a director does."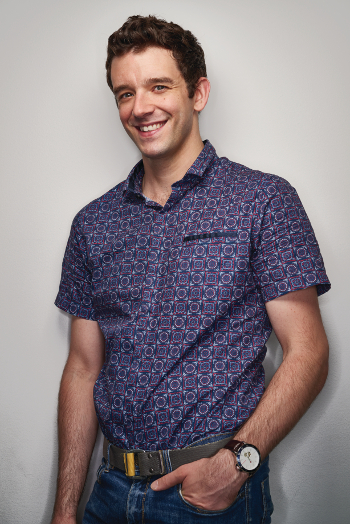 His role as director of films such as "He's Way More Famous Than You" and the Stage17 Web series "What's Your Emergency" fulfills an early childhood goal, from before the theater bug bit. Urie dreamed first of directing Hollywood movies, then of being a rom-com headliner; career paths, he points out, never lead you in the directions you expect.
"You have to follow your own breadcrumbs. If somebody wants you to do something, that's what's wanted of you! I feel like often people want one thing and they get blinders. I wanted to be the leading man in romantic comedies; I wanted to be Paul Reiser on 'Mad About You' or Tom Hanks in 'Sleepless in Seattle.' That's what I wanted. Guess how many jobs like that I've had. Actually zero."
Urie's philosophy makes sense; the more specific the dream, the less likely it is to happen. But even without blinders, saying yes to everything, and following one's path with patience and tenacity, show biz demands a lot more from people than the initial spark of imagination that inspires youngsters like Car.
"It's a bitter business and it's still constantly disappointing," Urie says. "Even when you're on the upswing. There are constant ups and downs."
Then, with a shrug, he recites a fitting mantra: "The show must go on."
---
Thank You for Auditioning
Auditioning, Urie claims, is a skill—and he does not have it. "Some people are so good at auditioning. I am not." Although there haven't been many auditions since playing the deliciously snarky Marc St. James on "Ugly Betty," Urie explains that's not because offers pour in, "but because I do the reading or because I'd worked with the person before."
A recent TV guest role is a perfect example. Urie reached out to casting directors he knew to promote Michael Cassara's work on his short film "The Hyperglot"—"on iTunes for $3!"—and Jeff Greenberg, casting director of "Ugly Betty," asked if he was in L.A. and able to audition for "Modern Family." Urie said yes, of course, only to learn later he'd booked the job on the strength of his reel alone.
"My most successful auditions have been for comedies when it's a full room because you can work off it, or on tape alone, without a casting director," he explains. His top piece of audition advice? Dump the sides the first moment you can. "If I get called back I'll just print them again. I know it's wasteful! But you have to; you can't sit and worry and wonder."
Want to read more? Check out our Backstage covers here!