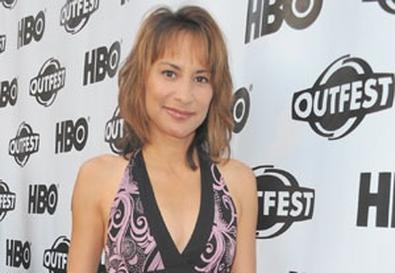 Michelle C. Bonilla has little doubt that gay male actors have it far harder than their female counterparts in Hollywood. Indeed, the openly lesbian Bonilla did not encounter discrimination in the industry because of her sexual orientation until fairly recently. Her newly acquired agent viewed her short "Slip Away" and was not happy. Written by and starring Bonilla, the autobiographical film details a troubled lesbian relationship. It was being shown on the festival circuit and generating good buzz.
"The agent sent me an email saying he and I did not represent the 'same type,' " she recalls. "I had heavy-hitting people from the casting world at that same screening embrace me and support me. I had tons of talent and businesses helping me on the film, including corporations. It was hard to believe that someone who had seen the same film had such a completely opposite response. You'd think an agent could see how advantageous it was for him to take a situation like my own—a Latin woman, who has created her own project, which has been accepted in festivals, gotten great reviews, and won awards. Instead to turn it completely around—it was such a shock to me. It's weird and it pisses me off because now I have to start the process of looking for an agent all over again."
Bonilla, perhaps best known for her roles as a sexy paramedic on "ER" and the Mexican-American schoolmarm on "Dr. Quinn, Medicine Woman," admits the agent's reaction led to some soul searching. "I don't hide that I'm gay, but I don't lead with it, either," she says. "Why would it make any difference?"
Still, she has no regrets about making a film that was emotionally cathartic and artistically satisfying, not least because she played the antagonist rather than a character based on herself. Bonilla is proud of the number of women involved in the creative team, including director T.M. Scorzafava and cinematographer Hilda Mercado: "I especially wanted the director to be a woman, though not necessarily gay, because I think a woman would innately understand the material." Bonilla is also pleased that her co-star, Lauren Birriel, is a Latina. In a film depicting a Latin woman who is less than exemplary, it's important to show one in a positive light, she says. On reflection, Bonilla is totally comfortable with the lesbian story and her own openness about the topic. "You have to stand in your truth, especially if you're an actor or writer," she says. "Good stories and good acting come from the core."
Refusing to Play Latina Stereotypes
Bonilla's independent spirit was evident early on. After two years as a theater major at California State University, Northridge, the Hollywood native dropped out because she found the school's Stanislavsky training confining. Further, it was the only method taught, and she couldn't relate to it. Later she stumbled on a Meisner teacher and found her technique.
Before she was 20, she had landed an agent and nailed her first audition—the lead in a production of "Dark Rapture," by Eric Overmyer, that played at the Kalita Humphreys Theater in Dallas. From that point she auditioned steadily, though she supplemented her income for years by waiting tables. Now she brings in additional money with voiceover work.
As much as she's fearful of being unemployed, she won't allow herself to be ethnically typecast. "This is very important for actors of color," Bonilla emphasizes. "If we continue to play stereotypical roles, then that's how we'll be seen. But it's getting better. Producers and directors can now accept the idea that a Latin woman can talk without an accent. She can be educated and play opposite the lead." Ultimately it's about the look, she says, adding, "I would never get cast as the maid, because I'm too tall and thin. For the maid, they want shorter and curvier. It's 'the look,' 'the sell.' "
To date, she has not experienced ageism. Quite the contrary, she says. "I find the older I become, the more opportunities for better roles." Currently Bonilla is producing and writing a comic web series and giving herself the starring role. Her longtime goal is to work in "movies of substance with directors I admire."
Bonilla offers a word of advice to struggling actors across the ethnic, racial, and sexual-orientation spectrum: "Don't let anyone subvert you from your goal. Don't let anyone tell you, you can't. I'm here to tell you, you can, even if that means you have to do it yourself."
Bio Briefs
- Had a recurring role on "Profiler" and guest-starred on such shows as "The Closer," "JAG," "City of Angels," "Seinfeld," "Diagnosis Murder, "Nash Bridges," "Star Trek: Enterprise," "Judging Amy," and "NYPD Blue"
- Made her film debut in "Above Suspicion" and had featured roles in "The Rich Man's Wife," "Trial and Error," "Price of Glory," and "Lansky"