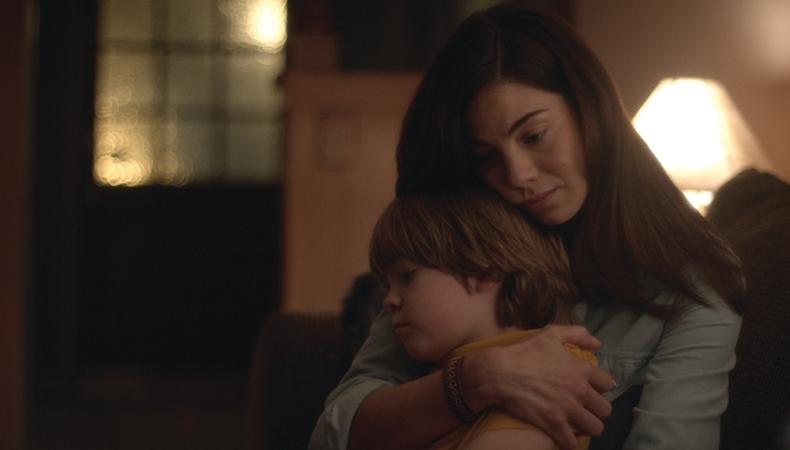 Michelle Monaghan has one piece of practical advice for film actors: be completely off-book in an audition. "All those really opportune moments, when I was able to look into the camera or [at] the casting director or reader, were lost when my eyes were down," she says of her early acting days. "When I'm completely off-book I have so much more confidence and I can give twice the audition. I'm so grateful when the director will just let the camera roll when I'm not saying anything. What one's eyes can do!"
Anyone who's seen Monaghan onscreen can attest to the power of her eyes, which seem to play a larger role in conveying dialogue than actual words. Her skill is on full display in Claudia Myers' indie drama "Fort Bliss," which centers on a female army medic returning home from a 15-month tour in Afghanistan. In addition to the post-traumatic stress disorder and survivor's guilt that typically follow soldiers home, Staff Sgt. Maggie Swann finds reintegration particularly difficult when her young son barely recognizes her.
"I don't think, as civilians, we see people in uniform as parents," says Monaghan, who before signing on to the movie had little experience with military life. "You hear about a death toll. You don't hear about the emotional toll that our soldiers and families endure." Part of what drew Monaghan to the part was the tension stemming from a desire to serve one's country and the demands of parenting. As an actor she felt "a huge responsibility because it obviously represents so many people's lives and stories."
Myers' film is especially interested in the double standards facing military mothers. As Monaghan puts it, "If women leave their families to go to work, they're bad mothers. But if a man leaves his family to go to work, he's doing an honorable thing." Beyond traditional domestic stereotypes—which may explain why women in the military have the highest divorce rate in the country—Monaghan points out there's an emotional hypocrisy at work as well. Female soldiers "have to emotionally suppress themselves for many months at a time. So to automatically have to flip that switch and come home and have to be emotionally available is very challenging."
Although she underwent intensive army medic training to prepare for the role, Monaghan claims the real preparation came from meeting real-life Maggies in Fort Bliss, Texas. "Anything technical gives me the confidence, whatever the job is," she explains. "But until I can find the emotional truth of the character, by sitting with people and hearing their experience—that's the only way I can find how to emotionally connect." Hearing from actual female medics, nearly all of whom had stories of the kind of sexual assault Maggie suffers as well, immersed Monaghan in her portrayal more than she could have imagined.
"Something I really wanted to strongly convey in the performance was the particular stoicism, somebody who's very matter-of-fact," she says. The disconnect civilians have from those in uniform fascinated her too. "I would be speaking to a soldier, a woman in uniform, and then I'd say, 'I'll meet you outside in the parking lot in 20 minutes.' And then all of a sudden she'd be in shorts and a cute top, and I perceived her differently!"
Monaghan's steely performance in and out of uniform grounds "Fort Bliss" in ways that resonate profoundly with military audiences, who have reacted positively in screenings. "It's so gratifying because they really feel like it's an authentic depiction of what it's like to come home," says the actor. "That's the greatest compliment we could ever receive."
Inspired by this post? Check out our film audition listings!