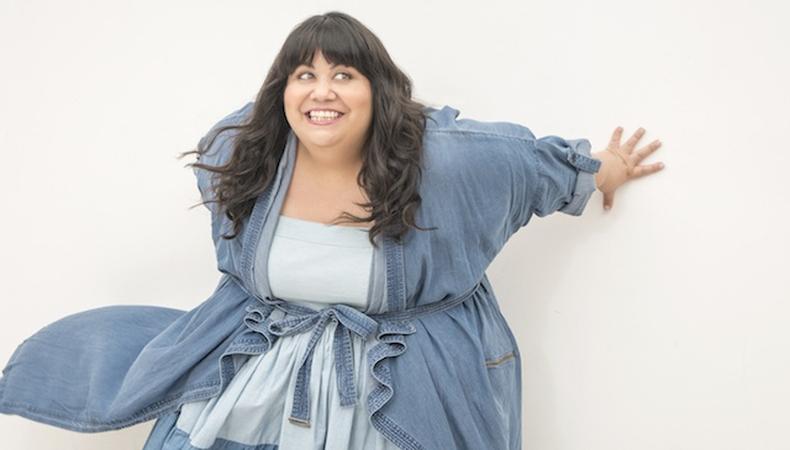 With Fox's breakout comedy "The Mick," actor Carla Jimenez has been redefining the way we see the "housemaid" trope one laugh at time. Week to week, she goes toe-to-toe with the badly behaved Kaitlin Olson as fan-favorite Alba. Jimenez spoke to Backstage about how the series from creators Dave Chernin and John Chernin has expanded her skills as a performer and why "you belong, you belong, you belong."
What has the role of Alba added to your acting skills?
It's just so out of the box from what I've been allowed to do as an actor, and so it's given me opportunities to do all this physical comedy, and I love that. I feel like it added [to my skills] as an actor because sometimes I think, "I don't know if I can do this," or, "I don't know if I can do that." But you have to trust [yourself] and go for it and it might be better than you ever thought it could be. It's given me the ability to just kind of be open to change. It's given me that total push. A lot of roles that I've done…they're not pushing the envelope of what you think you can do, and this one does.
Have you used Backstage in the past?
Yeah! I grew up looking at you guys for your auditions.
How do you typically prepare for an audition?
I don't prep, I don't do anything special. For me, my way of approaching material is just reading it and finding the truth in it. Because I feel like when you can be yourself in the room, you don't have to add anything. Just focus on the work and do the best that you can with that. And when you go in the room, be polite to everybody. But I don't think you need to add anything more than yourself; you don't have to put anything on. Just focus on the material. That's basically what I do: I go in, I say hello to everybody, and then basically just get down to business.
Walls are thin, and sometimes you can hear the audition [of someone else]. When I would go to the audition, if I could hear somebody and maybe they're yelling or they're doing it a whole other way than I did it, I would always say to myself, "If that's what they want then that's what they want. You give what you have and don't worry about anybody else's audition." Don't worry about what you think they want. You give them what you give them, and if that's what they want, they're going to gravitate towards you. It doesn't serve a purpose to get scared or second guess yourself. You know what you want to do. Do that. Stay true to that.
What is your worst audition horror story?
Oh my gosh—yes! I feel so bad. I remember I had an audition for a show, and I got a callback immediately. But I auditioned on a Friday and I believe the callback was on a Monday, and so I was confident in [how I did]. I let it go over the weekend. And I'm not saying you need to obsess about it, but maybe just make sure you're reviewed and prepared. I kind of felt like, "Well, I have a callback and they really liked me, so I'm not going to study it as much as I should have." So when I got there on Monday, I remember I just didn't feel like I was as prepared and so I was very in my head about [it]…. This was years ago, but it just taught me a lesson that you just always want to treat everything with respect and you don't want to take for granted [that] you think they liked you and called you back. I think sometimes we just think too far ahead. It was almost like I thought too far ahead, like, I already had it, so I didn't have to worry. And that's such a bad thing. So lesson learned.

READ: Kaitlin Olson's 1 Tip for Nailing Your Next Comedy Audition
What special skills do you have listed on your résumé?
I can do a Latino accent. I can sing. And I'm on a chocolatier—I make chocolates!
How did that come about?
That came out of necessity. I had a birthday party for a friend who I felt like has a lot of stuff that she wants, so I didn't know what to give her, and I thought, "How fun would it be to just cook some chocolates?" There's a chocolate store here in the area—kind of like a Color Me Mine, where you make something, you know? You melt the chocolates, put it in the mold, and then you paint it. And so I made her these little chocolate gold stars, and I took them to the party, didn't think anything else of it. And a couple days later, she called me back and was like, "Hey, I just wanted to know where you got those stars? They were amazing!" And I go, "Oh, I made them for you!" And she just loved it, so I thought I'm gonna start making them as gifts—that's unique. And before I got to a point where I was working way more, I did this as a little side business because it generated enough interest and people wanted me to do it that I would start doing it for people for tea parties and birthdays and holidays.
That sounds like a great little survival job.
It was great! And one of my sisters—she [made] clothing and stuff like that and she always encouraged me to go to these art events where I could sell the chocolate. That was always fun.
What advice would you give your younger self?
I think I would tell my younger self to relax, that you're there of reason. I remember I used to think that, it's not that I let people get to me, but I would still doubt myself. So I would just think, like, "Do they really want me to come?" Just trust in yourself. You were picked for a reason so just do the best job you can and go for it and don't worry. Sometimes I would book the job and then I would worry, like, "You made a mistake!" No, no, just focus. You did a great job, they liked you, so go do it and go kill it and don't look back. So it took me a long time to be confident in the fact that, like, they hired me and they want me. I would just tell myself that you belong. You belong. You belong. So every time someone says, "You look too different," everybody belongs here if they really want it. Remember you're there to act, and if it's what you really want to do, it'll come, it'll come out of you. You don't have to force it. So I would give that advice. Just trust in yourself. You belong there, you're good, and you're ready.

Ready for the small screen? Check out Backstage's TV audition listings!