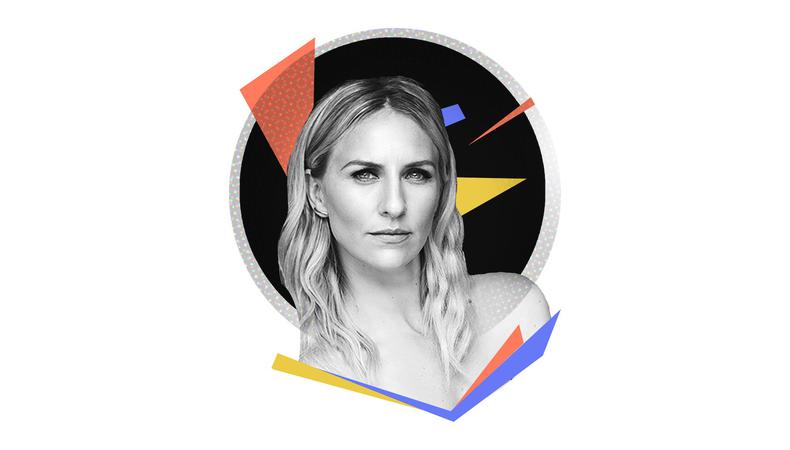 As the daughter of musician Sting and actor Trudie Styler, Mickey Sumner's childhood was imbued with creative energy. Acting didn't really take hold, though, until college, when she began performing in friends' films that eventually caught the eye of Noah Baumbach, who cast her alongside Greta Gerwig in the 2012 coming-of-ager "Frances Ha." She now stars as the tough-yet-empathetic Bess Till on TNT's thrilling hit "Snowpiercer," now back for its second season. Here, she discusses how Till's haircut helps her get into character and what skill she wishes she'd honed earlier in her career.
You grew up with artistic parents and studied fine art in college, but what was the moment you decided to be an actor?
I did grow up with show biz parents, so I was brought up on film sets and I always loved them and was fascinated. I interned and did costume department work and I was always around it and loved the collaboration and the circus-like family that was created. I was very shy as a kid. I imagined I'd be on the camera side instead of in front of the camera. There was a desire to be more shiny, but I didn't have that confidence back then as a kid. Then I went to art school in New York and I was hanging out with a lot of kids at NYU and Bard, and they were all making short films because they were in their second year of film school. I volunteered myself. I think I had this [mindset of] if I don't do it now, I'll never do it. My first film ever was a Safdie brothers [film]; I'm in a bunch of their shorts. They got me hooked, being in front of the camera and playing different roles. Then during my degree, I started going to acting classes. I fell in love with the stage, and then I graduated and my parents were like, "What are you doing now?" I was like, "I'm going to be an actor!" That was it. I stayed in New York and focused on theater and still carried on making short films with friends and auditioning. Then it was Noah Baumbach who discovered me and gave me a big break.
That was going to be my next question. How has that break informed the rest of your career?
I'd been working on theater and friends' projects. Noah, I was always a fan of his movies: "The Squid and the Whale," "Margot at the Wedding." To have him believe in me was incredibly empowering. When he believed in me, it shifted my perspective of myself; [I felt] that I had what it took to go for this and take myself seriously. I always took myself seriously—probably too seriously—but what I mean is I felt confident, and you need confidence in this business. I do consider him someone very important in my life and my career.
What advice would you give your younger self?
Find a class that you love, find a teacher that you love. Some of the people from class all those years ago are still my best friends. Just do as much theater as you can if you're starting out. I wasn't picky; I just wanted to be part of the game, the crew, the creative team. My first indie, "Missed Connections," before "Frances Ha," the dressing room was an icebox. I'd pop out of the van that I sat in for hair and makeup in Central Park. Those were the days that I remember [as] the most fun—and rewarding, too. You're a part of something, making something. Bigger films, you get put in a dressing room and led out and then back to your dressing room. It's less collaborative in a way. My advice is to get involved in as many projects and work with your friends. I've only just started writing films. Starting to write for myself and writing scripts and developing for myself; I wish that I'd started to back then. My advice is wherever you are, create your own content and write and write and write. Relying on casting and other people to validate you is a trap, and I fell into it.
What is your worst audition horror story?
I had one awful audition for an indie film where I got into a fight with the director, which is so unlike me. It was so bad and so awkward. I just looked at the casting director and was like, "I'm so sorry, I think I have to leave." I don't even remember how it happened or what happened. I clearly didn't get the role—I didn't want the role. That's also a good piece of advice: If you're in a room that's making you uncomfortable, you have the power to be like, "You know what? This is making me uncomfortable. I'm going to leave." On the whole, I love auditions. Any opportunity to play. There are so many amazing casting directors out there who want you to get the job; they want you to be right for the job, to help you. I've been doing self-tapes at home, which is a whole other beast. [It's] great because you can control the situation, but I also miss that connection with the casting director who can guide you in the right way or a different way than you imagined.
How do you typically prepare for an audition?
If I get a script, I read the script and try to understand what the scene is about. Learning the lines so you're not looking down, especially in self-tapes when there's no one else in the room and they can't see your scene. If your face is down in the script, you're really not helping yourself. I think about what I'm going to wear and hair and makeup. I love lighting and setting up the ring light.
What's the wildest thing you've ever done to get a role?
There was a callback with the director, and the role required short hair and I went out and I cut my hair really short. I did not get the role. The movie was actually never made, so I feel less sad, but it was worth it. I don't think you need to do that, but, clearly, I felt like I needed to do it to embody that character. For "Snowpiercer," I shaved half my hair off for the role. For "Frances Ha," I dyed my hair brown and wore glasses. I find hair and makeup and costume really vital for my process. If I know what shoes I'm wearing and they feel right, then I know how she walks.
I can imagine your "Snowpiercer" haircut really affects how you get into character.
I requested that haircut for Till. I really wanted her to look military, hard-edge and be one of the guys and at the same time have an ability to let down my hair for her more unguarded moments with her girlfriend. It gave Till this different side. I think shaving my head every day for work in the hair chair, that's really where I settled into her. It became a sort of ritual, getting my head shaved.
What has this role added to your acting skills?
It's a very physical role. I got to work with our amazing stunt team and learn a lot of fighting skills. It's been so fun and so good for my body and good for my brain. Some of my favorite days were working with these incredibly courageous, tough people, [who are] very patient and generous with their guidance.
What's one performance every actor should see and why?
I have two shows that I'm obsessed with this year that got me through quarantine. One of them is "Ramy." Ramy [Youssef] and all the actors are so incredible. The other show is "Fauda." It's so fun to watch shows and become completely immersed and completely in awe of your fellow actors and be like, "Wow, that's how you do it." I can't stop talking about those two shows.
Looking for remote work? Backstage has got you covered! Click here for auditions you can do from home!