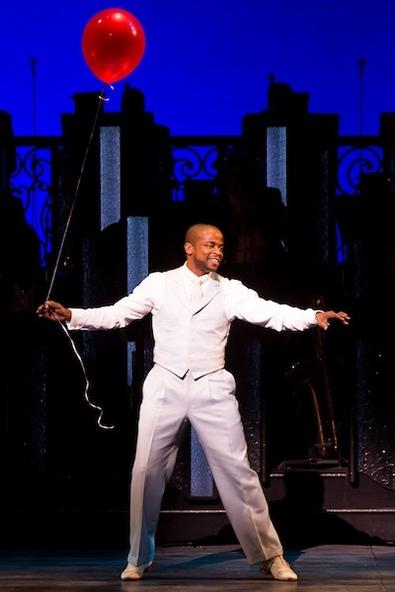 If you know Dulé Hill from his roles in "Psych" or "The West Wing," you might not realize that he got his start as a tap dancer. Even though he considers acting as his career, he still says, "I'm a tap dancer first." Now he's getting a chance to show off his dance skills in the new jazz revue "After Midnight" on Broadway. Fans will also get to hear him sing in the show as well as in the musical episode of "Psych," which will air Dec. 15.
Hill started dancing when he was three years old, and he was cast in "The Tap Dance Kid" at age 10 as Savion Glover's understudy. When Hill was in college, Glover called him and said he needed one more dancer for "Bring in 'Da Noise, Bring in 'Da Funk." "I was going to school in New Jersey. I could do both," he says. "And then the show goes off and becomes a hit and goes to Broadway."
After that show, he started looking for something that would establish him as an actor and he got the role of Charlie Young, personal aide to the President on "The West Wing." The cast and crew made the decision a no-brainer. He had a similar moment with "After Midnight." He knew he couldn't say no to working with Warren Carlyle, Wynton Marsalis, and everyone else involved. "I started on the stage so how do I say no to hanging around with this amazingly phenomenal cast for a little while?" he says.
Train.
Even while doing television, Hill dances whenever he has the opportunity. He has less training in singing than he has in dancing. "The last time I was singing on stage was probably 20 years ago," he says. "But it is something I would like to explore as my life goes on. I think it's an interesting art form. I enjoy the challenge of it." He's been taking lessons to make sure he is using the proper technique. "I wouldn't be so bold as to just step on a Broadway stage without doing some kind of preparation," he says. "You can't share the stage with the [cast of 'After Midnight'] and not do your homework. I'm pretty much just trying to ride their coattails." And being around this cast, which currently includes Fantasia as the special guest, is a singing lesson in itself. "There's no better place to be than in the presence of wonderful singers to learn how to sing better," he says.
Take the path that's right for you.
Though Hill started as a dancer, as he got older, he realized he wanted to pursue acting as a career. "I may sing in my career and I may dance in my career, but it's not really the direction I've set my compass. My compass is to be an actor," he says. It's not that there aren't opportunities for dancers—he knows tap dancers who have performed around the world—but he decided that acting would be the best path and he enrolled in acting class at The William Esper Studio.
Change it up.
Hill likes to keep things interesting as an actor by making sure each project is different from the one immediately before it. "Once 'West Wing' was done, I was clear that I wanted to do a more leading role and I wanted to do a comedic role. Because I thought if I tried to do another drama coming off the magnificent run of 'West Wing,' it would be a let down," he says. He got his wish when he was cast as Gus, co-owner of a psychic detective agency in the comedy "Psych." "Even now here with 'After Midnight,' it's a similar thing. I like to change it up," he says. "After doing the eight seasons of 'Psych,' to do a musical on Broadway about the Cotton Club and jazz, it's a clean break from playing Gus on a TV show." He says when he goes back to television, his preference would be to do a drama or a darker dramedy. "It would have to be more skewed to the drama side because I think to go to a comedy after 'Psych,' it [would be] hard not to have some of the mannerisms from this character spill over," he says.
Learn From Your Co-Stars
"I've been blessed to work with magnificent ensembles over my career. 'West Wing,' 'Psych,' 'Noise Funk,' and now 'After Midnight.' If you're in a room with talented people who respect each other and they all want to put the work first, something brilliant is bound to happen," Hill says.
His "teachers" include Hinton Battle in "The Tap Dance Kid"; Linda Hopkins, Jimmy Slyde, and Ruth Brown in "Black and Blue"; Savion Glover in "Bring in 'Da Noise, Bring in 'Da Funk"; and Ruben Santiago-Hudson, Condola Rashad, Tracie Thoms in "Stick Fly." "Any time you get a chance to be on the stage with wonderful artists you learn from them," Hill says. "It's always an education. Every time you step on the stage it's an education because you learn something new about yourself. You learn something new about your art form, and you learn something new about how to clearly express the message you're trying to relay."
He has also learned from his television co-stars and the lessons from each medium can be applied to others. He says working with James Roday on "Psych" for eight seasons helped improve his comedic timing. "Working with Martin Sheen, Allison Janney, Richard Schiff, Bradley Whitford for seven seasons on 'The West Wing,' how could you not get better as an actor? How could you not learn more about the art form?" he says. "If you're learning about your art form, whether it's on television or stage or film, they're all connected. It's all acting; it's all performing. It's just directing it in different ways."