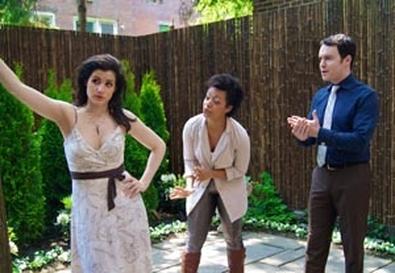 The timing of the Hive and the Cell's gender-bending version of Shakespeare's "A Midsummer Night's Dream" couldn't be more appropriate given New York State's recent legislation for same-sex marriage. Here the text is altered so that Puck can loudly proclaim: "Jack shall have Jack, Jill shall have Jill," and even if the rhyme is no longer there, the reason is apparent. The program promises some intriguing casting: Lysander (Ashley Denise Robinson) is a woman, Helena (Michael Raver) is a man, Samuel T. Gaines essays both Theseus and Titania, and Meghan Grace O'Leary is both Hippolyta and Oberon. Words spoken by some of these characters don't always make sense, but that is not the real problem here.
Goosing the Bard with modern instances is a prevailing form of presentation, and on occasion the method works very well. This modern-dress version, however, is awash with Matthew A.J. Gregory's consistently injudicious directorial touches. The result is that much of the time the effects on stage seem more important than Will's words. The play's clarity—not to mention some wonderful lines—is often befogged by this surfeit of inventiveness. Another casualty is a pace that dawdles; there are pauses in the poetry here that would do Pinter proud. All this is a pity, as the central conceit, which has merit, gets lost in the busyness of stage business.
Thus Fairyland is a disco, Puck takes drugs and shoots Oberon's magic potion from a gun, Helena drinks a little, and Titania and Bottom join in a chorus of "I Will Survive." You get the picture. In addition, the director seems to have encouraged his performers to each go his or her own wayward way; some hardly seem to be in the same play. Thus Puck (Chris Critelli) often sounds more like Caliban and is not so much over the top as beyond both hill and dale. In contrast, Ryan Lee's Bottom becomes a Method actor, too languid by half. O'Leary's Oberon, decked out in 1970s Velvet Underground gear, lacks the role's requisite authority; her reluctant Hippolyta is much more appealing. Gaines is more impressive as Titania than Theseus, even if as yet there is still too much of the drag instead of genuine royalty in his performance.
In this version, it is the lovers who have the trickiest parts to play. While Alan Winner's Demetrius and Shira Gregory's Hermia play it straight (as it were), Robinson's bluff Lysander and Raver's campy Helena both indicate that they might be more interesting performers in other circumstances. In the slackly paced "Pyramus and Thisbe" sequence, only Glenn Quentin's humble Snug has a genuine comedic presence.
And when Puck speaks the epilogue, "If we shadows have offended," he's really asking for trouble.
Presented by the Cell and the Hive at the Cell, 338 W. 23rd St., NYC. July 9–31. Schedule varies. (800) 838-3006 or www.brownpapertickets.com. Casting by Jason Najjoum.