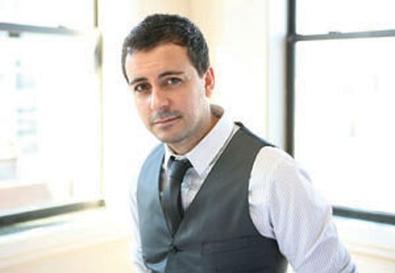 When Miguel Belmonte first happened upon the notice for the Off-Off-Broadway production "Memory Is a Culinary Affair," in the pages of Back Stage, it was no simple case of history repeating itself. Rather, it was a rare opportunity for the actor to revisit the repercussions of one of the darkest hours in Latin American history. "Unfortunately, I was aware of that history," Belmonte reveals, describing the plight of "the disappeared," the thousands upon thousands of Argentines forcibly abducted by that country's military regime during the 1970s and '80s. "Spain also had a dictatorship, and I was born during the transition years to democracy. In a sense, that's a thing you always know," says the Barcelona native.
A role in 2006's "Silencio Es Salud (Silence Is Health)," another play about los desaparecidos, provided a sound research foundation for his dual roles in "Memory," in which he played Pablo, a lawyer working in Argentina on behalf of the real-life organization Mothers of the Disappeared, who follows his ex-lover Carina to New York in a questionable effort to win her back. Additionally, in a traumatic flashback scene, he played the military man responsible for the abduction of Carina's mother.
"It was great for an actor to be able to play these two opposite characters," says Belmonte, citing the requisite changes of psychology and physicality within the same show. However, what appealed most to the performer was what he considers a rare opportunity "to do something besides the stereotypical job that American audiences are expecting from Spanish-speaking actors."
Belmonte, no stranger to auditions, was nevertheless caught off guard when director Heather Violanti handed him a poem by Mario Benedetti. "It was interesting, because the play was in English, but that poem in particular is read in Spanish," the actor says. "Not in Spanish from my country, but in Argentinean Spanish, with an accent. It was a little challenging. I had done some Argentinean accents in the past, but I wasn't expecting it." Belmonte nailed it.
"He was really the only actor who came in that we felt had any understanding of the character at all," Violanti recalls. "He showed such a wide range that indicated he was good for this part, because he was able to do the love poem but also the angrier scenes without being strident. Even though [the character] does some pretty despicable things, you still see him as a human being and not just a one-dimensional villain or stock character, and I think that's a tribute to Miguel's acting."
These days the American Federation of Radio and Television Artists member and William Esper student is more optimistic than ever about his blossoming English-language career. "I've noticed in the last nine and a half years that the market is changing and people are more willing to open their minds. It's great. I love being in New York right now," Belmonte gushes. Here's wishing him another fruitful decade in the Big Apple.


Has Back Stage helped you get cast in the past year? We'd love to tell your story. Be in the weekly column by emailing casting@backstage.com for New York or bswcasting@backstage.com for Los Angeles with "I Got the Part" in the subject line.