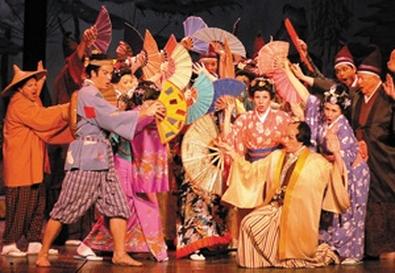 As we enter the second decade of the 21st century, William S. Gilbert and Arthur Sullivan's "The Mikado" is as fresh and funny as the night it premiered at London's Savoyard Theatre in 1885. Gilbert's whimsical tale of thwarted love and executions in exotic Japan coupled with Sullivan's jovial melodies still moves audiences to unbridled laughter. The portrayal of Asian society is a satire of Victorian British customs and social mores and never descends to racist stereotypes. The reliable New York Gilbert & Sullivan Players closes out the holiday season with a merry production from stage and musical director Albert Bergeret. The cast and orchestra perform Sullivan's magnificently diverse score with precision and passion. My only quarrel with Bergeret and company is that they haven't let well enough alone.

It's traditional in "Mikado" productions to alter the lyric of "As Some Day It May Happen," the comic lead character Ko-Ko's list song enumerated annoying personages who would be better off executed, to reflect contemporary trends. This version extends that custom to the entire text, so that we are bombarded with quips on Sarah Palin, Facebook, texting, gangsta rappers, reality TV, and the Tea Party Express. It's overkill and draws away from the charms of the original. There is also too much physical slapstick derived from the girth of the pompous official Pooh-Bah, who is stuffed with so much padding that he resembles a spherical sumo wrestler.

These caveats aside, the skillful ensemble provides much "joyous song and merry dance." Bergeret has thrown the focus on the comic characters, yet romantic leads Daniel Greenwood (Nanki-Poo) and Sarah Smith (Yum-Yum) manage to hold their own. Smith is particularly enchanting in her second-act show piece "The Sun Whose Rays Are All Ablaze." David Macaluso gains considerable comic mileage out of Ko-Ko's battles with an unwieldy executioner's axe and his futile courtship of Yum-Yum. Louis Dall'Ava, as Pooh-Bah, overcomes the restrictions of his fat suit to create a hilarious caricature of an enthusiastically corrupt petty politician. Likewise, Caitlin Burke breaks through her Kabuki makeup and five-inch dragon-lady fingernails to make Katisha into more than a clichéd villainess. In her big Act 1 finale, Burke is genuinely frightening as Katisha vows to destroy the young lovers, then moving as Katisha reveals her broken heart in "Alone and Yet Alive." David Wannen makes an imposing and robust Mikado, the titular ruler of Japan.

Gail J. Wofford and Kayko Nakamura's gorgeous costumes and Albere's painterly set provide a dazzling physical environment. If they would just cut down on the interpolated modern jokes, this would be a perfect "Mikado."



Presented by New York Gilbert & Sullivan Players at Symphony Space, 2537 Broadway, NYC. Dec. 29–Jan. 2. Remaining performances: Thu., Dec. 30, 8 p.m.; Fri., Dec. 31, 7 p.m.; Sat., Jan. 1, and Sun., Jan. 2, 3 p.m. (212) 864-5400, www.symphonyspace.org, or www.nygasp.org.