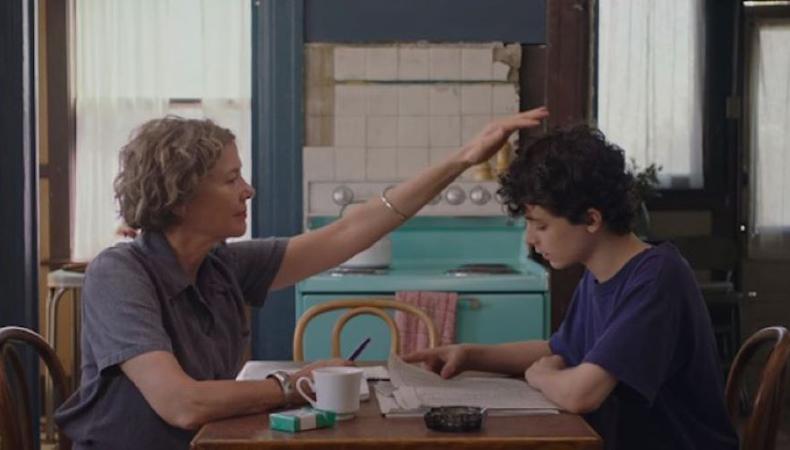 We don't know about you, but we wish we could have been flies on the wall during Mike Mills's rehearsals for "20th Century Women." The acclaimed "Beginners" writer-director describes his intense two-week process with stars Annette Bening, Greta Gerwig, Elle Fanning, Billy Crudup, and Lucas Jade Zumann with a nostalgic lilt to his voice.
"We're just improvising, doing weird sort of experiential games together so that we're all melted down and there's a lot of intimacy," Mills recalls. "When I had everyone together, we would start the morning with a 9 a.m. dance party in my little office with me dancing as weirdly as I can with all of them. Music and dancing was such an important part of the story, but also [because] we're all kind of embarrassed and wiggly in front of each other. It sounds simple, but it's actually really super important."
With such kinship created right from the start, it's no wonder a young newcomer like Zumann can go toe-to-toe with four-time Oscar nominee Bening without so much as blinking. He plays Jamie, the teenage son of Bening's Dorothea Fields. Set in a snapshot of summer 1979, Jamie and Dorothea's is a fictional relationship that Mills says was based on his own with his mother.
"One of the things I really wanted to talk about [with '20th Century Women'] was me and my mom's relationship," he says. "She had me when she was 40. She was this Depression-era kid who was born in the '20s who somehow ended up with this punk rock kid in the '70s, and we're so culturally mismatched. When she was 16, World War II had started and she wanted to be a pilot in the war. I was just skating and listening to punk. It was a really interesting way to talk about how history influences your inner life."
READ: "Why Annette Bening Uses 'Talismans' in Her Character Work"
Mills fostered his characters' inner lives further during rehearsals, explaining that the scenes they ran during this time were largely moments outside of those delineated in his script, in order to give the characters the richness of backstory and a life (not always) well lived. And while there was a slight amount of education needed for his younger actors to contextualize this moment in history, Mills maintains that "the emotions of the people aren't that historically different." He was more interested in culling a naturalistic, emotionally bracing performance.
"I adore actors, and I feel like they're giving me, like, lifeblood," he says. "I feel like what they're doing is incredibly vulnerable-making to themselves, and I try to be supportive of that and, like, thankful. I'm trying to ask them to stir their own emotional pot and not just play a role; [to try] to find the overlap between their lives and their souls and what's going on with these characters. It feels personal and real."
Despite her years of experience and roots in the theater, Mills says he was surprised by Bening's dedication to his loosey-goosey style and her bravery in embracing the unknown.
"Dorothea is based on my mom, but Dorothea is Annette. Dorothea is Annette's body and soul and timing and heartbeat," Mills says of Bening, a surefire awards contender this year. "You kind of think [Bening is] going to be someone who thinks everything out or crafts everything out, and she does like to prepare and she likes to talk a lot about where the person is coming from and the history of the character, but what she's really going for is freedom and following the moment and not thinking about it too much. She's into not knowing what's going to happen next and just trusting that and leaping into that, which is my favorite kind of acting. It was just a treat to watch her make herself do that as the camera's rolling—to just not know what's going to happen next and to be hungry for that surprise."
Want to work with directors like Mike Mills? Check out our film audition listings! And for acting advice, visit Backstage's YouTube channel!